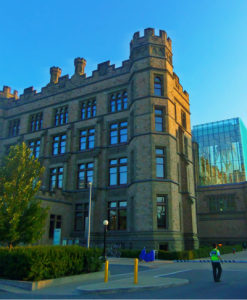 Ottawa is a unique and beautiful city that offers an abundance of things to do. Admire the view from the Champlain Lookout in Gatineau or cruise along the Rideau Canal. Take a tour of the Supreme Court of Canada or if you're interested in history, culture, and arts, visit Ottawa's impressive galleries and museums that feature stunning artifacts. The newly renovated Canadian Museum of Nature offers free admission on Thursday nights from 5:00 to 8:00 p.m.
Situated in the business district, Delta Ottawa City Centre is a seven min walk to Parliament Hill, where every summer morning at 10:00 am, you can experience the Changing of the Guard.  While on Parliament Hill, experience the "whispering wall."  If you have someone stand or sit at either end you can hear what the other person whispers. 
My son who lives in Ottawa along with his girlfriend who was up visiting from Kingston took in the bilingual Sound and Light Show on Parliament Hill. The show takes place every night after dark between early July and early September. Huge images are projected onto the Parliament Buildings, using them as a giant screen.
Leave your vehicle parked in the underground parking at Delta Ottawa City Centre and take a 20 min walk over to Rideau Centre,  Ottawa's premier shopping destination with over 150 stores. After a morning of shopping, buy fresh bread, fresh cold-cuts, cheese, and vegetables from ByWard Market, then have a picnic at Major's Hill Park, a 20 min walk or a short drive from Delta Ottawa City Center.
Take an afternoon swim in Delta Ottawa City Centre's indoor heated saltwater pool, or have an afternoon cocktail at the Lift Restaurant's bar located inside the Delta Ottawa City Centre.
After your afternoon swim relax in your deluxe, mode deluxe, or mode club hotel room.
On our recent trip to Ottawa, we stayed at the Delta Ottawa City Centre in a mode-deluxe room situated on the eighth floor. One thing  I should note is if this is the first time staying at the hotel opt for valet parking. Valet Parking is available for $27.00 + tax, while self-parking is available for $22.00 + tax. Self-parking is a confusing hassle. We had to circle the block several times before we could figure out how to get into the underground garage. Once in the garage, we had to figure out where to park and how to get into the hotel.
Customer service seems to be very important to this hotel, which is very refreshing. From check-in to check out staff ensured that our stay was enjoyable. The concierge went so far as to give a brief history of the area and a map so we wouldn't get lost.
Upon check-in, our daughter received an age-specific "Kids' Essentials" kit, which is given to all children from infant to age 7.
The room we stayed in was very clean, but rather small in comparison to the more deluxe room we stayed in at Delton Kingston. The non-smoking room featured a comfortable king-size bed,  flat-screen TV,  and a refrigerator.  The room also has a SmartDesk, a fully-wired, multi-purpose area with clutter-free space, built-in power, a connectivity dock, and links for my laptop and other mobile devices.
The climate control unit wasn't working the best, and the front desk sent someone from maintenance up to look at it. Upon our return from dinner to our room, we found a fan had been added to circulate the air. It worked fine after that.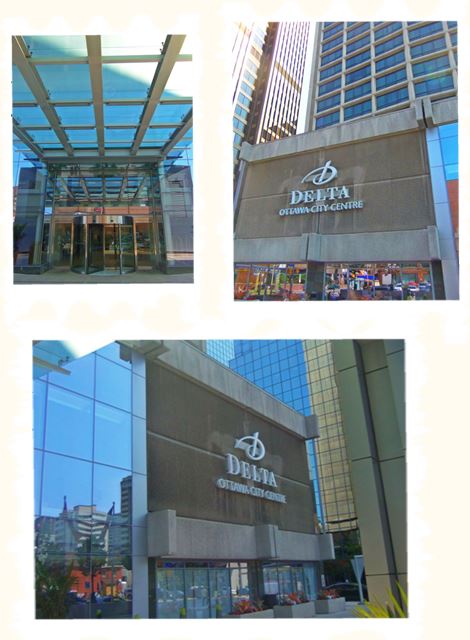 The view from our room wasn't the best and the dirty exterior windows did take away from the view, but during our stay management was having all the windows in the hotel cleaned and there was a note in our room apologizing for the inconvenience.  The room was also very quiet. We didn't hear a thing all night.
The bathroom was very small but had amenities, such as soap, body wash, shampoo, and skin cream. Leave your hair dryer at home as there is one in the bathroom. There is also an enclosed walk-in shower with a handheld showerhead.
A coffee maker with complimentary tea and coffee is also offered in the room, though my husband and I took advantage of the 24-hour Tim Horton's, which is located right inside the Delta Ottawa City Centre.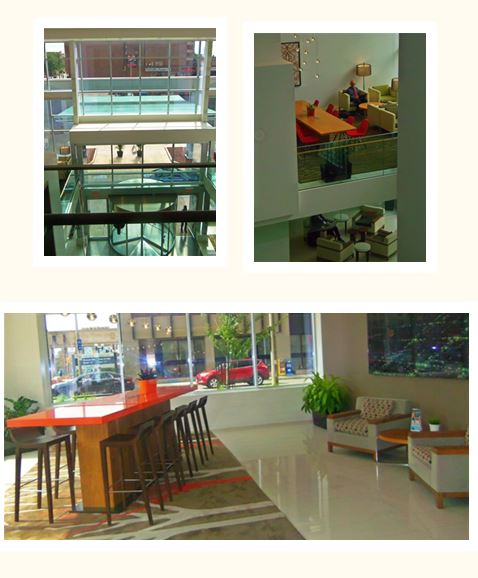 There is also a gift shop in the hotel, though I found it to be rather expensive and the clerk to be most unfriendly.  However, I did not let this have a negative effect on my experience of Delta as they lease out stores I do believe.
The pool/sauna/gym are all well equipped and the pool area was very busy when we were there. You can use the stationary bicycle, treadmill, or StairMaster to keep up with your fitness goals during your stay. I would like to remark that we had asked one of the managers for directions to the pool and he took us right to it. Now that is service.
For those traveling to Ottawa for business, Delta Ottawa City Centre provides a quiet and relaxing area to do some work. In this area, you will find computers, a printer, a phone, pens, and paper. There are also areas throughout the hotel where you can use your laptop. The lobby is lovely with floor-to-ceiling windows that provide ample natural light and several sitting areas throughout the lobby.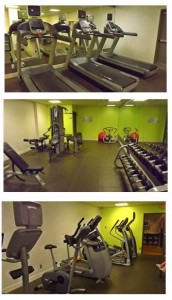 We didn't dine at the Lift Restaurant but instead drove to the Works in Westboro, therefore I can not comment on the food or staff at the Lift Restaurant, but they do have a beautifully appointed dining room.
In-room dining is also available. Upon looking at the menu, once again I did find the restaurant to be a bit pricey, but the typical prices you pay for an up-skill dining experience.
Overall I would give Delta Ottawa City Centre 4 out of 5 stars, based on the helpful staff that made our trip enjoyable and not the mode deluxe room we stayed in.
Be sure to sign up for the Delta Privilege loyalty program.  The more you stay, the more you enjoy, including credits that can be used towards dining, room, and meeting room charges, plus room upgrades and exclusive partner benefits.