When you are heading away during the holidays, one of the first things you need to organize is where to stay.  Choosing bed and breakfasts as your preferred accommodation over a hotel will not only give you that at-home charm but will give you an opportunity to meet accommodating hosts. Many bed and breakfasts are run from historic or special interest buildings such as The Secret Garden Inn located in limestone Kingston Ontario.  Choosing to stay in a property like this that has history and its own story that will really add to your holiday.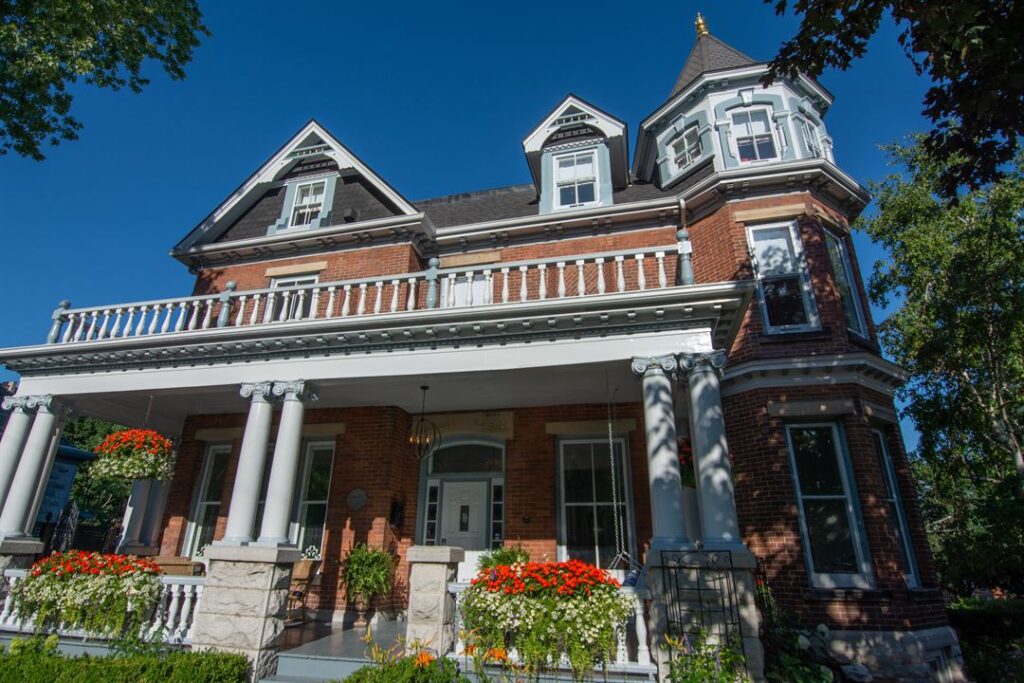 The Secret Garden Bed and Breakfast is a fine example of historical craftsmanship at its best. The two-story Queen Anne Victorian-style property was built in 1988 for John McKay who had a leather and fur business.  The brick house is located on Sydenham Street a few blocks from the waterfront and downtown Kingston.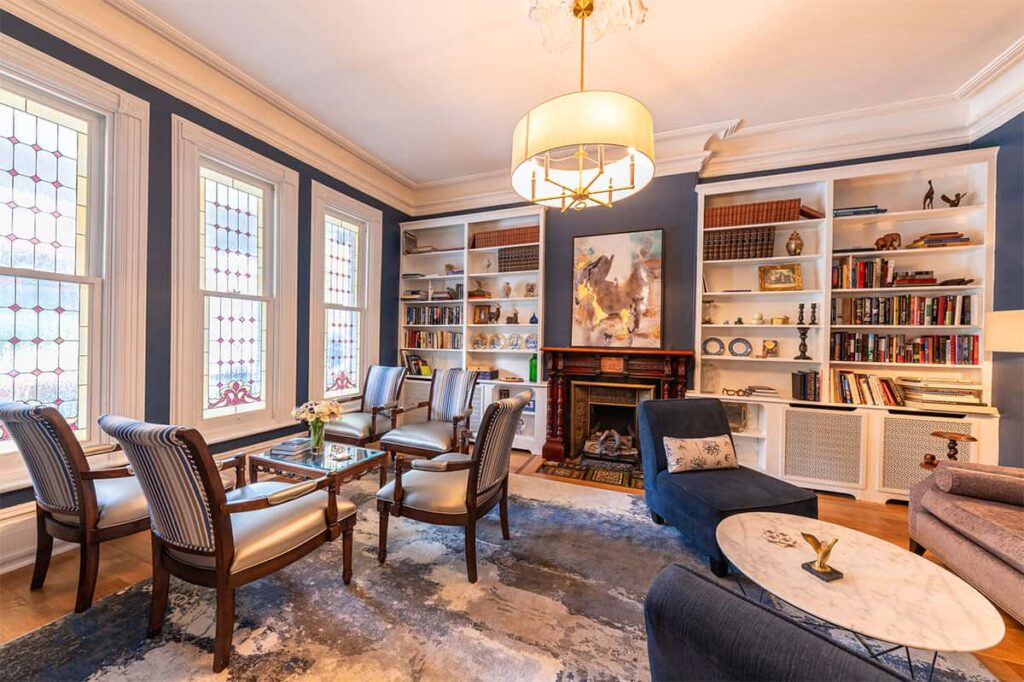 The home remained in the McKay family until 1943 when Mr. John R. McCullough purchased it with his wife Genevieve and lived there until 1960. In 1963,  Mr. Fergus J O'Connor Jr., a local physician, purchased the home for his wife Constance. Sadly Constance passed on and Mr. Fergus sold the house in 1977. The home changed ownership 3 times until 1996 when the home was purchased by John and Maryanne Baker and turned into The Secret Garden Bed and Breakfast. The couple spent months preparing and renovating the home, to restore it to its original historic state.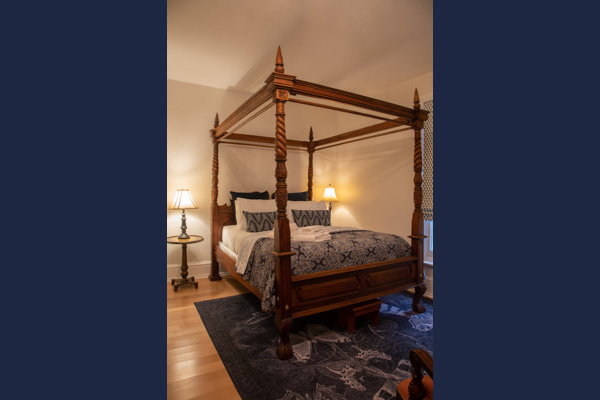 Today the home is owned by Kathy Davidson. When we arrived for our November stay we were greeted promptly and pleasantly by Kathy, and given the tour.  The large Queen Anne residence has a tower that is typical of the era and features seven large guest rooms. The common sitting rooms are large and most inviting.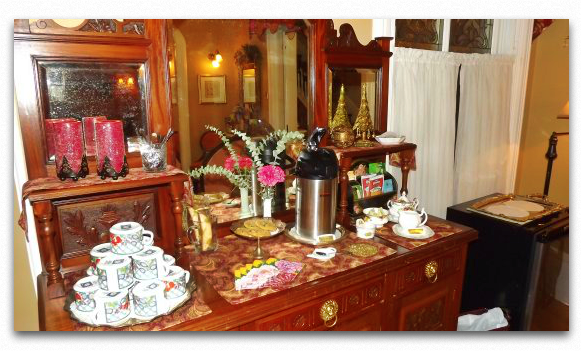 The guest parlor features turret window seating, 1830s fainting couches, and parlor chairs set around the original fireplace. Fresh coffee, tea, and homemade cookies are served every afternoon in the sitting room. Showcase your talents with a tune on an 1850s upright piano or curl up with a good book in the library. As you explore the home you will appreciate the architectural marvels from the stained glass windows, to the beautiful staircase- the home truly shows the beauty of a bygone era.
Decorated in soft tones of gold, rust, and cream with cranberry accents the Theresa room our bedroom of choice for our November getaway is a large, elegant room with a carved King poster bed and gorgeous matching armoire. The original fireplace is converted to gas to complete a relaxing, romantic winter mood.  Two comfortable matching chairs are located in the Turret overlooking gardens and KOI pond, which would truly be appreciated during the summer months.
We enveloped ourselves in luxury at the end of a day of shopping in the 4 pieces en-suite washroom that comes complete with a soft rain shower head that was both relaxing and inviting.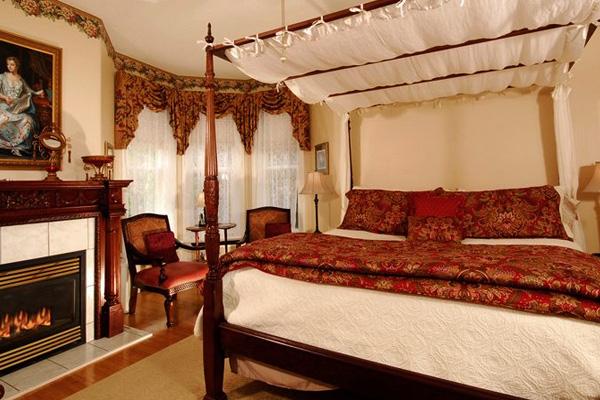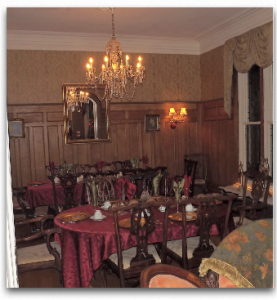 After a restful sleep, we awaken to a nice healthy breakfast served in a beautiful oak-paneled dining room. Our breakfast consisted of cranberry muffins, eggs in a cloud, fresh fruit, orange juice, Earl Grey Tea, and freshly brewed coffee. Breakfast was really good, but there was only one sitting time, which might not be the most convenient for some.
Overall, though we had an excellent stay and I would highly recommend Kathy's home to anyone who is looking for a premium B&B. If you are looking for some romance at New Year, any room at The Secret Garden Bed and Breakfast is only $169 and will include a bottle of sparkling wine, a cheese tray, and party favors in your room on arrival and don't forget Valentine's day is right around the corner.
https://thesecretgardeninn.com/