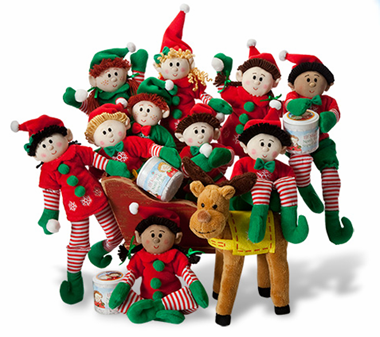 How would you like to have a house guest who arrives the day after Thanksgiving and stays until Christmas Elf Magic Eve? I'm not talking about just any guest, but one of Santa's magical elves of course. Santa Claus allows his special elves to stay with children and enjoy various Elfcapades until Dec 24th. Come December 24 all visiting elves will need to be packed and ready for their trip home to the North Pole, after they help Santa deliver presents that is. How do you get an elf to visit your family you ask? The Elf Magic tradition begins with a child writing a letter to Santa Claus requesting an Elf Magic friend to visit through the holiday season. Your child can use the downloadable Dear Santa stationery found at the Elf Magic website or their own notepaper to write a letter to Santa Claus requesting that an elf friend come to stay with them. The Elves are very busy, so your child will need to visit elf-magic.com early. Be sure to allow plenty of time for the Elves to finish their work at the North Pole!
ELF MAGIC – Santa's Magic Elves, Elf Dolls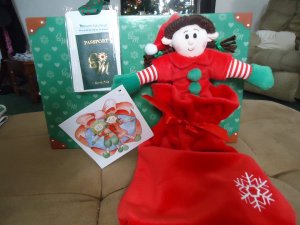 Your child can specify what kind of 10-inch elf they would like to come to stay with them by choosing the elf's gender, skin color, hair color, and size. You'll need to decide on the best time for your Elf to arrive at your house, which is sometime right after Thanksgiving (American), or a couple of weeks before Christmas. Choose a day that suits your family best. Be sure to check for the snowflake on the Elf's heart – that's how you'll know it's an authentic Elf Magic Elf!
There are many ways to care for a visiting Elf Magic Elf, but some of the main ones are to leave out crackers and water every night for him or her. The crackers remind them of crunching snowflakes at the North Pole and the water is from snowflakes that melt. Also, be sure to sprinkle them with their North Pole Snowflakes to create more Elf Magic.
Three weeks ago my daughter came home from school to find a special delivery for her waiting outside on the deck. Inside the box was a 10-inch girl Magic Elf named Iris, a special name given to her by the lovely Mrs. Claus herself. Iris was sitting inside a velvety Elf-Size Santa Sack. Her sack is just the right size for any small Elf-size gifts she might leave during her visit with us.
Iris arrived at our home early, so that we could tell you readers all about her. We knew that Iris was prepared to stay awhile as she had with her an "Elf on the Go Showcase" which Elf Magic Elves provides her with a cute place to live and rest while visiting.
Elf Magic Elves
A North Pole luggage tag was tied to the handle of her SnowCase. Inside the luggage tag my daughter found a miniature North Pole passport for Isis and a Santa's Elf Express Travel Ticket/Boarding Pass. The ticket and Elf passport are nice accessories.
The Elf Magic SnowCase also came with a sheet of stickers that can be used for decorating, such as travel stickers for the sides of the suitcase, Visa stickers for Iris's passport, and Christmas decoration stickers for the tree.
Elf Magic Elves
Her SnowCase is a cardboard box that looks much like an old-fashioned luggage trunk on the outside and then opens up to reveal an adorable Elf playset inside. The SnowCase has that warm cozy country home feeling. The inside of the lid has a flap that looks like a decorated Christmas tree when it is folded up but becomes a floor when it is folded down. Folded down it features an exposing window seat, where Iris can sit and watch the snowfall. The inside of her SnowCase looks much like Iris's room at the North Pole.
The opposite side of the box contains a Claus-et closet with an oval mirror and a clothes bar hung with two plastic hangers for storing extra Elfits outfits, and a working drawer for storing a jar of Magical North Pole Snowflakes.
Iris also arrived with a special poem explaining Santa's "Timeless Christmas Tradition" and magical Elf Magic Elvessnowflakes which brought her to life. Embroidered on her chest over her heart is a snowflake placed by Santa to remind her of Santa's love and to let everyone know that this elf has real Elf Magic.
Iris is very sweet and enjoys being held and loved throughout the day. But, I must tell you that this magical elf can be very mischievous and gets herself into some strange places. We caught her one-morning hanging upside down.
Apparently, Iris is very good at self-portraits too as I woke up on Wednesday with my digital camera filled with self-portraits. She also has a great interest in social media. Yesterday, I caught her on Facebook. My daughter is so excited each morning to see what Iris has been up to.
Elf Magic ElvesELF MAGIC – Santa's Magic Elves, Elf Dolls
You can read dozens of user-submitted Elfcapade Tales to see what these little Elf are capable of. My favorite is:
"We found a note on the kitchen table this morning at breakfast that said, "We are so happy to be here for the holidays and Rudolph sends his love! P.S. Go look in the mirror!" We ran to the bathroom and my and both my brother's noses had been painted red! We looked like Rudolph! Those crazy Elves! – Chandler, Arizona"
My daughter hasn't woken to her nose being painted yet, but one can never be too sure just what Iris may do.
Now that I have told you how busy these little Elves can be you may want to insure they have lots of Elfits for play and holiday parties with a visit to the accessory section at elf-magic.com.
Our little house guest has sure brought lots of excitement to our household and we look very forward to the rest of her stay and her return in 2014. Elf Magic Elves
It is so easy to get caught up in the hustle and bustle of the season – but Magic Elf reminds us that there is a child inside all of us. It is never too late to bring this classic tradition to your home.
What could be better than one Elf Magic? Several elves, of course! Then your children can awake to elaborate scenes of Elf mayhem every morning.
Elf Magic Elves are so endearing, they have been known to show up for brief visits throughout the year, like birthdays, the first day of school, or a family vacation!
If you and your family would like to participate in the Elf Magic tradition, make sure to visit Elf-Magic.com.
Author Bio
Kim is a mother of three and an Independent Epicure Consultant. When she is not writing for us she can be found at her family restaurant or selling Epicure.