Would you like to experience the ultimate in travel luxury? Private jets offer attentive, personalized service when traveling. With Van Nuys as your departure or arrival point, chartering a private jet is especially convenient as it's one of the busiest private jet airports in the world with direct access to Los Angeles. Whether packing up for business or vacation, here are five luxurious benefits of chartering a jet at Van Nuys Airport.
Unparalleled Convenience
Private charter jets at Van Nuys airport provide unparalleled convenience. They allow you to depart and arrive based on your schedule, eliminating the hassle of long waits and delays common in commercial flights. With a private jet, you can modify your itinerary even during the flight, ensuring your travel aligns with your needs. Your ground transportation method can pull right up to the plane, allowing you to easily step on board while crew members handle your luggage and other pre-flight details. They will also facilitate moving and securely storing ground vehicles if needed.
Privacy and Security
Chartering a jet at Van Nuys ensures absolute privacy. You choose your travel companions, allowing for confidential business discussions or a quiet journey free from commercial flights' typical distractions and pressures. A luxury in itself, privacy also extends to your luggage, keeping your possessions secure and within your sight at all times. This is especially comforting when traveling with valuables.
Security measures adhere to all FAA requirements for aircraft, crew and passengers. Pilots must have a valid FAA license to fly passengers in private jets, and all crew members must successfully pass a background check, providing you with peace of mind during your journey. Should you need additional security, this can be arranged using a number of reputable services in the area.
Personalized Service
The personalized service of chartering a jet at Van Nuys is what sets it apart from commercial flights. From the moment you book your flight to when you disembark, crew members are there to anticipate and meet your every need. Whether it's catering to your specific dietary needs or providing entertainment on board, the level of tailored attention ensures that you feel taken care of in every way possible. An aviation flight coordinator will help you plan and manage your travel details, from arranging ground transportation to booking VIP lounges and making hotel accommodations.
Efficient and Seamless Travel
Private jets are known for their efficiency. With a Van Nuys private jet charter, you'll bypass commercial airports' stressful, time-consuming security lines. Your baggage is quickly and seamlessly handled, and pre-flight procedures are expedited, reducing your overall travel time.
For those leading demanding lives where every moment counts, chartering a jet in Van Nuys ensures that time is used judiciously and travel becomes an extension of their lifestyle rather than a disruption. It is an ideal choice, leaving no aspect of your journey to chance and ensuring that your travel experience is as unique and rewarding as you wish.
Luxurious Amenities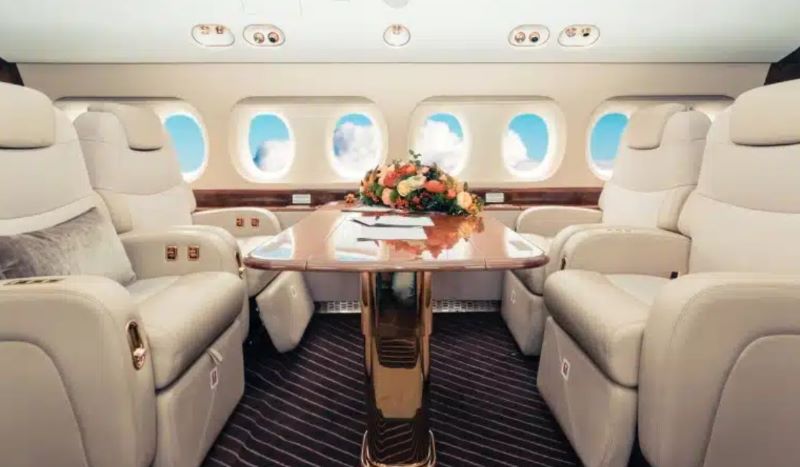 Private jets at Van Nuys come with high-end amenities designed to make your journey a luxurious and comfortable experience. On planes equipped with plush leather seats, Wi-Fi service, satellite television, and much more, your only focus is to work or relax as desired while on board.
You'll be served high-quality meals customized to your liking, and a vast array of personal amenities can be arranged on request. Depending on the jet of your choice, it may include a bedroom for long-distance travel. This luxurious comfort level allows you to arrive at your destination relaxed and rejuvenated.
Aside from the typical things people commonly associate with luxury, there is a list of other luxurious benefits to chartering a private jet that shouldn't be overlooked, such as flying directly, flying faster, and flying above adverse weather – all contributing to ultimate comfort without worry.
Private charter jet travel undisputedly embodies an exceptional mode of transportation that stands unparalleled in its offerings. It seamlessly fuses efficiency, privacy, and luxury, crafting an experience that transforms travel from a necessity into a merited indulgence. Paired with the advantages of Van Nuys Airport, chartering a private jet is the ultimate way to experience the style and luxury of air travel.