When you are visiting Kissimmee in Orlando, Florida, you want to make the most out of your stay. You want to see as much as you can and, of course, do as much as you can. However, before you start exploring and sightseeing, you have to get to grips with the area you are in. You can do this by choosing the right hotel to stay in. When you carefully select and choose a hotel, you can then be sure that you are in a good mood and prepared to start exploring all that Orlando has to offer. So, now you know what you need to do. What are the 10 best hotels in Kissimmee in 2022?
Westgate Vacation Villas Resort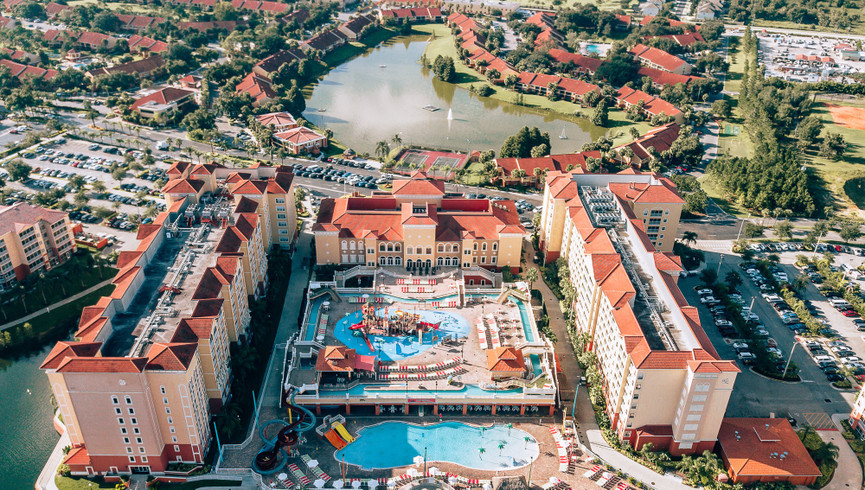 So much to see and do in this fantastic resort – your children will never want to leave the onsite water park.
This is a fantastic resort in a fantastic location, and if you are traveling as a couple or as part of a family, you will find that there is something for everyone. This hotel in Kissimmee, FL offers so much for its guest. From water parks and playgrounds for the children to outdoor pools, restaurants, and eateries for the adults. When you are staying in Kissimmee, even if only for a short period of time, you want to stay in comfort, and this resort provides you with a level of comfort that would be hard to match. Its spacious villas are well equipped with a kitchenette, and they are ideal for those wanting to explore in and around the local area (and further afield if you wish).
Galleria Palms Hotel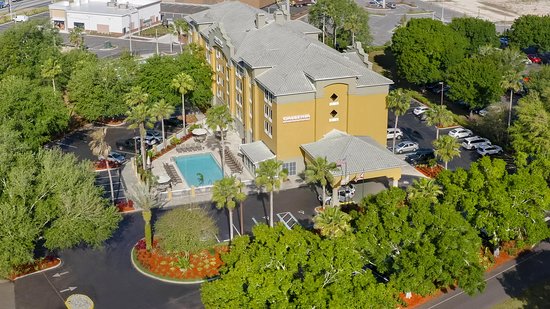 A good base and certainly a good starting point for a Kissimmee vacation
This hotel is not the biggest, and it is certainly not the grandest. However, it is the perfect base for your Kissimmee adventure. Its rooms are simple yet comfortable, however, it offers a great breakfast buffet that sets you up for the day, and it offers you a free shuttle service to the theme parks and attractions. If you are looking for a base that is not all-consuming, then this may be right for you. Well located, you can easily get public transport or hire a car (should you wish). If you do wish to have a day off exploring, you can relax around the pool with free tea or coffee from the hotel lobby.
Calypso Cay Resort-Hotels in Kissimmee 
A resort that is well-placed for the theme parks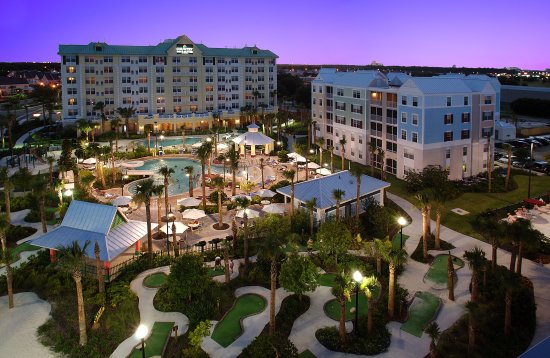 Calypso Cay is located no more than 10 miles away from the major Disney and Universal attractions and theme parks. It is also located within several miles of the SeaWorld theme park if this is something you would like to visit. The resort is like a little breath of fresh air for travelers as the bright and welcoming airy rooms feel like they have been plucked straight from a Caribbean resort. In the resort, guests will be able to access free Wi-Fi, meaning that you can stay connected at all times (should you wish to). Within the hotel grounds, you will find a lovely outdoor pool that is big enough for the whole family to enjoy.
Wyndham Grand Orlando Resort Bonnet Creek
A larger resort that features a great spa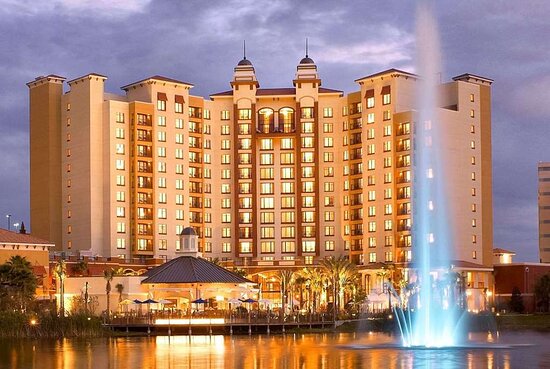 This is a secluded resort that is perfect for travelers of all ages. Even though this resort is secluded, it is easily accessible and within a good distance of the well-known attractions and theme parks. As it is one of the larger resorts, it does have a lot to offer. For example, outside alone, it has two lazy rivers running around and adjacent to the resort, as well as two kids' splash pads and 5 (yes 5) outdoor pools. If you do not fancy being on the go exploring the pools or children's areas, then why not take advantage of the children's clubs, and give yourself some pamper time in the spa. When it comes to accommodation, you have a choice of room options, from deluxe rooms down to bunk-bed rooms (which are ideal for those with smaller kids).
Comfort Inn Maingate- Hotels in Kissimmee
Well Located and placed for exploring Kissimmee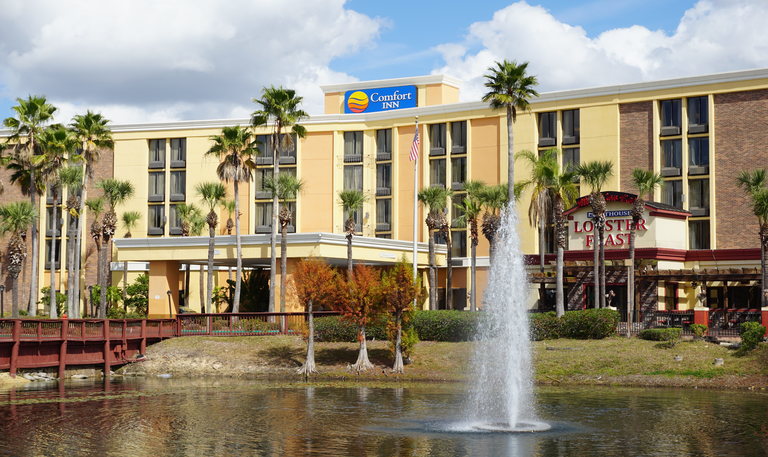 Located just a couple of miles away from the main attractions of Disney and Universal, you will find Comfort Inn Maingate. If you are traveling with a family or you are traveling as a couple, you will find this hotel has everything you could need for a comfortable stay, including non-smoking rooms as standard, a refreshing outdoor pool, and free Wi-Fi in all rooms. You do not have to rush from the airport when checking in or traveling as there is a 24-hour reception desk which will certainly reduce your stress levels.
Holiday Inn Resort Orlando Suites 
This is a very lively resort and a family hotspot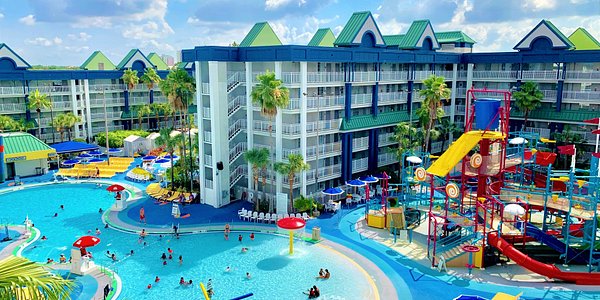 One of the larger resorts around but still well placed and convenient for all the major Disney and Universal parks. This resort was created with families in mind, and its layout and setup make it ideal for families of all ages. It is especially good for those multigenerational families traveling as it offers a good selection of rooms and suites. If you want lots to do onsite, then you can keep yourself as busy as you want. Perhaps by playing a round of mini-golf, or perhaps by visiting one of the onsite eateries and grabbing a burger and ice cream. If you are traveling with younger children, then there is a good-sized water park and outdoor pool that will keep them busy and entertained.
Celebration Suites Next to Old Town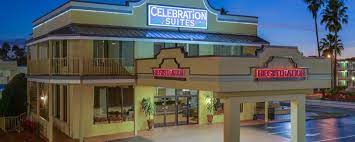 A cute place next to old-fashioned attractions such as Old Town
Located next to Old Town, you will find the Celebration Suites. This is not the biggest of hotels around, but it is a good location, and it is ideally placed for those looking for an affordable stay. Surrounding the hotel, you will find family entertainment, stores, boutiques, and plenty of eateries, coffee shops, and restaurants – ensuring that no one in your family goes hungry. The hotel is located a short 25-minute drive from the airport, so you don't have to worry about the length of the transfers. Within the hotel grounds, you will find sports courts and an outdoor swimming pool – these are ideal for exploring if you have some spare time in the evening or late afternoon. The hotel is within easy reach (and distance) of other attractions such as SeaWorld.
Palazzo Lakeside Hotel
Relax and take in the lake views
If you are looking for a little bit more peace and tranquility on your Kissimmee/Disney vacation, then you may want to visit a hotel that is located on the banks of Lake Cecile, which is still just a few miles away from your favorite theme parks. With a complimentary continental breakfast available, you can start your day the right way. Give you and your family the fuel and energy you need to explore and take in the beautiful lake views by eating breakfast outdoors. Children's activities are offered, and there is an outside pool that is perfect for a refreshing dip at the start (or end of the day)
JW Marriott Orlando Bonnet Creek Resort & Spa
Relaxing or action-packed, it is your choice
Even though you may be heading to Kissimmee to visit the theme parks, that does not necessarily mean that you want to be (or should be) on the go all of the time. Sometimes you just need a bit of time for yourself, and at this resort, you can get it. Within this luxurious resort, you can spend the day in the spa, or you can relax by the outdoor pool with a good book and your favorite drink. This is an upscale resort, and it is perfect for those lazy days when you feel like doing nothing. Rooms and suites in this hotel are simple, classic, but beautiful.
Embassy Suites by Hilton Orlando Lake Buena Vista South
Comfort and simplicity near the parks
If you want to be near good transportation links and you want to be near the theme parks and attractions, then you may want to look at this Hilton hotel. Being just a few miles away from all attractions, including Epcot and Walt Disney world, means that you can get to the parks with minimal stress and fuss. All rooms are simple yet stylish and comfortable, and there are suites on offer for those traveling who require more space.
Picking the Right Hotel For Your Trip
Now that you have seen the top 10 best hotels, it is time to start making your decision. Seeing what you want and need out of a hotel is important. After all, it will be a base for your adventures around Kissimmee, and you want to make sure it is a solid base. When it comes to making your choice and selection that little bit easier, why don't you weigh up the pros and cons of the hotels on your shortlist? See the advantages of one, and see the negatives in another. Once you have done this, you will then be able to make the right choice for yourself.