Poutine consists of french fries and cheese curds covered with brown gravy. A late 1950s phenomenon, it originated in Quebec. Despite its popularity, poutine took a long time to reach the masses, until fast-food chains like McDonald's, Burger King, and Harvey's added it to their menus during the early 1990s. Today, Canadians are spoiled for choices when it comes to fast food poutines. It's now possible to find a poutine that appeals to every taste. The students in my daughter's class recently created their own poutine recipe.  There is no shortage of options whether you're looking for a lobster and snow crab poutine or a poutine burger. The poutine even has its own festival. Now that you're craving poutine, Arby's Poutine Dip Sandwich is a must-try. I decided that I can't pass up the opportunity to try it.
Straying farther from traditional poutine, Arby's Poutine Dip Sandwich features a classic Arby's sub roll topped with roast beef slices, Curly Fries, a drizzle of gravy, and Canadian cheese curds. After all Arby's famous tagline is "We have the meats." Having tried it myself I can testify that this Poutine Dip Sandwich is sure to satisfy. To encourage double dipping, even more, gravy is served on the side.
There's no denying that this poutine sandwich tastes great. We found it to be full of flavor. It is simply delicious. There is no doubt that the sandwich will fill you up. It has been a while since I was at Arby's and the customer service was top-notch. Thank you Lonnie! What are you waiting for? Your food coma awaits.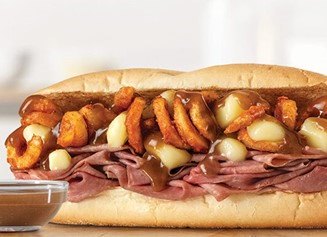 Learn more about Arby's and its Poutine Dip Sandwich at arbys.ca.  This Limited Time Offer is only available in Canada, at all 56 participating locations.
About Arby's
Founded in 1964, Arby's was the first nationally franchised, coast-to-coast sandwich chain and has been serving fresh meals since it opened its doors. Driven by its brand purpose of "Inspiring smiles through delicious experiences", Arby's restaurants offer the widest assortment of oven-roasted sliced roast beef, chicken, roast turkey, and Reuben sandwiches, signature Curly Fries, craveable milkshakes and, since 2018, delicious poutines exclusively available to its loyal Canadian customers. Headquartered in Atlanta, the brand operates a network of more than 3,400 locations in seven countries, including 56 in Canada. Visit Arbys.com or Arbys.ca for more information or socially connect with Arby's on Facebook.
Arby's Gift Card Giveaway
Here is your chance to win a $15 gift card to Arby's. Simply tell us your favorite from the Arby's menu and let us know in the comments why you are eager to try the Arby's Poutine Dip Sandwich.  The winner will be chosen Friday, December 9th.