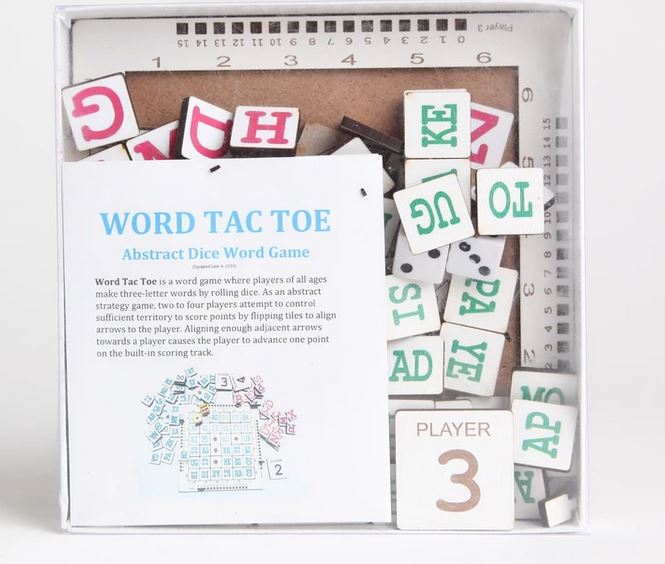 Nearly two years into the pandemic, we still do not know what is in store as we approach another winter season. The short-term forecast predicts that Canada could see up to 1,757,170 cumulative COVID-19 cases and 29,620 cumulative deaths by November 14. The winter months may bring some "additional challenges"  according to Dr. Theresa Tam, Canada's chief public health officer. I don't know about you, but I will be spending a lot of time indoors this winter. During the times when socializing involved the immediate household playing word games became a great way to pass some time.  We still like to play word games such as Word Tac Toe. From Brainy Games, Word Tac Toe is a three letter word game that is a wonderful learning tool for children and a fun family game too.
Players of all ages make three-letter words by rolling dice. As an abstract strategy game, two to four players attempt to control sufficient territory to score points by flipping tiles to align arrows to the player. Aligning enough adjacent arrows towards a player causes the player to advance one point on the built-in scoring track.
LASERCUT COMPONENTS:
• 6×6 game board for up to four players with …
• 4 integrated scoring tracks and score markers
• 80 bigram (2-letter) tiles
• 25 A-Z tiles (except "Q")
• Two dice.
SETUP:
1.Place 36 random bigram tiles face up in the grid.
2.Reset the score board markers to 0.
3.Flip all the A-Z tiles face up within reach of all players.
4.Agree upon a target score for winning the game.
GAME PLAY:
On each turn, a player will…
• Roll both dice
• Make a three-letter word using one of the bigrams
tiles located at the junction of the two numbers rolled.
See example below.
• To make a word, combine an available A-Z letter tile
at the start or end of the bigram tile.
• Grab the A-Z letter tile and call out the word made.
• Flip the bigram tile and align the arrow towards the
player.
• Place the A-Z tile upside down in the discard pile.
• Check to see if territory was obtained to score a point.
MAKING A WORD:
Combine an A-Z tile with a bigram tile in any order:
SCORING:
• Align three or four adjacent arrows to score one point.
• Replace the tiles used with new random A-Z tiles
Player 4 rolled 5 and 6. With the available letters, player four chooses to call out SEE and flips the (EE)  tile and aligns the arrow.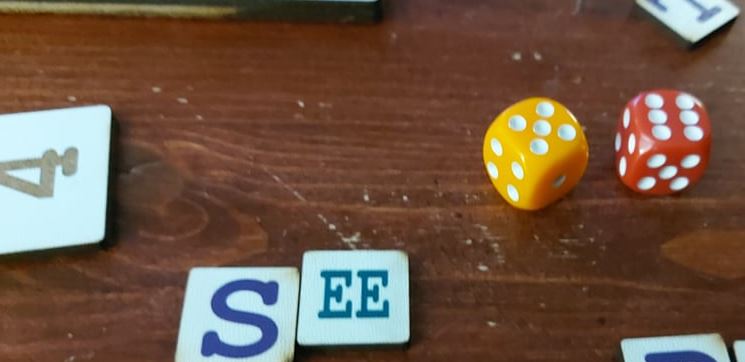 STRATEGIES:
• Don't always flip a tile to point to yourself. Thwart your opponent with a potential block.
NOTES: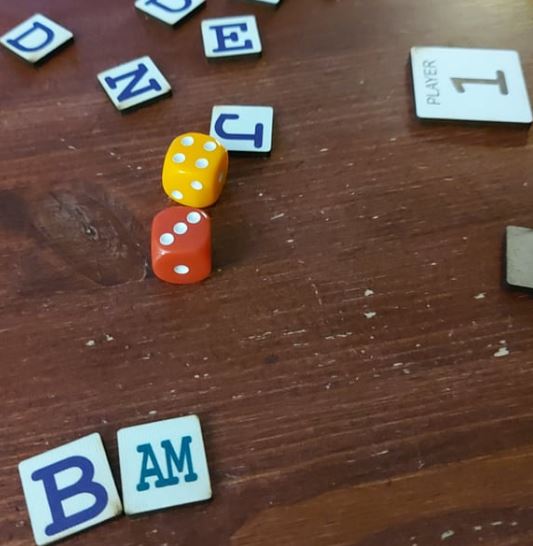 • When a dice roll results in no bigrams available, you may ROTATE any one of the tiles matching the dice  roll to point to yourself.
• Rolling doubles allows you one extra turn or allows you to flip back an opponent's tile to show its bigram.
• When there are less than five A-Z tiles remaining, you may restore all A-Z tiles.
• Once all A-Z tiles have been used (flipped over), flipped them all face up to put back into play.
I have to admit the game is very confusing at first, but once you catch on it is pretty easy. I would say the game is recommended for children ages six and up depending on their skill level and where they are in their learning. With the help of mom and dad or an older sibling children younger than six should bea ble to play too. My daughter is eight 1/2 and we feel that WORD TAC TOE Abstract Dice Word Game is really helping her spelling.
This holiday season why not give the gift of a family word game.
Brainy Games (Mark Kolb) is a local game designer from Aurora. He laser cuts family games, educational games, brainteasers and puzzles for all ages. His flagship product is SideLinks, a hilarious word association game that has been published for worldwide distribution.