I am constantly looking for new educational games for my youngest daughter K. She is 3.5 years old and we are currently awaiting an autism diagnosis; we are also in speech therapy. K wasn't saying many words, but thanks to Critter Connections from Brainy games she is expanding her vocabulary daily.
This matching game comes with many animal photo magnets, as well as corresponding attributes to all animals. To play you can either use an old baking sheet, or any metal appliance to start stacking animals and matching attributes.
For K,  she's unable to read or speak many words, therefore we just use the animals in Critter Connections.. Using this magnet game, K has been able to start speaking animal names, and correctly identify the matching animal sound! Another amazing thing this game has helped with is colors. A lot of the animals are in bright, vibrant colours. We have a few doubles of animals, but in different colours. I can now ask K to point to the green snake or the black snake, and she gets it right every time.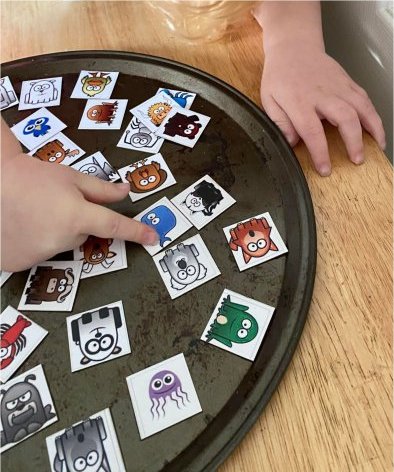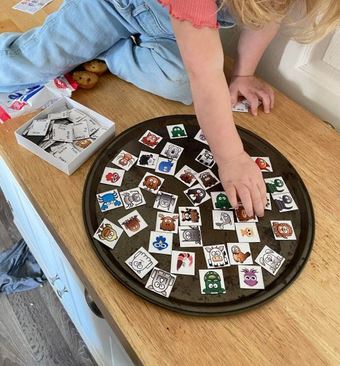 This game is also great for older kids as well. Kids that are learning to read will have fun with this interactive learning game as the words are easy enough to sound out to match with the proper animal. We have such fun with this animal matching game. This game is so interactive, colorful and fun that my usual busy bee daughter has been able to sit and focus on this for at least 20 minute intervals.I know it may not seem like a lot of time, but it is long for her.
If you have a child at home that is struggling or a K of your own then Critter Connections will be a literal game changer. It has helped K in so many ways that I highly recommend it. I've even gone as far as to show this game to our speech therapist, speech & language pathologist and our pediatrician. They are very impressed with her progress using Critter Connections.
.
Thank you to Mark at brainy games for creating this game and laser cutting all of these pieces. There are a couple other games on the website that I'd like to try for my daughter as her vocabulary continues to grow.
Critter Connections would make a wonderful gift this holiday season.
Website: https://brainy.games/