Now that April break is here and the nice weather is upon us it is the perfect time to get the kids outside. With a lock down upon us I see many  kids outside cycling. Getting in 30 minutes of outdoor activity such as cycling can help ones immune system. Aside from riding a bike, a 3 wheel scooter is also a fun entertaining outdoor activity for your kids. It is also easier for younger children to learn to ride a scooter then it is a bicycle. If you are wondering what the best scooter is for a child to learn on you may want to look at the Globber Primo Lights 3 Wheel Scooter . It was the very first scooter that my daughter learned to ride on. Now that she is eight years old standing 4 ft 6″ tall she needed a larger scooter. The Ultimum Kick Scooter is the perfect upgrade for my daughter and in these uncertain times a cost efficient scooter was just what I was looking for.
Where parents like myself have had to incur the costly price-tag of upgrading scooters as their children grow, the Ultimum Kick Scooter adjusts with them from childhood (5+) through to adulthood (25+).In fact, the Ultimum kick scooter is the only 3-wheel scooter in the market that can be rode by kids, teens and adults.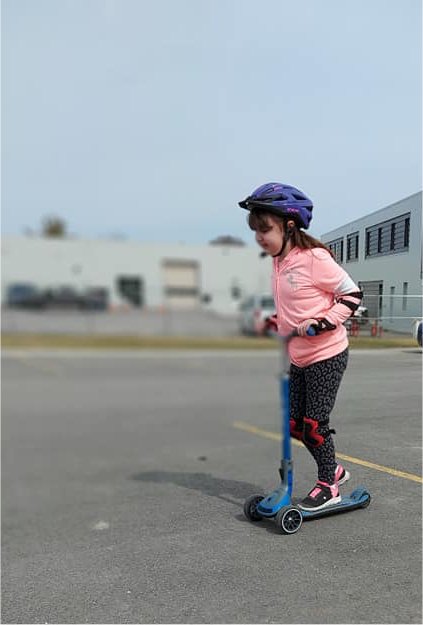 Equipped with a curved, 6-height adjustable T-bar and adjustable steering angle control system, the scooter is easily modified to suit the rider's age, size and desirable speed.
Globber's scooters offer the only product on the market with a patented steering lock button which helps younger kids learn to ride. The steering angle control system modifies the turning radius of the front wheels. Turn the knob clockwise to decrease the turning radius (for small turns) and counter-clockwise to increase the turning radius (for big turns).
The adjustable steering angle also makes for a much smoother ride. Globber's Ultimum Kick Scooter  features an extra-wide composite deck in dual-colour with added anti-slip composite grips supports up to 220lbs. And when my daughter is done for the day I just push a button to fold it back up.  Very little space is needed to store it.

It took a bit of getting use to as my daughter was use to her Primo Lights scooter, but after an afternoon of riding her new scooter she was a pro.
If you are looking for a scooter for your child or maybe yourself then look no further than Globber.
Please remember that with all outdoor activities to put safety first.  Make sure you and your child  is equipped with a bicycle helmet, elbow pads, knee pads and protective gloves or wrist guards. Remember riding alone or with sibling is still the best way to reduce the risk of cornovirus and keep others safe.
Website: https://www.globber.com