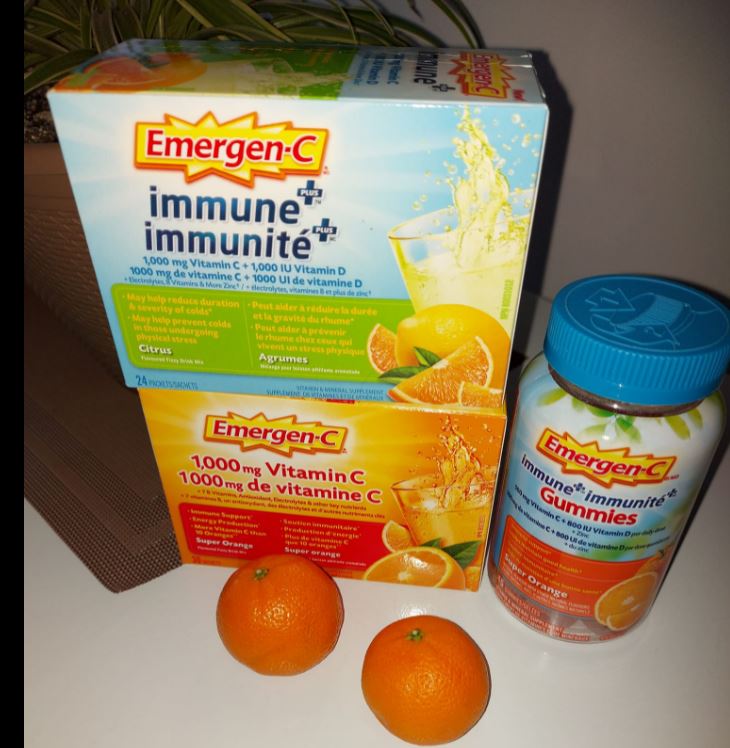 Vitamin C is a vital nutrient for health. Because Vitamin C is, water soluble our body does not store it, therefore to maintain adequate levels of Vitamin C, we need to consume food that contains it daily. When you hear the word vitamin C, you immediately think of Oranges. They are the best source of vitamin C, but you can also find the nutrient in other fruits and vegetables like broccoli, Brussels sprouts, bell peppers, kiwi, strawberries, papaya, and pineapple. If you have a vitamin C deficiency you might benefit from taking a supplement, such as Emergen-C as such a deficiency is linked to increased risk of infections.
Each serving of Emergen-C (one 9.1 g packet) contains 1,000 milligrams (mg), or 1,667 percent of your recommended daily allowance of Vitamin C. That is the equivalent to 10 oranges. In addition to vitamin C, the supplement is full of B vitamins and antioxidants, which the brand' claims support the immune system while enhancing energy levels. Pfizer Inc recommends a dosage of one packet daily, so you should avoid taking more than that. A serving of Emergen-C may help replenish electrolytes if sick.
Our Thoughts
Emergen-C dissolves easily in water and has the similar taste to tang. Both my husband and I have been taking it for two weeks now and we have not found it gives us any sort of energy boost. The company also claims it fights off a cold, but there isn't actually much scientific evidence to back that claim up. It may shorten the length of your cold, though the jury is out on that one as we have not been sick.
The verdict: With that said, giving Emergen-C a try probably won't hurt.It may be helpful as a temporary immune booster, but it shouldn't be used long term. As for my husband and me, we will not be continuing to take Emergen-C. We get plenty in our diet consisting of plenty of fruits and vegetables.
Please note: Emergen-C may interact with certain medicines, including some statins and chemotherapy drugs. If you're unsure about whether Vitamin C might affect your current medication it's always a good idea to check with your pharmacist or family Dr.
Emergen-C also comes in gummy and chewable forms. The gummies taste like sweet candy and again gave no sort of energy boost. You will want to keep them out of the reach of children.
For additional information, please visit www.EmergeOurBest.com
About Emergen-C®
With more than 20 flavors and a variety of special formulas, Emergen-C® products offer a wide range of wellness benefits. From helping you get vitamins and minerals for immune support to maintaining your energy, Emergen-C® products are a delicious way to reach your everyday wellness goals. For further information please visit www.emergenc.com.