Did someone say road trip? The kids will soon be out for the summer.  If you plan on hitting the road why not go big and enjoy driving a powerful, luxury vehicle, such as a Mercedes G Wagon. It combines the longstanding Mercedes reputation of style with extraordinary engine power and all-terrain capability. In addition, the SUV has all the luxuries that you would associate with the Mercedes brand.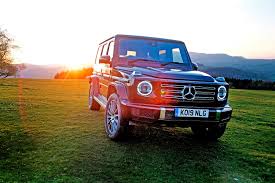 Here are some of the benefits you stand to enjoy when you rent a Mercedes G Wagon:
Great Luxury
If you are an SUV lover, rent a Mercedes G Wagon. The SUV is a great break from your ordinary car because it embodies the Mercedes luxury expected of the marque. You will enjoy every second of your cruise on the highways or driving on rough off-road terrain. The plush seating, exquisite interior, and excellent surround sound system make your cab an incredible place to sit during a drive. Besides, the spacious interiors make this exotic car a fantastic treat for both you and anyone else you choose to enjoy the drive with.
In addition, due to its high-end status, the Mercedes G Wagon is one of the choice automobiles among celebrities. This car is sure to bring attention. You can easily find more information about renting it from the best exotic car rental company.
Excellent Performance
As you finalize your plans for your road trip, it would be best to rent a Mercedes G Wagon because it is a powerful machine boasting a twin-turbo V8 engine. It is also an excellent pick since it can hit 60 mph in 6 seconds. The top speed for the Mercedes G Wagon G63 AMG is a mere 160 km/h, which is still more than good enough. Furthermore, this exotic car has excellent ground clearance  (half a meter) making it perfect for off-road drives. We can trace the great power exhibited by this high-end car from the initial reason for developing the G- Class, which was primarily for military use, until 1979 when civilians got access to it.
Easy Driving
Are you in a dilemma whether to rent a Mercedes G Wagon or not because you are unsure if you will be able to handle it? You do not have to worry because it is an unexpectedly easy car to drive. This is because it has an automatic transmission and requires no special training to steer and enjoy its great features.
Conclusion
As you can see, you stand to enjoy lots of benefits when you rent a Mercedes G Wagon. You get to drive in the utmost luxury and experience the tremendous power of this SUV. Happy safe travels!