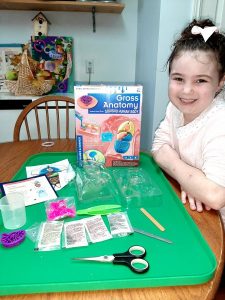 With only 13 days left to Halloween Parents debate a scary question: How can one celebrate Halloween in a pandemic? If you are one of those parents wanting your child not to miss out on a traditional celebration there are many alternative methods to keep your kids safe. From backyard candy hunts to at-home Halloween party with the immediate household, Halloween doesn't have to be boring. From our friends at Thames & Kosmos comes a fun way to spook up your Halloween while teach your child the major organs as they mold each one: heart, brain, lungs, kidneys, stomach, large intestine, small intestine, and liver.
They can even dress up as a Bloody Mad Surgeon and perform surgery with a safe plastic scalpel. Introducing Thames & Kosmos Gross Anatomy.
Thames & Kosmos Gross Anatomy: Make-Your-Own Squishy Human Body STEM Experiment Kit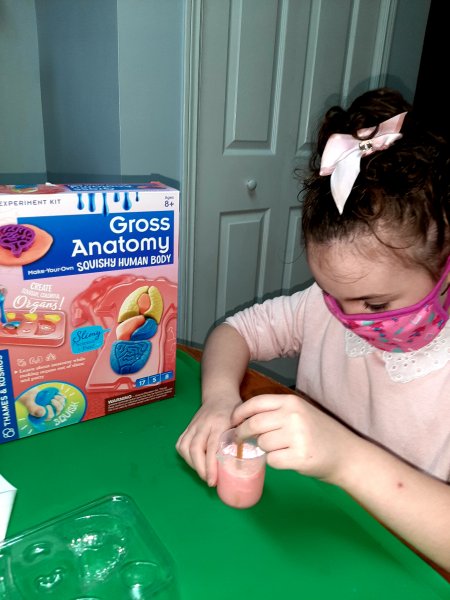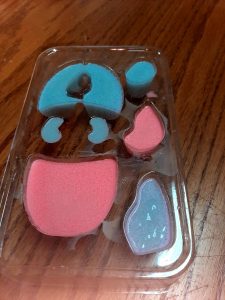 Gross Anatomy: Make Your Own Squishy Human Body from Thames & Kosmos comes with multiple colors of slime powder, a piece of putty, molds, measuring cups, stamps, and plastic tweezers and scalpel, as well as a detailed, full color instruction manual.
To get started your child  mixes up colorful slime mixtures, one at a time and pours them into the included molds to make some of the human body's major organs: the heart, lungs, kidneys, stomach, large intestine, small intestine, and liver. I do suggest that your child wear a mask when working with the powder and insure you are working on a hard surface that is easy to clean.  It takes about an hour for the slime to form. You then arrange your squishy creations in a clear plastic torso to visualize where they fit in your body. You can also use the included poster. The instructions are super easy to follow. There are also a few facts about the human organs included in this kit.
We found that the piece of putty in our kit would not mold to make the brain, therefore Miss P used some left over powder from her kit to make her own putty and mold the brain. While she placed organs on the included poster, I told her a few high points of each organ. For example, she learned that the liver is a kind of filter for the body and that one can live without their gallbladder. She also learned that the sperm whale has the biggest brain of any animal species, and that a ragworm has the smallest brain. After-all, animal brains come in a variety of shapes and sizes. Miss P said the best part was making the brain.
Final Comments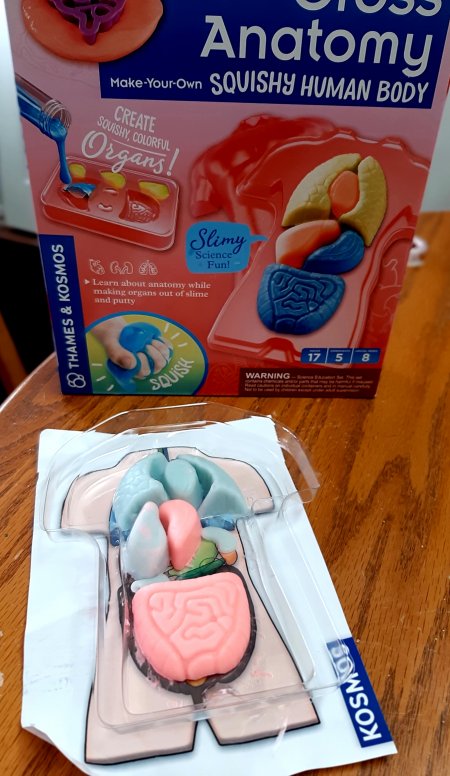 Overall, we love the Gross Anatomy set, because who doesn't like a squishy human body to play with!
The kit is for ages 8 and up. However, younger children may be able to complete the kit with adult assistance.  Parents should work with children on this project, to help younger kids identify the different body parts.  Miss P had fun removing the gallbladder from the plastic body mold and operating on the large intestine.
The DesRochers house hold won't be door-to-door trick-or-treating this Halloween. My family and I will be celebrating at home with our own treats, crafts, and some Halloween stories and movies.  How do you plan on spending Halloween?
Thames & Kosmos is well known for their magic and board games. On Miss P's Christmas wish list is Thames & Kosmos Kids First Robot Pet Shop and Thames & Kosmos Rainbow Gummy Candy Lab – Unicorns, Clouds & Rainbows! Sweet Science STEM Experiment Kit.
About Thames & Kosmos:
Thames & Kosmos (T&K) was founded in 2001 with the mission of improving informal science education by publishing high-quality science and technology related educational products for children of all ages. T&K's mission has since expanded from its STEM roots to encompass other educational branches, including arts and crafts and early childhood learning, as well as the multitude of thinking and social skills that can be taught through games and performative magic sets. T&K places an emphasis on teaching concepts and skills through hands-on modeling of real-world devices and processes, and by offering comprehensive, meaningful reading materials for a rich learning experience. T&K is headquartered in Providence, RI, and is the North American subsidiary of Franckh-Kosmos Verlags-GmbH & Co. KG.