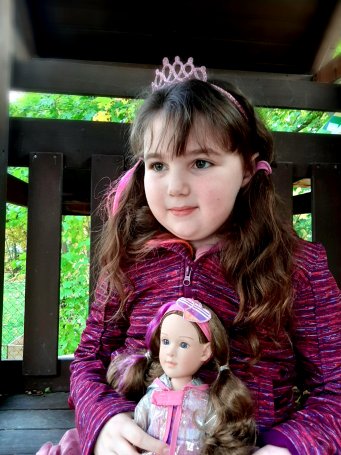 I can't believe we are halfway through November. With only 41 days until Christmas choosing the most joy-inducing Christmas gifts for our kids isn't always easy. It seems like everyone is coming up with the 'must-have' toy list this year. Dolls are some of the oldest toys that children have ever played with. While top-selling Blume Dolls and the latest LOL Dolls may be getting lots of press one brand of dolls has prompted healthy imaginative play and kindness for nearly a century. Founded in 1923 by Beatrice Alexander, a New York City woman Madame Alexander viewed dolls as valuable learning tools that could teach children empathy, compassion, and responsibility. Over the years Madame Alexander dolls have received numerous awards from the doll industry. Today, Madame Alexander Doll Company continues honoring all that is timeless with the release of Kindness Club Dolls just in time for the holiday season. Their new line of seven 14-inch dolls in three different skin tones feature girls that strive to make the world a better place through caring and respect.
The dolls' names are Avi, Rosa, Zola, Paisley, Harper, Emmi, and Brooks.
Madame Alexander 14″ Kindness Club Doll Avi

The pictures don't do these dolls justice. We own Avi, who Miss P renamed Isabella. Honestly, it is one of the cutest dolls she owns. I love her lifelike details and can not get over how much the doll looks like Miss P. She comes dressed in a soft pink skirt, plaid shirt, transparent iridescent raincoat, decorated hair band, and knee socks with magenta rainboots. Her outfit is completely adorable and removable. She has rooted life-like hair that can be brushed and styled easily.
Kindness Club  14" dolls have molded, poseable bodies and realistic fixed eyes. With soft hair and endearing features, this is one doll that gets played with constantly in our household. And to be honest I prefer the 14-inch doll size over the 18-inch dolls on the market.
I also love that the dolls come in three different skin cone options. Dolls with different skin tones and ethnicities encourage children to celebrate the differences among us. Kindness Club Dolls also help facilitate imaginative, and nurturing play.
Overall, Miss P loves her new doll and has Rosa on her holiday wish list.
Check out Madame Alexander's video on their kindness campaign below. Always be humble and kind.
This upcoming holiday season leave the interactive dolls on the shelf and shop at Madame Alexander Doll Company. The new line of Kindness Club Dolls is a little tricky to find in Canada, but lucky for us Amazon ships to Canada.
About Madame Alexander Doll Company, LLC
Madame Alexander encourages girls of all ages to enjoy a lifetime of doll fun, play, gifting, and collecting with Madame Alexander Baby, Play, and The Collection dolls that are beautifully designed, age-appropriate products of quality and craftsmanship. Madame Alexander is an affiliate of Kahn Lucas Lancaster, Inc. Dolls and related accessories are available in all tiers of retail distribution in the U.S., select markets internationally, and online at www.madamealexander.com.