Choosing the perfect gift for someone can be difficult, made even more difficult when that person is a love one with dementia. Did you know that over 500,000 people in Canada are living with dementia. In fact, 25,000 people are diagnosed with dementia each year. While Dementia is more common in people over the age of 65, it can also affect younger people. Early onset of the disease can begin when people are as young as 30. If you are struggling with a gift idea for your loved one with memory loss Easy Daysies Ltd has the answer. Award Winning Easy Daysies Magnetic Schedule Board helps adults living with any form of memory loss through an easy to follow task scheduling system.
Included in My Day for Adults:
A 2-sided magnetic board (English on one side, French on the other)
20 Magnets:
• 10 printed task magnets
• 10 blank magnets for
customization
50 Permanent Stickers:
• 20 task stickers in English
• 30 task stickers in French
Dry-Erase Marker
Magnet Storage Pouch
Magnets include every day tasks like eating meals, taking medication, and appointments, to cleaning, screen time, laundry, and checking that the stove is turned off! While some of these tasks may not be required if your love one is in a retirement home or LTC home, many of the magnets can still be useful.
Each magnet also has a space to write in a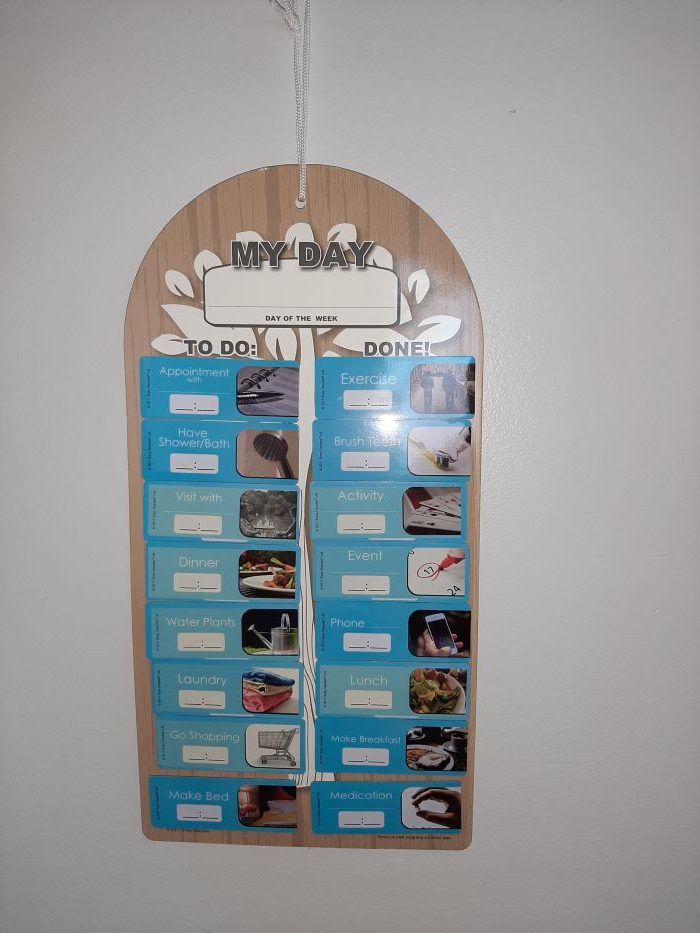 time using the supplied dry-erase marker. Depending on the user, you can simply complete tasks in order, or at a specified time. I find "My Day for Adults" to be useful in providing a structure for the day.
Brain Injury occurs at a rate of 500 out of 100,000 individuals yearly in Canada. It is is the leading cause of disability in people under 40, Severe traumatic brain injury is linked to a greater risk of developing dementia years after the original head injury.
My daughter obtained a traumatic brain injury in 2014. Memory loss is often a consequence of traumatic brain injury (TBI) survivors like my daughter. Up until now she had been using a whiteboard for structuring out her day.
The problem is a whiteboard takes up so much room. "My Day for Adults" will allow her to record an appointment she might have that day, remind her to water her plant, brush her teeth etc.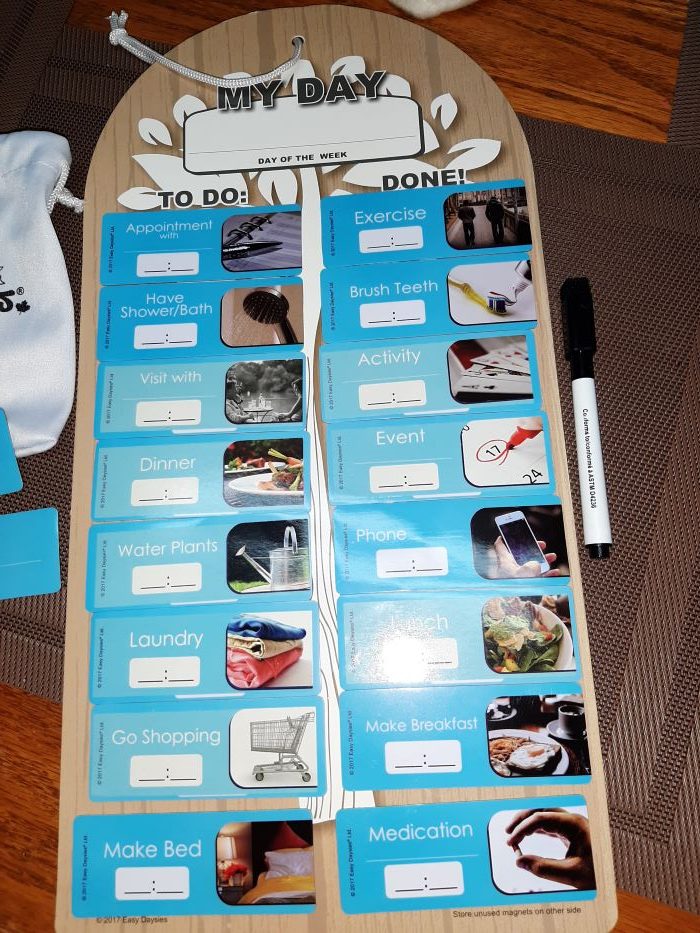 People with memory problems don't adjust well to sudden changes in their routine. Covid 19 has definitionally had an impact on that. Even seniors in retirement homes not suffering from Dementia are finding themselves struggling to remember things due to the change in their daily routine brought on by Covid.
Whether your love one is experiencing general memory problems or the effects of dementia, My Day for Adults is the ideal gift that will make a real difference in their life. To find out about Easy Daysies Ltd  and purchase your own memory system visit www.easydaysies.com.