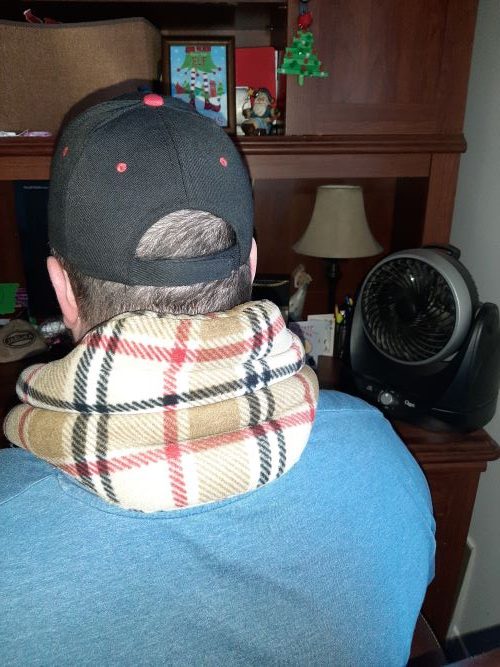 Sunny Bay Hands-Free Unscented Neck Heating Wrap is the perfect aid for your loved ones' aches and pains. It makes a great alternative to the traditional hot water bottle or electronic heating pad.
The pack contains natural flax seed as the core heating component. To heat the bag, simply warm it in your microwave for 2 minutes. Take it out and shake it and rotate and place it in the microwave for another 2 minutes and you are ready to go. I do recommend heating in 30 to 60 min increments as every microwave is different.
The Sunny Bay Hands-Free Heating Wrap will stay warm for 30+ minutes. I find it quite comfortable to wear for extended periods. The tapered design reaches the higher and lower part of my neck.  I have a large neck, so the only drawback I found was that the straps didn't hold the neck heating wrap in place. Sunny Bay does have a larger version for people with larger necks or broader shoulders. I'm thinking I should have maybe ordered that one. This one is best suited for women and men with petite necks.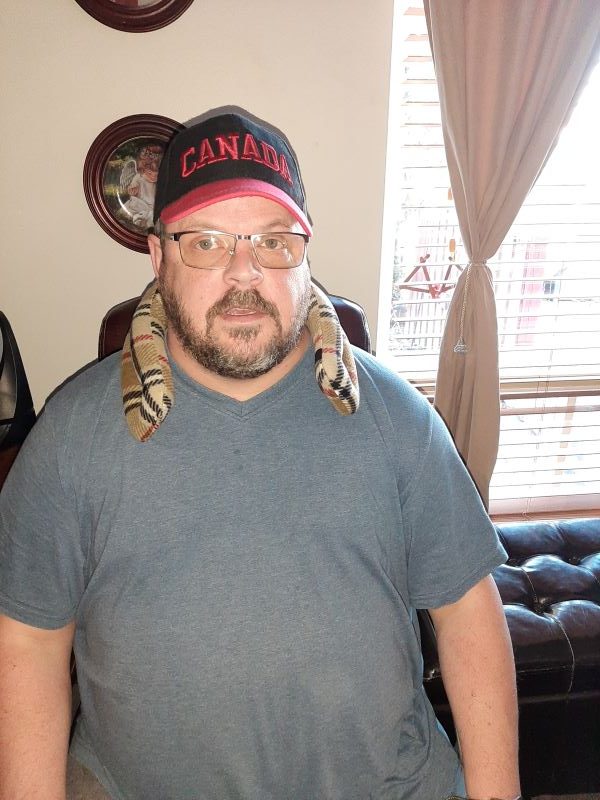 Nonetheless, I have owned several heating pads over the past few years including Sunny Bay Microwavable Shoulder and Upper Back Heat Wrap. I prefer Sunny Bay over other brands of heating pads I have owned.
I have even used the Sunny Bay Hands-Free Heating Wrap even on my knee as well, as I suffer from a torn ACL muscle, Even my wife has used the neck heating pad on her stomach to help relieve stomach cramps.
If you often rotate between hot and cold therapy as I do, you will be pleased to know that the Sunny Bay Hands-Free Heating Wrap also works for cold therapy. Just place it in the fridge or freezer for an hour until it is cold.
Recurring pain is one of the leading causes of insomnia. Sunny Bay Hands-Free Heating Wrap can actually help you sleep better by soothing your pain. Add a few drops of aromatherapy lavender calming oil to the pack for a therapeutic effect.
This holiday season give the gift of comfort with Sunny Bay Hands-Free Heating Wrap.
With Sunny Bay, You're In Good Hands
BioMed DB Design, LLC (Sunny Bay is our brand) started with the goal of providing fast, effective pain relief. We saw what was already out in the market and we simply weren't happy. We wanted heating pads that covered more body space, were more comfortable to use, and retained heat longer. After rounds of testing and design, we created the perfect neck wraps and heating pads, designed for a comfortable fit on anyone's body. No more dealing with sporadic heating and flimsy body pads – Sunny Bay pads are made to hold heat for longer than any of our competitors.
Our heating pads are top-of-the-line. During production, we use only the best materials and craft them with great care. All heating pads and wraps are filled at home in the USA. Our products keep customers coming back year after year for more therapeutic pain relief and other ergonomically-designed products.
Website: https://sunny-bay.com/