It might be challenging to find reliable software for customizing PDFs, considering that there are many software on the internet. This guide will help you learn what the best PDF tool use is and how it works. Introducing PDFBear.
What is PDFBear?
PDFBear is one of the most popular file customizers on the internet. It is a web-based platform and the best PDF tool in the market right now. If you are looking forward to editing or modifying your PDFs instantly, this is probably the most recommended tool for you.
It offers most of the tools you need from merging, splitting, converting, repairing, rotating, locking, and unlocking PDFs. You can even use this online tool to compress PDF documents instantly and efficiently. It assures high-quality results for any service you access. Below is the list of advantages when you consider using PDFBear and a how-to guide on PDF compression.
What are the Advantages of Using PDFBear for PDF Compression?
Every platform has its benefits and services to boast. Well, PDFBear has a lot of them. Aside from being one of the most convenient, efficient, and instant platforms, it also has the most satisfying features of a PDF tool that you could only imagine. Here are the reasons PDFBear is considered the best tool for PDF compression.
Quick and Easy Interface
Some people might think compressing PDF documents is a little complicated. With PDFBear, even beginners will have no trouble throughout the entire process. It has a user-friendly interface that you can easily access with ease. It even has straightforward instructions to help you out with your PDF Compressions.
Another upshot for PDFBear is its quick and reliable services. In a matter of fewer than five minutes, you can enjoy your newly compressed PDF document. With this online tool, you are only a few clicks away from compressing your PDFs.
Secured PDF Compression
One of the best things about PDFBear is that you get to compress your PDF documents without worrying about privacy. It has been putting security as its top-most priority by providing the best encryption feature, assuring secured PDF compressions at its finest.
The PDFs you have uploaded will only be sent to PDFBear's clouds. Then, all of your shared data will be wiped out from the platform's servers in a matter of sixty minutes after it has generated a download link. You will be assured that there are no remaining copies of your files.
Compatible with Any Device
If you are looking for a PDF compressor with universal compatibility, then PDFBear is the best online tool for you. You can access all of its offered services like PDF compression on any smartphone or tablet that runs the Android operating system.
PDFBear is also much accessible on any computer platform such as Mac, Windows, and even Linux. You can compress your PDFs anytime and anywhere through this software. Just visit the site and enjoy its unique features.
No App Installation Required
Not a fan of downloading and installing applications? Then, PDFBear is probably the top choice for you. Since it is a web-based software, all its offered online tools are being performed in the cloud. It merely means that you can compress your PDF documents by just visiting its website and following the steps below.
PDFBear does not require any offline app installation. You get to access all of its services without the hassle and as comfortably as counting one, two, and three.
Best PDF Compression Quality
PDFBear offers a wide variety of online tools for free. It has the best PDF results, among other software on the internet. You can compress or do anything you want with your PDFs without compromising your PDF files' quality. It assures that it will only resize your PDF into a smaller storage size without affecting its integrity.
These features can be achieved if you consider using PDFBear. Although it has a paid version, you will be able to still compress your PDF without worrying about any charge.
How to Compress a PDF File Using PDFBear?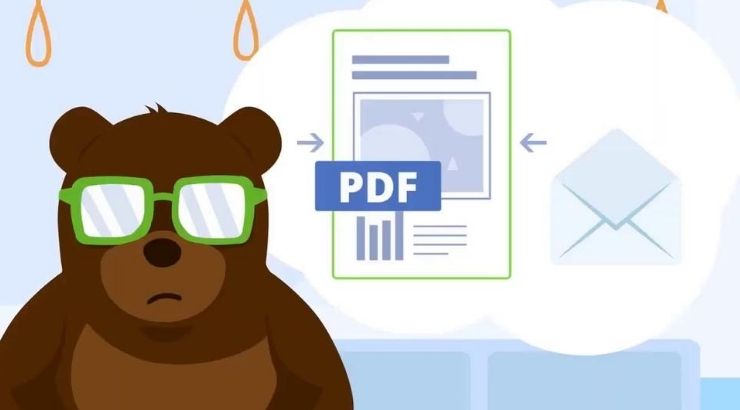 A PDF or Portable Document Format is generally designed to be read-only. It is commonly used for convenient and hassle-free file printing, sharing, and viewing. Compressing PDFs probably sound complex if you do not know the right tool to use. Listed below are the steps on how to compress a PDF file using PDFBear.
Step 1. Visit the PDFBear website. The first step you need to do is navigate to your device's internet browser. Input 'PDFBear' on the search box and click the very first link among the results. You should be redirected to the platform's homepage in an instant.
Step 2. Upload the PDF document. The next thing you have to do is upload the file you want to compress. For Android devices, tap on the 'Select Files' button and choose your desired PDF on the file manager. For the ones using a laptop or personal computer, you can drag and drop the document from your desktop to the PDFBear website's uploading area.
Step 3. Start PDF compression. You can start the process by choosing from the options available on what you want to do with your PDF document. After that, PDFBear will analyze your file and compress it to a much smaller storage size.
Step 4. Download the compressed PDF document. A download link will be generated instantly once the compression process is complete. You can save it to your computer or Android device by clicking the 'Download' button. You can also put it on your Google Drive account or email it to some of your friends
Depending on your internet stability, the entire process from uploading to downloading takes about five minutes or maybe lesser. With PDFBear, you are only four clicks away from compressing your PDF files.
Takeaway
As of now, you are already knowledgeable about how PDFBear works and why it is the best tool for compressing PDFs. If you are looking forward to finding a PDF tool that suits you, be sure to put PDFBear on top of your list.