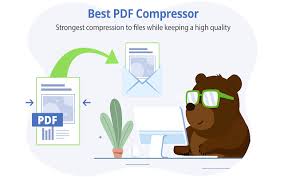 Over the years, PDF files have become a necessity for modern business operations. Most businesses today rely on paperless transactions—sending invoices, proposals, contracts, and more in PDF format. It is also where they share project information quickly while making sure that no data gets lost in translation.
The best PDF converters let you convert doc to PDF or technically any other file types to this secure and compact format. In this article, we are covering topics such as how PDF converters support today's businesses and how you can use one in converting documents to PDF.
The Benefits of PDF Converters to Businesses 
Many PDF readers and apps exist to allow you to open and view PDF files. But, to make changes directly to a PDF, have something more advanced. A PDF editor lets you add e-signatures, edit texts, and insert images. It also makes it easier for you to convert PDF files into a different format, like DOCX and Excel spreadsheets. Converting PDF to JPG is also possible.
What does this mean for businesses?
Secure Data 
PDFs have advanced security options such as allowing you to password-protect the file using advanced encryption. This way, you get to regulate who can access the data—this makes PDF a viable choice for long-term file storage, keeping your sensitive business information safe.
Convenient Paper-to-Digital Conversion 
PDF converters also can capture texts and convert them easily to PDF files. It means you no longer have to type things manually in order to have a digital copy of your paper documents. Just imagine how investing in PDF editors can save you a substantial amount of time and money, allowing you to redirect these resources to other profit-making tasks.
Sign Documents Digitally 
Many transactions today are processed online. You can skip a meeting with a client just to have them sign a contract. You can create a digital PDF contract instead, even e-sign bills from your vendors. Most PDF editors offer the option to add a stored signature or sign the document directly.
Wide Range of Formatting Options 
PDF files aren't called "versatile" for nothing. They have become an open standard for exchanging documents due to the fact that they are supported in almost all kinds of apps today. It means it is wise to keep your documents in PDF format, if you want to keep them secured, compact, and readily-accessible.
Easy Editing 
You can convert almost all kinds of file types into PDF and vice versa. This is a big plus for businesses, allowing their teams to share information seamlessly and get the job done more efficiently. A PDF converter just makes it easier for you to store PDFs and convert them into different formats whenever necessary.  With all these said, how do you convert a Word Document to PDF?
Occasionally, you will need to convert a Word Document into a PDF and it would take just a few minutes to do so. Click the Microsoft Office Button, click save as, and then click PDF to save the documents as a PDF file. If you want to open the file right after saving it, select the 'Open File After Publishing' check box. This should be if you have a PDF reader on your computer.
If you don't have Microsoft Word but need to convert a document to PDF, you have a few other options:
Google Drive: Upload a Word Document to the Drive, open it as a Google Document, then save it as a PDF file. This works well enough if you have a Word Document that doesn't require much formatting.
Conversion Site: There are plenty of sites that offer to convert DOCX files to PDF for free. The best ones should be safe, fast, and can convert more types of files. Some others even let you edit a PDF file directly, providing more ease and convenience.
You can also look for other free office apps that offer the same features as Microsoft Office.
Takeaway 
PDFs are handy whenever you have to distribute documents to multiple parties. You create a document using another app and convert it to a more compact PDF file and the options to do so are plenty! It means you will never lack the tools to convert such files into a safe and compact PDF format, without ever fearing that there will be changes in the formatting and even in the document's quality, too. A PDF converter makes the process easier with just a few clicks! So try out PDFBear for all your PDF needs and you'll be looking no further for other converters.
Do you have any other tips and information on how to convert word documents to pdf? Share your thoughts by leaving a comment below. Don't forget to share this with your friends as well!