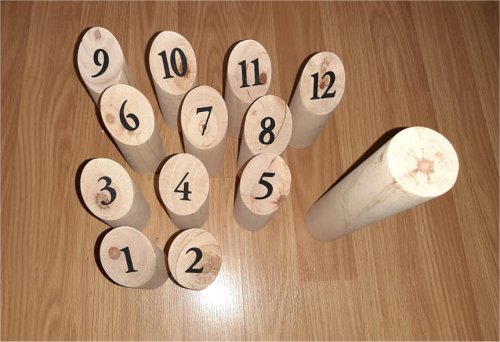 Lawn Games are a great gift idea that the entire family can enjoy. This wooden scatter game from aGreatLife gives an outdoor twist to the classic game of lawn bowling. Also known as mölkky in Finnland, Scatter is a lawn tossing game, which is reminiscent of kyykkä, a centuries-old throwing game with Karelian roots.
Today, scatter tournaments are played all over the world and the game is gaining popularity in the US. People of all ages can play scatter and is a great family game to get everyone up and active.
How to Play:
Based on a combination of throwing accuracy, and chance you use a throwing dowel to try to knock over numbered skittles numbered 1-12.  The rules of scanner can vary, but it basically goes like this:
Place the pins in a rough triangle. The first player throws the tossing piece at the skittles and tries to knock them down. The next player sets up the pins in the exact place that they fell.
Scoring:
Add up the number of pins that you knock down together. If you knock down 5 pins you get 5 points. If you only knock down 1 pin you get the number of points on the pin. The game ends when one player reaches exactly 50 points.
Rules:
Throws must always be underhand.
If a skittle/pin is leaning on another pin or the throwing dowel it is not considered fallen.
If a player misses 3 times in a row. They are out the game.
If a player's scores over 50 points. They are penalized, and their score gets "knocked" down to 25.
The game goes by fairly quickly. It takes about 15 minutes to play and the learning curve isn't too difficult for kids to learn. My six year old daughter caught on pretty quickly. Playing scatter is a great way for children to learn math skill while having fun at the same time!
The game is portable and comes with a canvas storage bag, making it ideal for birthday parties, camping or a day at the beach in the summer. The wooden scatter game also makes a wonderful Christmas gift that will get plenty of use for years to come.
Website: https://agreatlifebrand.com