LED lighting is a technology that is constantly evolving-surpassing standard lighting options. Discover the future of lighting with portable GE Enbrighten light fixtures. Jasco recently introduced these lights that functions in the space ranging between a night light and a wall sconce.
Providing full range dimming and an elegant and modern stainless steel exterior, GE Enbrighten LED lights are ideal for bathrooms, kitchens, hallways, bedrooms, or any room in your home.
We currently have one in our hall way and living room.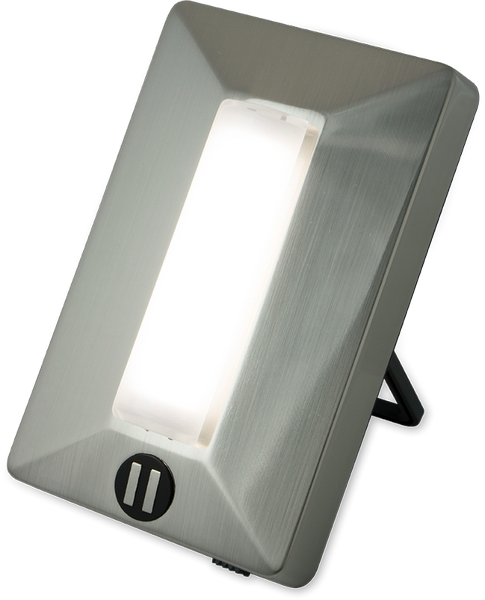 GE Enbrighten luminaire touch on/off guide light is the perfect solution for energy-efficient night lighting. The fixture includes a picture-frame-type stand that allows for tabletop usage, or the fixture can be wall mounted. You could also use it as a handheld light device.
Equivalent to a 40W incandescent bulb, the light fixture gives a good spread of light that's more than enough for those midnight trips to the freezer for ice-cream or those night-time trips to the bathroom.
The battery operated, touch on/off guide light runs on six AA-cell batteries, which will power the fixture for about eight months, with lower-usage areas seeing longer battery life.
The Perfect Night Lights for Kids and adults
With all kinds of imaginary monsters lurking about, nighttime can be a pretty scary place for little ones. I have put a number of night lights through their paces over the last 20 + years and Enbrighten night lights come out on top.
With Enbrighten, the light will turn off automatically after 1 hour, making it the perfect night light for children as well as adults.
Travel Tip of the Day: Bring a Nightlight
I recently went on an overnight trip to Toronto and decided to bring my GE Enbrighten luminaire touch on/off guide light with me. It took up little space in my overnight bag, and yet helped my daughter sleep through the night. Nightlights are part of most children's bedtime routine and sleeping in a different place other than home can be frightening for young children. Enbrighten can help everyone rest soundly.
Motion Sensor Indoor Light Fixtures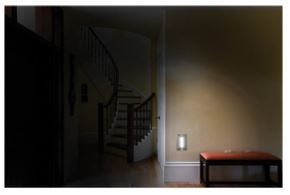 Motion sensor light switches are becoming more popular in homes, and for good reason. Not only do they provide added safety and security in your home, but they can also help you save money.
Enbrighten® motion-sensing plug in night light automatically turns on when motion is sensed- detecting it up to 25 feet away. The sliding dimmer switch, which is located just under the front edge, controls the amount of light from 100% to 10%. This allows me to change it from full light to a softer light. The night light is equivalent to a 40W incandescent bulb, so this is not your typical night light- No siree, Bob!
My eyes have a new love.
This GE Plug-In Motion light has been the answer to my frequent night-time bathroom trips. While it does not cure my need to constantly urinate, it does prevent me from hurting myself- as I no longer need to feel my way to the bathroom, stubbing my toe along the way. It lights up instantly, as I near it.
The Enbrighten® motion-sensing plug in night light can also be very handy for people like my oldest daughter who has limited mobility, eliminating the need for her to have to fumble with light switches. We hope to order her two night lights for the residence she resides in.
They would also be very handy in the bathroom, as my youngest daughter is not tall enough yet to easily reach the bathroom light switch.
The wireless battery-operated light fixture is available in both motion-sensing and touch-activated, and the plug-in option is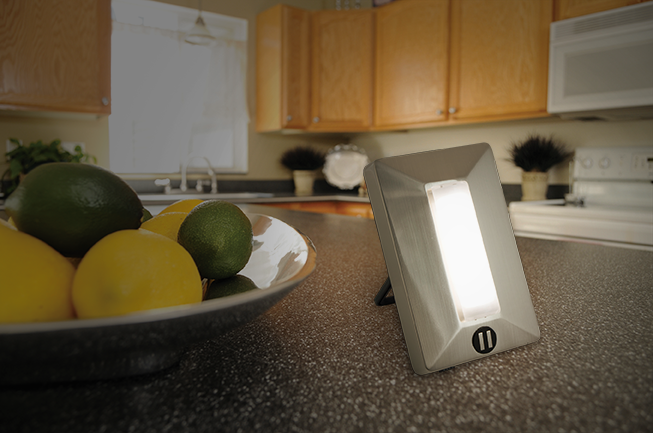 available in light-sensing and motion-sensing.
I am glad that Uzma Powell introduced me to Enbrighten. It has really made a difference.
You too can experience endless possibilities with GE Enbrighten – lighting for life.
Thoughts?
About Jasco
At Jasco, we design and develop products to simplify your life and connect your home. Jasco provides one of the most comprehensive product offerings in home automation, lighting, security, home entertainment, power and mobility products. While providing our retail partners full and far-reaching product assortments, we use our commitment to design, research and development to bring to market a steady flow of product innovations that energize and invigorate the home and mobile solution landscape. Visit www.jascoproducts.com to learn more and follow Jasco's Blog, Facebook, Twitter, Pinterest, and YouTube channel for more information.
About GE Lighting
GE Lighting invents with the vigor of its founder Thomas Edison to develop energy-efficient solutions that change the way people light their world in commercial, industrial, municipal and residential settings. The business employs about 13,000 people in more than 100 countries, and sells products under the Reveal® and Energy Smart® consumer brands, and Evolve™, GTx™, Immersion™, Infusion™, Lumination™, Albeo™ and Tetra® commercial brands, all trademarks of GE. General Electric (NYSE: GE) works on things that matter to build a world that works better. For more information, visit www.gelighting.com.