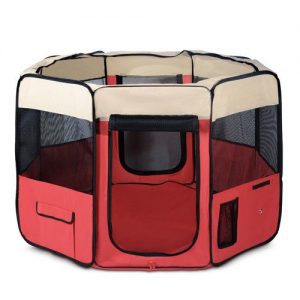 Congratulations, your dog is about to have puppies. If she is about 7 weeks into her pregnancy now may be a good time to get your whelping room ready. A whelping room is where your pregnant dog will give birth to her litter of puppies. The whelping room should be in an area that is quiet and free of distractions.
There are many options to consider for whelping boxes. When our dog was giving birth we used a plastic storage bin. If you decide to use a plastic storage bin, place towels in the bottom of the bin.
A child's plastic swimming pool also serves well as a whelping box depending on the size of your dog. Many online stores also sell dog playpens, which also serves well as a whelping pen as many of them have a waterproof bottom.
Whatever you choose, the whelping area should be large enough for mamma to lie on her side with 1 to 2 feet of space around her for the pups to nurse. Too big of a box can cause the puppies to wander away from mamma.
The box should be easy to clean. You will need waterproof flooring for the whelping box. This will help make cleaning a breeze. When our female was giving birth we made a waterproof floor out of ply board and stick on floor tiles.
You will need some dog bedding within the box. We used old towels and blankets to line their whelping box. The bedding should be changed constantly so have plenty of bedding prepared for the pups' arrival. Another good option for whelping box lining is lambskin crate pads.
To help solve the problem of keeping the pups in the whelping pool, you can surround the pool with a wire dog pen and place a board across the opening which will allow mom to get in and out easily, but keeps the pups inside the whelping pool. By the time the puppies are two weeks old, mamma should have an area near the whelping box, but separate from the puppies to allow her time to rest.
By the time the pups are 4 weeks old they will need to be in a larger enclosure. Once whelping is over, a pet enclosure prevents mess all over the house when your pet is unsupervised.
Discover the best online pet enclosure store Australia Coops and Cages. Providing a nice safe & comfortable home for your pets. Coops and Cages™ offers enclosures for birds, cats, chickens, dogs, ferrets, rabbits & even rats.
If you have found this article useful then do not hesitate to leave feedback below.
Whelping Supplies