If you are wondering what is the proper amount for the tooth fairy to leave you're not alone. My daughter lost her first tooth on Monday and I had no idea what to leave. Needless to say she went to bed excited to see what the tooth fairy would bring.
Back when I was growing up in the 70s, teeth were going for 25 cents. In the 90's my now adult children would receive a dollar. Today, the tooth fairy is giving some kids a lot to smile about.
What is the going rate for a tooth?
According to a survey by Visa, the average payout for a tooth in 2015 was just under four.  They also developed an onlinetooth fairy calculator to help parents figure out the market rate for their exact location and demographic.
Accord to a US survey, children in the US are receiving an average of $4.13 per tooth.
I conducted my own survey and of the parents asked the average payout was $2 with a few children receiving anywhere from $5  to $10 for their first tooth.
Of course factors like a family's income can play a significant role in how much a child receives for their tooth.
According to Colgate.com, children have 20 baby teeth: ten on the top and 10 on the bottom. With my daughter loosing 20 teeth, and if  she receives $5 a tooth, that will set my husband and I—rather, the Tooth Fairy—back $100 over the next several years until she turns 10 or 12!
Our daughter was more than satisfied with her gift. Quite honestly I think she was be satisfied with any amount received.  She doesn't understand yet that each coin and bill has its own value of money.
Whatever you decide don't set the bar too high or else coughing up $20 per tooth is going to set you back $400 per child.
Offering more money for well-maintained teeth can also help her remember to brush and floss properly.
Make sure the Tooth Fairy leaves them a receipt under their pillow along with their payment.
Where to leave the tooth
So you don't have to frantically search under your child's pillow consider a tooth fairy pillow or pouch. If you are crafty you can even create your own do it yourself tooth fairy pillow out of felt. Another option is to use a small dish.
Tug the tooth is a huggable, lovable character shaped like a tooth. He comes with an adorable little backpack pocket attached to his back where your child can keep his or her tooth safely for the tooth fairy to collect. The pocket is large enough to hold coins.
Sample Tooth Fairy Receipt
I was checking out the various tooth fairy receipts on Pinterest and decided to make one of my own. Click on either image to download and print.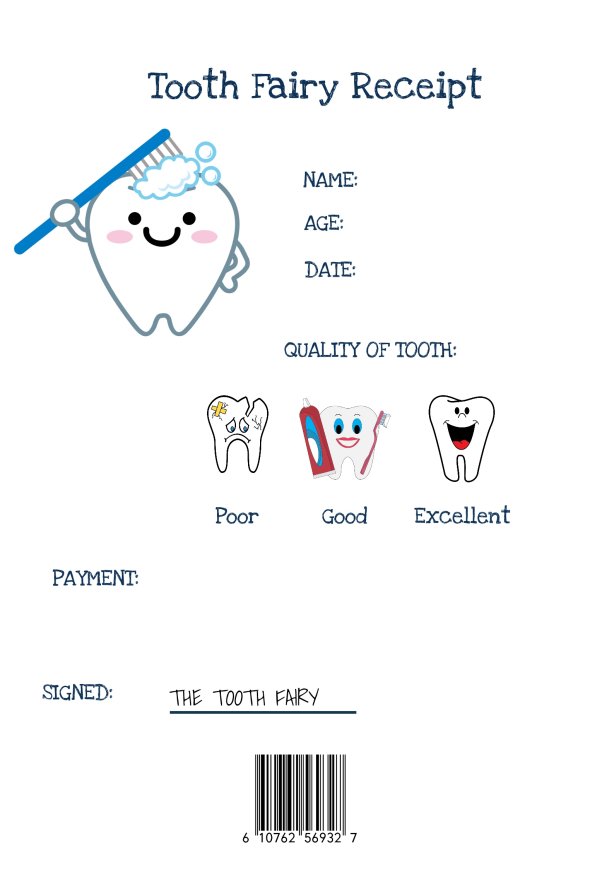 How much does the tooth fairy pay for teeth at your house?  Remind your children to brush or you may just end up paying a lot more than $100.00.