Ontario winter forecast threatens a pretty, cold winter ahead and we are already preparing for it. With Ontario's cost of electricity climbing we are looking for ways to save on our home heating costs. One way we are lowering heating costs is by using space heaters in our home.If you are looking to heat a large room in your home like we are a micathermic panel heater is your best option.
What is the best Micathermic heater?
With its wide range of features, the instant warmth heater from Hammacher Schlemmer is one of the most popular heaters on the market. It provides up to 1,500 watts of silent, safe heating for the home.
Choosing the best micathermic panel heater for your home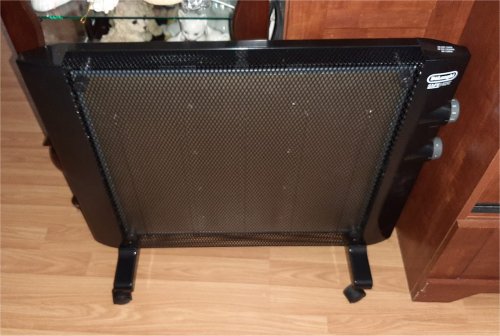 The instant warmth heater's thin design and convenient wall mount option, allows me to virtually put this heater anywhere. While many heaters these days are rather bulky, the instant warmth heater looks more like a flat-screen TV. In fact my six year old thought we bought her a new TV for her bedroom. It literally takes up no space in my living room.
While you can mount the heater to the wall, the back of the heater does get rather hot. Therefore, be sure to leave a gap between the wall and heater.Everything you need to mount the heater is included with the heater.
If you prefer not to mount your micathermic panel heater, casters on the heater allows it to be easily moved from room to room. It also features a convenient carry handle for moving from room to room. The heater weighs a little over 10 lbs, therefore it is not that heavy.
We haven't decided if we are going to mount ours. Right now we are using the casters.
A really nice thing about this heater compared to my Dyson heater is that it is very quite. Therefore, it doesn't affect my sleep, and I don't have to turn it down while watching Heartland on Netflix.
With two different settings I can easily adjust the amount of heat that I receive from 1,500 watts for larger rooms to 7,500 watts for medium rooms. The instant warmth heater will easily heat rooms up to 300 sq. ft. in size.
Safety Features
I love the safety features, especially having an active six year old and two shih-tzus in my home.Parents can have some piece of mind knowing that the heater features an internal tip-over switch in case the unit becomes unstable. This helps to eliminate the risk of fires or burns. The heater also features a safety thermal cut-off, so it doesn't overheat. If the heater gets too hot, it will simply shut off until the heater cools back down to a pre-set temperature. It also features power/caution indicator lights.
Overall, the instant warmth heater from Hammacher Schlemmer allows us to save money and is a must have this winter for anyone interested in zone heating. At just $99.95 the warmth heater also makes an affordable gift for mom and dad.
Visit https://www.hammacher.com and order yours today.