Much like everything else we teach our kids, getting dressed can be a complicated process for children. One company knows this all too well. OKIEZ children's apparel is a unique design of kids' clothing that supports children with everyday learning skills like learning to dress themselves.
OKIEZ Shoes
One important aspect of teaching toddlers to dress is wearing shoes. And just like other parts of dressing oneself learning to put shoes on the correct feet can be a difficult skill to learn.  My youngest daughter is almost seven and at times still puts her shoes on incorrectly.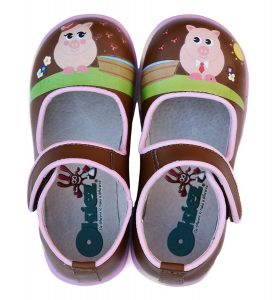 When Liz Cooley, OKIEZ's founder, saw her daughter struggling to identify her left from her right foot, she had the idea of designing a pair of shoes that would immediately distinguish one foot from the other.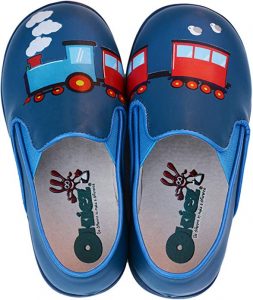 OKIEZ shoes feature half of a picture on each shoe. When the shoes are put together, the child can see the complete picture. This assists children in distinguishing their right foot from their left foot. Made in slip-on and hook-and-loop styles with nonslip soles, they are a safe and easy choice for toddlers.
OKIEZ t-shirts
OKIEZ t-shirts empower children by helping them to recognize the front and back, and provide children with the confidence of dressing themselves, There are currently nine shirts to choose from. Not only are the t-shirts perfect for toddlers, but they are also great for older children. Each t-shirt expresses a positive feeling, like happy, strong, and magical. The cute animal graphics on each shirt are sure to appeal to young children. As a mom, I appreciate that the clothing design is age appropriate.
Like most girls Miss P loves unicorns, therefore the Magical Unicorn shirt was her choice of t-shirt. Made of 100 % cotton the shirt is not only super soft but provides a great fit. It also holds up well to wash after wash. And it pairs well with her other unicorn clothing.
Other designs include a cute kitten, bear, cow, and monkey. The tee shirts are available in a variety of colors that will appeal to both boys and girls. Each shirt comes in a rectangular hinged-top steel container perfect for reuse. My daughter is using hers to store her Kiss Natural lip gloss.
Give a child the gift of achievement
Your toddler may not dress themselves as quickly as you would like, nonetheless with OKIEZ children's apparel they will have a sense of achievement by putting on their own shoes and clothes correctly.
Connection t-shirts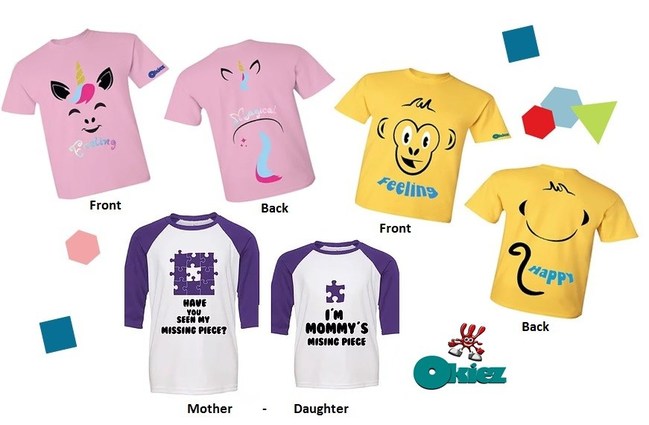 There can be no better way of expressing your love for your child then through Family T-shirts, which have connecting images and phrases. Available for both mom and dad these matching t-shirts will give an extra touch to all the special moments you and your family have. My favorite of the family tees with the missing puzzle piece. Shirts are available in children sizes two to nine and adult sizes small to 3x.
Learn more about OKIEZ at https://www.okiez.com/