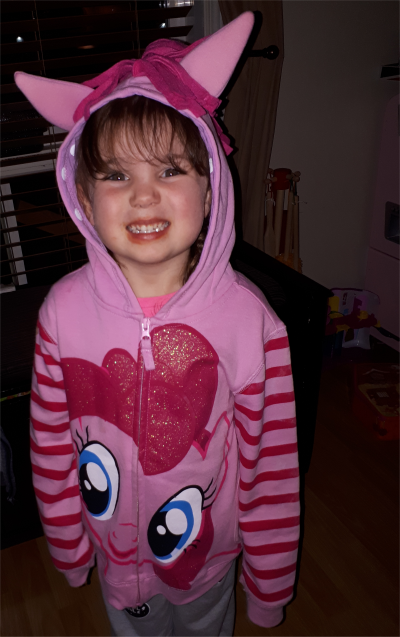 For over 30 years "My Little Pony" has brought magical fun to millions of children worldwide. If you have a "My Little Pony" fan on your holiday shopping list like I do then these My Little Pony hoodies from tvstoreonline.com are a must-have gift. Children won't mind unwrapping clothing when they get to dress up as their favorite My Little Pony friend.  Coming in a variety of sizes and colors, these My Little Pony hoodies include favorite MLP characters like Applejack, Twilight Sparkle, Rainbow Dash and Pinkie Pie. Your little one will want her new My Little Pony Hoodie all the time.
TVStore Online also carries a wide selection of My Little Pony hoodies and merchandise for (bronies) both men and female My Little Pony fans.
My Little Pony Girls Rainbow Dash Hoodie
This vibrant officially licensed Rainbow Dash hoodie is a must-have for any My Little Pony fan. The cotton and polyester hooded zip-up sweatshirt has glitter up front, and features the face of Rainbow Dash, herself on the front of the hoodie.
The hood of the sweatshirt features ears and a rainbow pony mane. The back of the hoodie features Pegasus 3D wings on the back and includes a screen printed rainbow colored mane just like Rainbow Dash has in the animated TV series.
This adorable Rainbow Dash Costume Striped Hoodie Sweatshirt also has rainbow stripes on both sleeves for a real eye-catching look.
Pair the hoodie with some joggers, sporty leggings, or her favorite pair of jeans.
My daughter loves rainbow patterns and Rainbow Dash is her favorite My Little Pony character so I knew that the Rainbow Dash hoodie would be a huge hit. She couldn't wait to wear it!
Pinkie Pie Girls Pink Zip Up Hoodie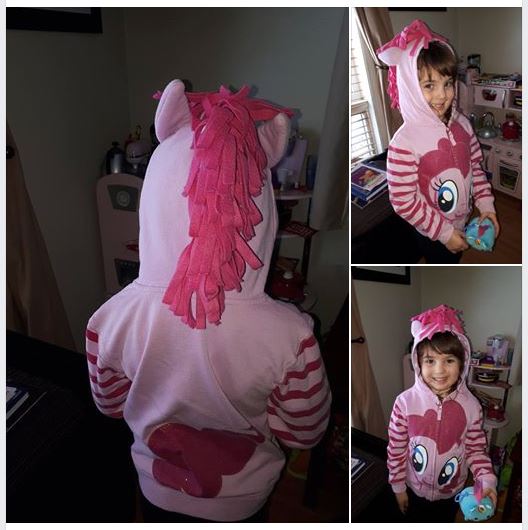 Covered in charm from head to hand, the Pinkie Pie Girls Pink Zip-Up Hoodie brings the wonderful world of ponies to life. With this adorable hoodie, she can pretend that she is Pinkie Pie from My Little Pony.
The hoodie has a full front zipper for easy on and off. The hood of the sweatshirt features ears and a fleece fringe pony mane. The back of the hoodie includes a screen-printed glittery ponytail.
There's also a large front glitter graphic of Pinkie Pie on the front.
The long sleeves with ribbed cuffs will keep her feeling warm and cozy, while the full zip closure locks in her body heat.
Pair with My Little Pony leggings or sweatpants to complete the look.
My daughter loves the colors and the cute design of the main and tail. She has owned the sweater just over a year now and it has gotten lots of wear. Everything has held up well through multiple washes. There has been no color fading or piling.
In addition to these adorable My Little Pony hoodies the store also offers a wide range of  My Little Pony merchandise such as My Little Pony t-shirts, My Little Pony earbuds, My LIttle Pony plush, and My Little Pony accessories.
Aside from the My Little Pony merchandise, TVStoreOnline offers a ton of merchandise from all of your favorite television shows and movies.
Pay them a visit. I'm sure they'll have something for everyone on your holiday shopping list.
For more information about TV Store Online, or to place an order, visit  http://bit.ly/2PQgD3d
Do you have a My Little Pony fan in your house? Visit the TV Store Online and let us know your favorite.
My Little Pony Themed Gift
A My Little Pony Gift Basket is sure to delight My Little Pony Fans. Include in your themed gift basket the following items:
Savvi Disney Temporary Tattoos for Kids
Savvi My Little Pony ColorUp Activity Kit
A selection of My Little Pony Toys from Hasbro
My Little Pony ( The movie combo)
Friendship Is Magic Head Shot Pin Set ( TV Store Online)
My Little Pony Hoodie ( TV Store Online)
My Little Pony Friendship Is Magic Plush ( TV Store Online)
Shop Amazon for My Little Pony