Featuring an attractive design and combination of a backpack and folding chair, the Foldable Chair Backpack from Online retailer Brando Lifestyle is the ideal gift for the hiking, fishing or camping enthusiast.
The seat which easily zips out from the back of the bag is made of a high-strength anti-rust steel pipe for enhanced stability. Unlike other hiking chairs the seat has a weight capacity of 300 lbs.
Opening the seat is reasonably easy.
Unzip the back of the backpack and open the cover.
Pull the vector straps and fold down the chair.
Open the legs and lock the legs with fastener.
Attach the Velcro straps and place the cover on the chair.
The backpack itself can be with or without the seat inserted.
With a 20 L capacity the Foldable Chair Backpack offers enough room for a variety of outdoor adventures. While the backpack isn't truly lightweight, it does weigh just under 3 lbs. This isn't bad when you factor in the seat.
The hiking backpack features several roomy compartments. There is a zip across half pocket in the front, two Velcro closure side pockets and a padded laptop compartment that will hold up to a 16-inch laptop or tablet.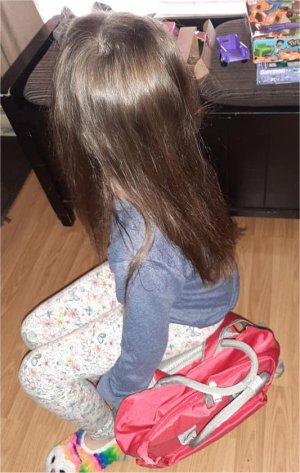 The hiking backpack is build from high-quality polyester, therefore it will last longer than other hiking backpacks. Breathable and comfortable padded straps, which are easily adjustable provide optimum comfort. And the breathable fabric stops your back sweating.The bag is also waterproof, meaning you can easily submerge the bag in water, not that anyone would. However, it offers comfort to know ones items will stay dry in extreme weather conditions. The backpack also features Velcro 20cm deep and 8cm wide side pockets on each side of the bag.
If they plan to use the backpack for everyday use, it will hold up to a 16-inch laptop. With ice fishing season soon underway the Foldable Chair Backpack would make an ideal ice fishing backpack. Dad will have a place to sit when he attaches his bait worm to the hook.  For occasions when you need to carry it by the handle two strong loop handles link together to provide a firm comfortable holding area.
I must admit the design is pretty sleek from the outside. Nobody would ever know that the backpack features a built-in chair.
The backpack retails for $80 from Brando which some may consider a bit steep. However, when you factor in the combination of hiking backpack and backpacking chair we feel it is a god investment.
Website: https://lifestyle.brando.com