Christmas is undoubtedly a very special time of year. Nonetheless, it is also a time of year that seems to bring up extreme emotions for a lot of people. Whether you know someone who is going through a difficult time, or you just want to pass on words of encouragement, an inspirational gift can go a long way especially during the Christmas holiday season.  This holiday season why not put together an inspirational themed gift basket. Gift baskets are easy to assemble, and fun to customize! Peter Pauper Press has a wide selection of gift ideas to put in a DIY inspirational themed gift basket.
Lately there has been one message that women especially connect with, "She Believed She Could, So She Did." I find this quote so inspiring.  "She Believed" gifts remind her that she can do anything she puts her mind to.
For the upcoming Christmas Season I am choosing to gift my daughter a collection of products featuring the quote "She believed she could, so she did" from Peter Pauper Press.  I am hoping the items with the memorable quote will be her anchor and remind her to never stop fighting and to understand her purpose. We all have a purpose.  After a near death accident that almost took my oldest daughter's life four years ago God has made it clear that he is not done with her yet.
She Believed She Could, So She Did gifts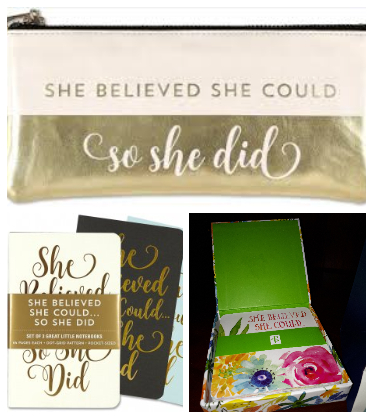 She Believed She Could, So She Did Insight Cards: This is an inspirational gift that keeps on giving long after the holidays are through. The box contains 50 cards with inspirational quotations from doers and thinkers from all walks of life: Elizabeth Gilbert, Malala Yousafzai, Vincent van Gogh, George Lucas, and many more.
She Believed She Could, So She Did Pouch: Featuring the words "She Believed She Could So She Did" this gold and white zippered pouch is perfect for arts and crafts supplies, electronic accessories, cosmetics, and more. It will fit perfectly in her purse or carry on bag.
Jotter Notebooks: The popular quotation "She Believed She Could . . . So She Did" gleams with gold foil stamping on these mini books. They are perfect for jotting down last-minute appointments, listing reminders and to-dos. My adult daughter always carries one in her purse or bag.
The She Believed She Could So She Did mini gift book: This mini book is filled with quotes celebrating inner strength, belief, and the power of dreaming big!  Some of the sample quotes included are: "Adventure is worthwhile in itself (Amelia Earhart)." "Yes, I can, and yes, I will." "I dwell in possibility (Emily Dickinson)." The 24K gold-plated charm can be kept on the ribbon bookmark or you can wear it on a bracelet. The small size makes it a perfect stocking filler or pair it with some herbal tea for a thoughtful gift for a friend.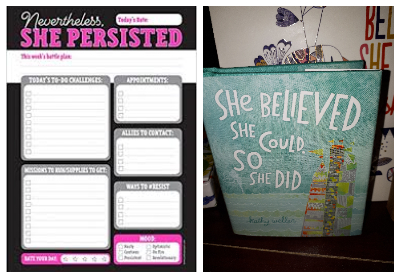 Nevertheless, She Persisted Note Pad: If she has battles to fight and mountains yet to climb perhaps the Nevertheless, She Persisted Note Pad would be the perfect gift. List "Today's To-Do Challenges," "Missions to Run/Supplies to Get," "Appointments," "Allies to Contact," and "Ways to #Resist." Then rate your day and don't forget to record your mood.
Journaling
Journaling can be a great way to release emotions and discover your inner self. For centuries, Journals have been used as a form of emotional release. Writing can do wonders for ones health.
For anyone who has suffered a brain injury, like my daughter, keeping a journal helps with short term memory deficit, a common challenge for many survivors. Maintaining a writing journal is also a natural way to exercise the brain.
Add elegance to their writing with this bright and beautiful journal, featuring decorative stitching, soft, leather-like cover material, and the empowering quotation, "She Believed She Could, So She Did." The journal contains 176 pages providing plenty of room for them to reflect.
Peter Pauper Press carries a wide selection of journals with quotes on them. Another favorite journal of mine features "Be the change you wish to see in the world." The quote features an image of a dandelion, its soft down soaring into the sky.
Enamel Pins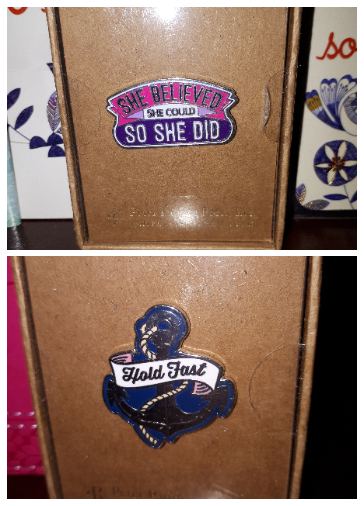 Pin collecting is nothing new. It's been around for decades. As of recently label pins are making a comeback. Pins are the perfect medium for expressing oneself and much cheaper than a tattoo. Be it she shows it off on a purse, jacket or hat the "She Believed She Could So She Did" pin is a little reminder of the power of belief, and dreaming big dreams.
Each pin comes with a natural Kraft-style box with an acetate lid and gold foil treatment — making gift giving easy! Choose from over 90 different Enamel pins. With so many choices you are sure to find one or two your recipient will love. These enamel pins also make great stocking fillers for teens.
Hold fast is also a favorite choice of mine. If you know someone who is the sort of person who can weather any storm that life's rough seas send  their way then this is their pin.
Mini Gallery
Mini Gallery artsy home and office accents combine upbeat words of positivity, an appealing design, and mini easel display!  Peter Pauper Press carries a wide selection of uplifting quotes. Choose from "Believe in Yourself," "May the road rise up to meet you. May the wind be always at your back," and 'LIFE IS SHORT. Buy the damn shoes!'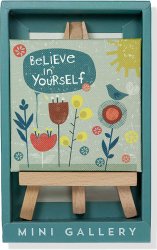 You may also be interested in these items: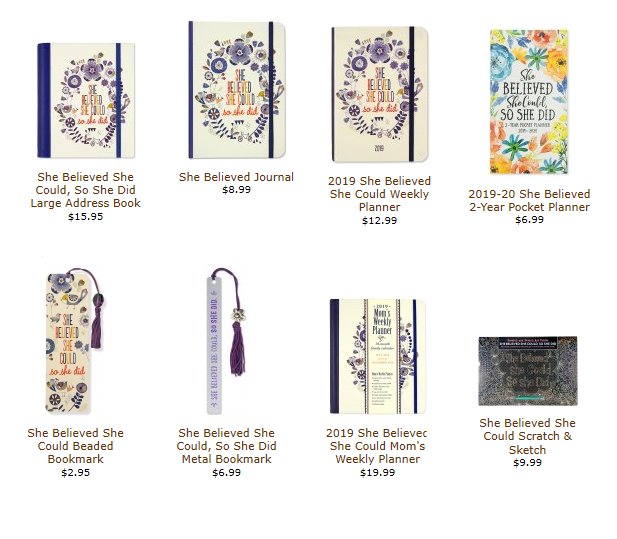 She Believed She Could Scratch & Sketch
She Believed Journal
2019 She Believed She Could Mom's Weekly Planner
Large Address Book-She Believed She Could, So She Did
She Believed She Could, So She Did Metal Bookmark
Beaded Bookmark-She Believed She Could
2019-20 She Believed 2-Year Pocket Planner
2019 She Believed She Could Weekly Planner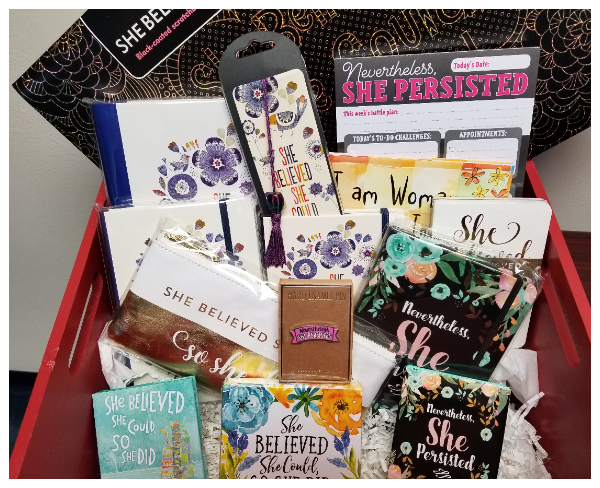 Any of these gift ideas would be perfect for someone who needs a quick pick-me-up this holiday season. By all means you can add other items to your inspirational themed gift basket, like a pair of warm cozy socks, a bracelet featuring an inspirational quote and some relaxing calming tea. And remember the best gift that you can give someone who may be feeling lonely during the holidays is the gift of yourself. Take time to visit or call your friends and love ones during the holidays. Visit a senior and take them some home made  bake goods.
Wishing each of you a Merry Christmas!
PETER PAUPER PRESS, founded in 1928, is one of America's leading publishers of fine gift books, humor books, compact references, travel guides, unique journals, quality stationery, holiday cards, and innovative children's activity books. They publish approximately 100 books and ancillary products per year.
Visit them at peterpauper.com