We are pretty much ready for Halloween, which is only three weeks away. Miss P started her costume planning last month. She has told all of the family that she is going to be Snow White.  We have our Scary Halloween Shape Cookies from Pillsbury  in the fridge all ready to bake. Over the next week, we'll be doing some Halloween crafts and I am once again adding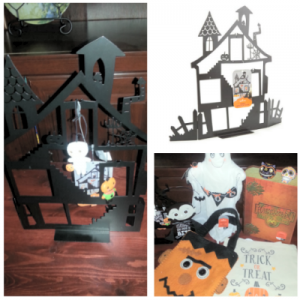 spellbinding Halloween charm to my home. I have taken my Hallmark Jack-o-Lantern Wire Basket,  Roary the Candy Monster and some of my other Hallmark Halloween favorites out of storage. My daughter has already got into the Halloween celebration, by dancing along with Roary to the "I Want Candy" parody. She does this about once a day.  We have even added some new Hallmark Halloween decorations to our home.
New this year to our indoor Halloween decorations is a Spooky Metal House. This free-standing house, retails for $24.95, and has six windows where you can display coordinating ornaments.  Ornaments include a mummy, a pumpkin, a vampire and a Frankenstein ornament. which retail for $5.95 each.
Hallmark has put a new spin on scary-cute with Spook-tastic Ghost.  My daughter activates this cute little ghost with the push of a button. She then watches as he twirls up and down to a spooky tune. Of course, she can not help but dance along.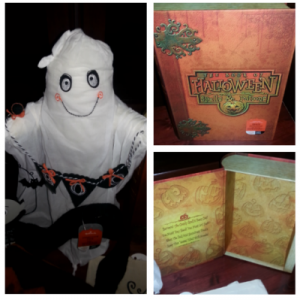 This beautifully designed book may look like an ordinary book, but Trick-or-treaters will be in for a fright when they lift the lid of the book and hear one of 3 creepy warnings.
 haunted evening waits for you
Be careful! Beware! In all you do!
Listen, look and be very wary,
for I've seen what's out there, and oooh, it's scary!
Keep your treats and candy near, or soon they may just disappear!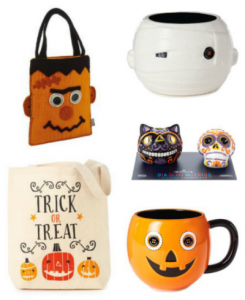 Home Halloween Decorations – Transform your home into a spooky house with fun Hallmark Halloween decorations including a Jack-O'-Lantern mug, mummy treat bowl, salt and pepper shakers, spooky lantern and a vampire door hanger.
The vampire door hanger has found its way to my daughter's door, where he greets residents and invites them to drop in for a bite. These salt and pepper shakers featuring symbols, from the Latin American celebration of life called Dia de los Muertos (Day of the Dead), will be sure to brighten my table.
Halloween Gifts for the Kids
Trick-or-Treat Fabric Bags– Give your kids costumes the finishing touch with Trick-or-Treat Fabric Bags. These bags are large enough for your kids to happily haul their candy home in. My daughter will be using the Trick or Treat canvas bag.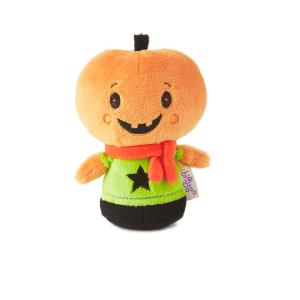 Halloween itty bittys® Plush– The smallest trick or treat goers who are too young for candy will delight in Halloween itty bittys. Monster Mash Frank and Pumpkin scare up some fun as they join the popular lineup of tiny plush collectible characters.
The above items are available at Hallmark Gold Crown® stores nationwide and wherever Hallmark products are sold. For more great Halloween decorating and gift ideas please visit www.hallmark.ca. Along with these fun items you can find unique candy presenters, gift wrap, party invitations, stickers and  Halloween cards.
What is your favorite Hallmark Halloween product?
If you want to get in on the Hallmark Halloween fun, I have a super quick and easy giveaway for you! Here is your chance to win a Spells and Potions Book-Shaped Candy Bowl.
Spells and Potions Book-Shaped Candy Bowl