Canadian blogger Bunmi Laditan, who is behind the wildly popular "Honest Toddler" Twitter feed has written her first picture book titled "The Big Bed." A common dilemma for most parents at some point is when their child wants to sleep in mommy and daddy's bed. Bunmi Laditan "The Big Bed" is a humorous story about just that, but with a twist.
An intelligent little girl is frightened of the dark, therefore she sleeps with her parents each night. One day she comes to the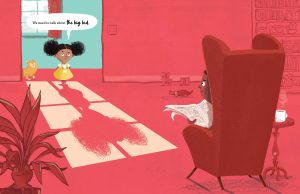 conclusion that her parents bed is not big enough for the three of them, therefore someone has to go. Can you guess who? With a good thought out plan she approaches her father and advises him that they need to talk. She invites him to sit down in her little pink chair, so that she may present her detailed presentation.
Her arguments are well thought out and make perfect sense to her. After-all, why does her father mind when she accidentally pees a little in bed? A little pee-pee never hurt anyone and we soon learn that pee-pee will keep frightening bears away.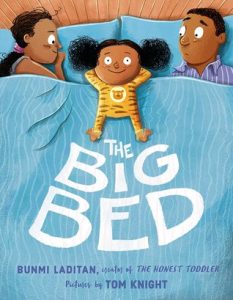 The little girls' final solution for the crowded bed dilemma is a new cot for daddy. She even offers that they can all go shopping and pick out new sheets for the cot.
Overall, this is a well written and beautifully illustrated children's book that will have you laughing out loud. Can we anticipate anything less than humorous from Bunmi Laditan? I must add that Tom Knight's entertaining illustrations convey the little girls argument well.
Raincoast Books is an award-winning Canadian book distributor based in Vancouver, British Columbia.
Website:http://www.raincoast.com