Sometimes You Fly by Katherine Applegate ; illustrated by Jennifer Black Reinhardt is one of my new favorite children's book.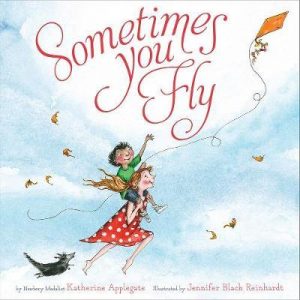 It ranks right up there with my favorite children's book " Love you Forever" by Robert Munsch.  Beginning with a first birthday, the scenes in "Sometimes You Fly" travel through childhood triumphs and milestones, leading to graduation.
The opening page of the book "Sometimes you Fly" shows a tired mother baking in a messy kitchen while the text reads "Before the cake…." The reverse side of each page displays Jennifer Black Reinhardt humorous and emotional illustrations.
The first half of the book spans the milestones of childhood, from feeding oneself to school friendships, sports teams, learning to drive, first love and, eventually, graduation.
The remaining few pages offer words of encouragement, reminding children that each cake we make can rise or fall, burn or bake, that failure is part of life, but those failures can be an opportunity to grow.
"What matters most us what you take from all you learn before the cake."
While young children may not fully understand the message in the children's book "Sometimes you Fly", parents will definitely be shedding a tear.  The simple words, repetition and illustrations, also make "Sometimes you Fly" a wonderful first reader for young children.
Sometimes you Fly is a must book not just for children, but the child in us all.
About the author (2018)
Katherine Applegate's many children's books include the Newbery Award-winning novel The One and Only Ivan, the bestselling novels Wishtree and Crenshaw, the bestselling Animorphs series, and the picture books Ivan and The Buffalo Storm. She lives in California. Visit her online at katherineapplegate.com and on Twitter at @kaauthor.
When her elementary school classmates said they wanted to be fireman, doctors, and vets, Jennifer Black Reinhardt declared she wanted to draw the picture on greeting cards. Today her diverse body of work includes not only greeting cards but chapter books and picture books, including Yaks Yak by Linda Sue Park and Sometimes You Fly by Katherine Applegate. Jennifer lives with her family in Iowa City, Iowa. Visit her online at jbrienhardt.com, on Twitter @jblackreinhardt, and on Instagram @JenniferBlackReinhardt.
About Houghton Mifflin Harcourt Trade Publishing
For nearly two centuries, HMH Trade Publishing has published some of the world's most renowned novels, nonfiction, children's books, and reference works. As part of a leading global learning company, it is uniquely positioned to offer educational and entertaining content for all audiences. Its distinguished author list includes ten Nobel Prize winners, forty-eight Pulitzer Prize winners, fifteen National Book Award winners, and more than one hundred Caldecott, Newbery, Printz, and Sibert Medal and Honor recipients. HMH publishes such distinguished authors as Philip Roth, Temple Grandin, Tim O'Brien, and Amos Oz, and a celebrated roster of children's authors and illustrators including Kwame Alexander, Lois Lowry, and Chris Van Allsburg. HMH is also home to The Best American series®; The Whole30®, Weber Grill, Betty Crocker®, Better Homes and Gardens®, How to Cook Everything®,  and other leading lifestyle properties; the Peterson Field Guides®; CliffsNotes™; books by J.R.R. Tolkien; and many iconic children's books and characters, including Curious George®, The Little Prince, and The Polar Express. For more information, visit www.hmhco.com/popular-reading.