Winter has here in Ontario. I don't know about you but one of the first things that comes to my mind when winter hits is cuddling up under the blankets with a good book. So, I thought I would share two new winter themed books for children that we have added to our winter themed book collection. Both books from Houghton Mifflin Harcourt Books for Young Readers address how certain animals adapt to Winter.
Winter Dance
Winter Dance by Marion Dane Bauer, and illustrated by Richard Jones is a wonderful book that helps young children learn about how some animals survive the cold weather.
In the book Winter Dance a inquisitive fox feels a snowflake land on his nose. Now, he is full of questions and comments for his animal friends about the coming winter and how he should prepare for it. Fox wanders along talking with a caterpillar, turtle, bat, a squirrel, geese, a hare, and a bear. Each has a comment to make about the best way to deal with the coming cold. None of their suggestions will due for fox. It isn't until he meats a female fox does he discover just what to do.
Richard Jones illustrations are lovely and filled with rich natural colors. The text is poetic and there is a repetitive nature in fox's response to each suggestion made.
Through the book Winter Dance, which is recommended for children age 3 to 7, author Marion Dane Bauer and illustrator Richard Jones reveal to children that each animal has a unique way of welcoming Winter.
A Beary Merry Christmas (The Super-Duper Duo)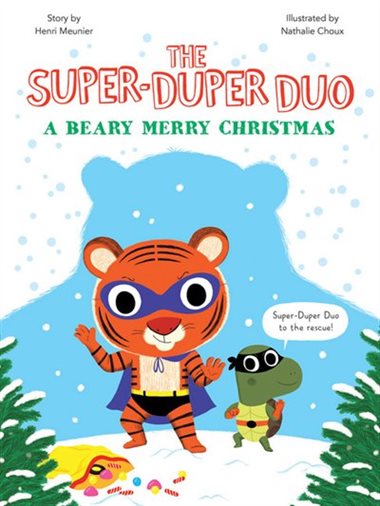 Author Henri Meunier Super Duper Duo books mix zany adventure comics and animal facts in exciting stories that are both funny and informative. There are currently two books in the Super Super Duper Duo series. Easter Eggscapade (2018) and A Beary Merry Christmas.
In A Beary Merry Christmas, Rory and Sheldon must keep a wild bear name Grumpus from ruining the holiday! Rory and Sheldon use their super-duper powers—and their knowledge about animal hibernation—to calm the crazed carnivore and keep the peace. The story itself is sure to bring some laughs, while at the same time provides a chance for open dialog on how some animals  hibernate.

In the back of the book is a animal fact page about bears and hibernation.  Nathalie Choux  bold colorful illustrations will appeal to young children, especially any child who is fan of super heroes.  Without a doubt, this is a good go-to option for parents looking for a fun comic style book for early readers.
Both of these books area  welcome addition to my daughter's  collection of winter themed books. For more new book titles for kids pay a visit to hmhco.com.