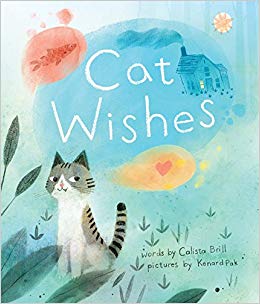 Stories about wishes have long been a perfect place to explore the possibilities. New from HMH Books for Young Readers comes a book about wishes. Published this past July, Cat Wishes, written by Calista Brill and illustrated by Kenard Pak is a playful fairy tale for young readers age 4–7.
In this delightful book a gray-and-white-striped cat catches a snake wile wandering through the woods one day. "Spare my life," the snake pleads. "I'll grant you what you wish." Cat it skeptical though, believing there is no such thing as wishes. "Sure of that are you?" the snake asks.
The snake grants cat three wishes-something to eat, a house (shelter from the rain), and a friend, all of which mysteriously appear. The friend who arrives turns out to have had a trio of wishes granted herself. The little girl tells Cat that she had caught and released a magic snake. She too was granted 3 wishes. She wished for lunch (she's holding a picnic basket) and, when it was raining she wished for a raincoat (she's carrying a red coat), and when she was lonely she wished for a friend. Cat climbs into the arms of a new friend.
My daughter is five and absolutely loves the book. Calista Brill tells a poetic delightful tale that reminds us that wishes may just come true even if were skeptical. Artist Kenard Pak's illustrations are beautiful and are done in dreamy watercolors. Overall, Cat Wishes is such a sweet book to read at bedtime or any time really.
For more new book titles for kids from HMH Books for Young Readers please pay a visit to hmhco.com.