With the Christmas holidays fast approaching parents will be in pursuit of boredom-busting gift ideas for the days when the excitement of that must have toy that they spent hours searching for wares off. A coloring activity is the perfect option. SAVVI helps children express, and connect through colorful play. Children who are a fan of My Little Pony will adore this assortment of My Little Pony temporary tattoos, stickers and coloring and My Little Pony SAVVI activity kits. They are sure to unlock your child's creativity and engagement. Therefore, keeping mom happy during the boredom hours of Christmas break. They also make great gifts for the child who has everything.
Magic Paint Poster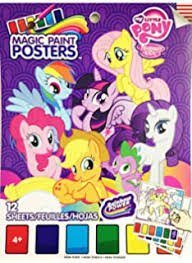 Magic paint posters are fun, safe and super easy to use! There are quite a few different books for you to choose from. Each book includes 12 sheets of paper, with a different design to paint. The pictures are six by six inches, and each sheet has a perforated edge to easily tear it out.
Each page includes a paint palette with six colors at the bottom that are made using non-toxic ingredients. You'll need a paintbrush, or even a cotton swab works, and a cup of water. Dip the brush in water, wet the paint color you want to use and paint.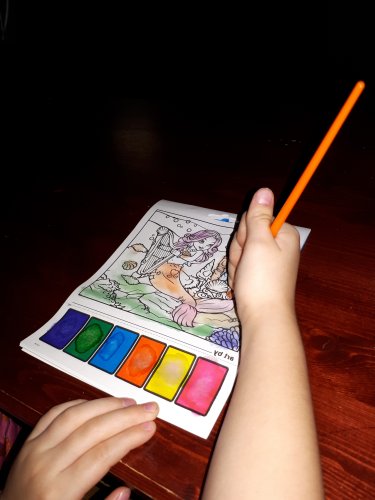 Be sure to tear out each sheet before you paint as the color will run through the pages if you don't. The paint is washable, so if it does get on anything, it should wash right off. Miss P loves her Savvi's Magic Paint Poster books. They provide hours of fun and are the perfect activity for a snow day.
"Color-in-Cling" by SAVVi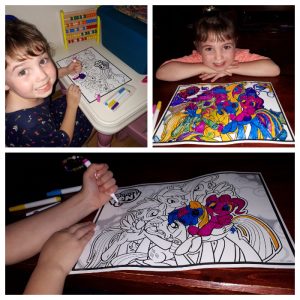 One of the best activities for kids is coloring.  Color-in-Cling is the perfect gift for budding little artists! Featuring two reusable surfaces Color-in-Cling offers endless hours of colorful fun.
The cling easily sticks to any surface. Unlike paper, the cling sheets allow kids to erase part or all of their coloring and start again. This makes Color-in-Cling a wonderful tool for younger children who are just beginning to learn to color in the lines. If they make a mistake, they can wipe the picture and start over again!
The My Little Pony themed, coloring wall cling kit includes 2 sheets of coloring clings, and 4 vibrant dry erase markers in pink, yellow, blue and purple.
The washable markers wipe clean from the cling surface with the use of a cloth. The sheets fold up when done for easy storage!
SaVVi My Little Pony ColorUps Activity Kit
Packed with hours of playtime fun the My Little Pony themed Mega ColorUps activity kit is the perfect gift to keep children entertained during the holidays. It is also the perfect wind down activity for the little ones on Christmas Day!
The My Little Pony ColorUps activity kit includes 10 ColorUps posters, 12 vibrant multi-use markers and 12 bonus tattoos.
Several other licensed ColorUps activity kits are also available and sold separately. Choose from your kids favorites like Disney Princesses, Coco, Cars, Despicable Me, Frozen, Paw Patrol and more.
When I think of the best gifts, SaVVI activity kits top the list. During the holiday children receive so many toys. Why not gift  them one or more of SAVVI's products and let them unleash their artist ability.
SaVVI temporary tattoos
SaVVI temporary tattoos are made with FD&C approved ingredients. They are super easy to apply and last for quite some time before fading. They make the perfect stocking stuffer
About SAVVi
SAVVi is the premier US manufacturer  (out of Arizona) of printed novelty products! Their products are sold worldwide and are available in most major retail stores across North America.  In addition to being the world's largest manufacturer of temporary tattoos, SAVVi also produces a wide variety of craft and children's activity products.
Savvi Paw Patrol ColorUp Activity Kit Giveaway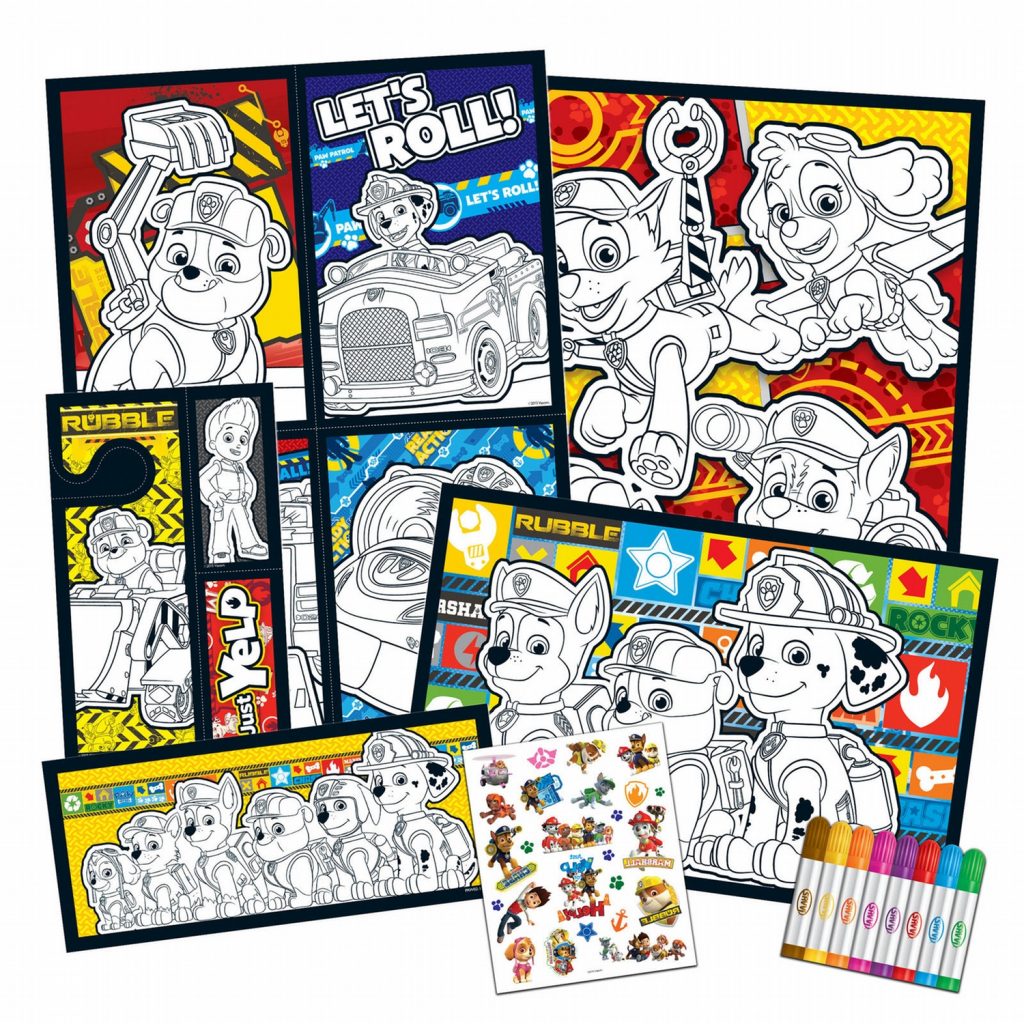 We have partnered with SaVVi and are giving away one Savvi Paw Patrol ColorUp Activity Kit. This giveaway is open to Canadian and US residents age 18 and over. The giveaway will end on Wed Dec 5th at 9 am EST time.