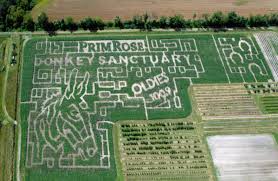 Summer is winding down. While fall does not "officially" begin until Friday, September 22nd, fall activities in Ontario are already on my radar.  Fall is my favorite time of year. It's the time for apple picking, fall fairs, hot apple cider and of course a corn maze is a must-do on the fall activity bucket list. Perhaps I am bias, but in my opinion, Ontario does corn mazes best. Have fun answering trivia questions and working as a family to get out of the over 6 inch corn maze located at Cricklewood Farm apple orchard.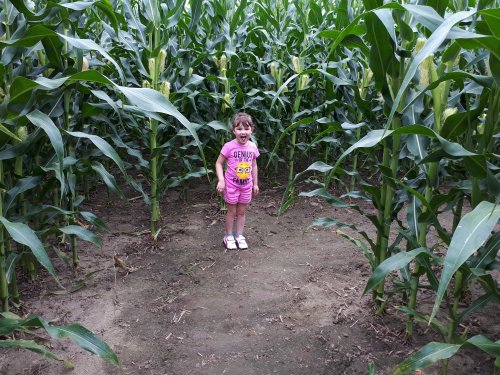 The farm is located between Brighton and Colborne, just over an hour east of Toronto and one hour west of Kingston. Cricklewood Farm apple orchard has 150 years of history behind it, and has been in the family for that entire time.
Since the early 2000s though, farm owners Beth and Brent Siwicky have designed and constructed corn mazes in various shapes, with proceeds going to help different charities. Each year in January, the farm selects a main charity and several smaller ones to support with proceeds from the corn maze. This year a percentage of the maze sales will be donated to the Prim Rose Donkey Sanctuary with the farms goal being $1500.
PrimRose Donkey Sanctuary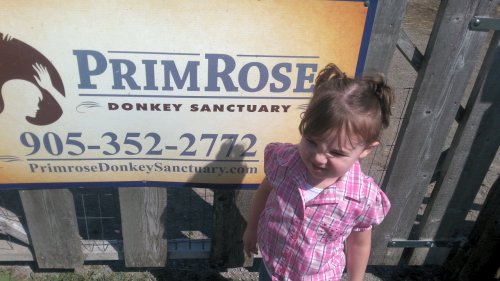 Celebrating it's 43rd year in operation the Prim Rose Donkey Sanctuary is an animal sanctuary in Roseneath, Ontario which is dedicated to the rescue, protection, and rehabilitation of abused, neglected, and unwanted donkeys. The sanctuary is about a two-hour drive northeast of Toronto.
My daughter, husband I paid a visit to the donkey sanctuary last summer. It is such a peaceful place, with so many gentle and trusting animals.
Some of the donkeys have been rescue from abuse and neglect, others given over when a caring owner was no longer able to care for them, or had passed away.
Although PrimRose is officially a Donkey Sanctuary, no needy large animal is ever turned away. The Sanctuary is open year round on Thursdays and Sundays from 1:00 – 4:00 pm. There is no admission fee, but donations are gratefully accepted.
Cricklewood Farm Corn Maze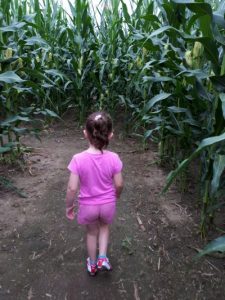 Plenty of planning and hard work goes into prepping the corn maze for visitors. According to knowledgeable staff at the farm, constructing the maze took just over a month to complete.
The corm maze takes about 1 hour and 20 mins to walk through. There are escape routes on the corn maze should you decide to exit early. A toddler and grandparents maze is only 1/2 acre in size and is included in the regular maze admission price. It's short and easy to do, and a prize awaits your little ones return!
Maze designers have you complete a series of puzzles while in the maze. All puzzles are cleverly designed to teach about the Prim Rose Donkey Sanctuary and donkeys.
The "mini maze" is designed in the shape of horseshoes, to match this years theme. The mini maze takes about 20 min to complete.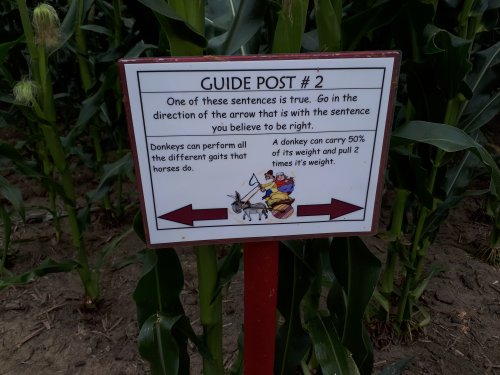 Throughout the maze you'll find a serious of true and false questions that help guide you through the maze.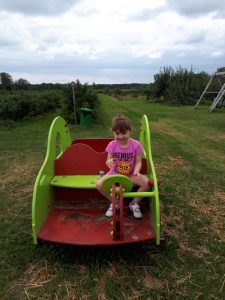 This weekend my husband, daughter and I had fun weaving through a maze in the shape of a donkey's head and through letters that spell out Prim Rose Donkey Sanctuary. You will be pleased to know that the path through the cornstalks are nice and wide and easy to walk through.
What a wonderful experience it was for not only our four year old daughter, but myself as well! My last time in a cornfield was actually in 2011, when my husband and I visited Cricklewood Farm apple orchard and made our way through the maze.
That year the farm partnered with the Lion's Foundation of Canada for Dog Guides. Thanks to all participants in 2011 the farm raised $1565.44 to help with dog guide expenses.
Cricklewood Farm also offers lots of fun activities once you're finish the corn maze. Other activities at this farm include a picnic area, play area, and photo ops.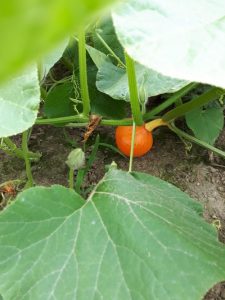 The farm also offers pick your own apples, raspberries, and pumpkins as well as sweet corn and squash (11 different varieties).   Pumpkins are usually available late September (depending on the season) and October. Prices depend on the pumpkin's size.
At Cricklewood Farms they grow 43 different types of apples. Paula Red apples were ready to pick when we were there. We didn't pick any, but a couple at the farm who were picking apples while we were there, told us that the apples were very nice.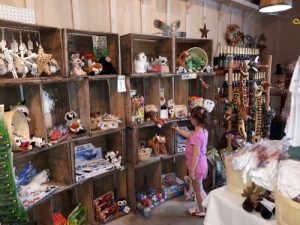 A trip to the farm would not be complete without a stop to the market, which provides snacks, baked goods, cheese, honey, jam and gift items.
My daughter was of course drawn to the various stuffed animals and my husband couldn't leave without sampling the delicious home made tarts.
Monster Hunt & Twilight Walks
During the month of October, Cricklewood Farm hosts twilight walks. Imagine walking through the maze with a flashlight in the dark?
The farms Monster Hunt is an annual autumn event that visitors to the farm enjoy. Children and families hunt through the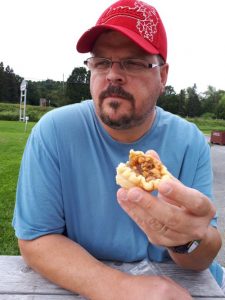 orchard for hidden monsters. Find them all and collect a small reward.  Be sure to like Cricklewood Farm on Facebook or follow @CricklewoodFarm on Twitter for an upcoming date for the monster hunt.
More information on Prim Rose Donkey Sanctuary is available at www.primrosedonkeysanctuary.com. If you are interested in visiting the maze, the corn maze is open until Nov. 6. To learn more visit www.cricklewood.ca.
Do you know of another Ontario corn maze? Navigating a corn maze also makes for a fun date!
For more information and amazing stops to see while in the area, check out northumberlandtourism.com.