Connected toys are becoming increasingly popular. Now you can soothe or entertain your baby with Lil' Jammerz – Plush Musical Friends. This adorable and entertaining toy will stimulate baby with music you select and stream for them.
The Lil' Jammerz™ Bluetooth speaker connects easily to most popular Bluetooth-enabled devices (i.e. smartphones, tablets) within 25 feet. You only have to pair it once, and it plays up to 2 hours on a full charge.
The Lil' Jammerz – Plush Musical Friends can play Internet radio, a personal music library or a pre-programmed play list, which is available through the FREE Lil' Jammerz™ app.
You can choose from 4 playlists including Classical, Lullaby, Sounds of Nature and Sing-Along. You can even stream a recorded audio of your voice or grandma's voice to Lil' Jammerz. Now no matter how far away grandma and grandpa live they can sing their grandchild to sleep.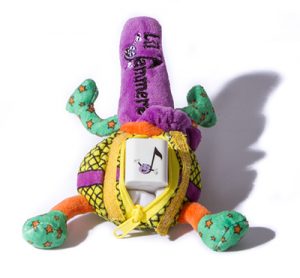 All three toys are visually stimulating and interactive, so baby can be entertained with or without music. The three Velcro plush toys strap easily to most strollers or car seat carriers. Each little Jammerz kit comes with a removable Bluetooth speaker that is tucked inside Mazzy the plush microphone. The other two stuffed characters are baby toys. JoJo the drum squeaks when baby squeezes it, and Joon Bug guitar is a rattle for baby to shake. Mom will be please to know that Plush toys are hand washable;. be sure to remove the speaker before wash.
Lil' Jammerz – Plush Musical Friends encourage a baby's natural fascination with music to stimulate development, boost language skills, and strengthen the relationship between a parent and child.
Entertaining characters and bright, bold colors make Lil' Jammerz – Plush Musical Friends the ultimate gift for baby this holiday season.
ABOUT LIL' JAMMERZ
When motherhood finally came to businesswoman Melissa Croland, she wanted to give her
daughter every advantage. With a love of music and a passion for technology Croland created
Lil' Jammerz, perfect for babies aged newborn to 12 months old that stimulates the senses with
sound. It also entertains the grown-ups who love them!