Igloo Mania from Outset Media is a fun new strategy game, which requires concentration and balancing skills. The goal for each player is to keep Parka Pete atop his igloo while using the included "ice picks" to remove blocks one at a time.
Igloo Mania Board Game review
Aimed at children five and up Igloo Mania features an igloo built with blocks of ice with an Eskimo (Parka Pete) standing at the top.The game does take some time to set up as all of the ice blocks need numbering from 1 to 5. One is the larger blocks at the base and you work numerically upwards to the final ring of number 5. For younger children this is a good way to learn numbers, size and shape.
Igloo Mania comes with an Igloo mound that you build around with the ice blocks,  four penguin character sticks to remove bricks and Parka Pete.
To play you hook your ice pick in the middle of the block, turn and pull. The winner of the game is the player with the lowest amount of blocks. There are variations of Igloo Mania to play, both aimed at younger and older players.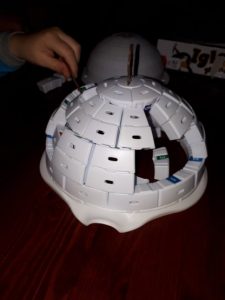 The instructions on how to play the game are very easy to follow and clear. This was a plus for me as I am not a fan of difficult games, especially when you have a four year old screaming at you to play.
Overall, Igloo Mania is a fun game and reminded me of Jenga. It was definitely a game that my daughter love playing again and again! The length of each game is about 15 minutes, depending on how steady each players hands are!
Igloo Mania would be a great game to play throughout the Christmas holidays when boredom can often set in. Or pull it out on New Years after you have had a few drinks and see how steady your hand is. Igloo Mania  would also make a great gift, as would any of the other board games from Outset Media.
Igloo Mania Giveaway
We have partnered with Outset Media and are giving away one copy of Igloo Mania to one lucky Today's Woman reader.  Giveaway is open to Canadian residents 18 and over and Contiguous 48 states US. Good luck!