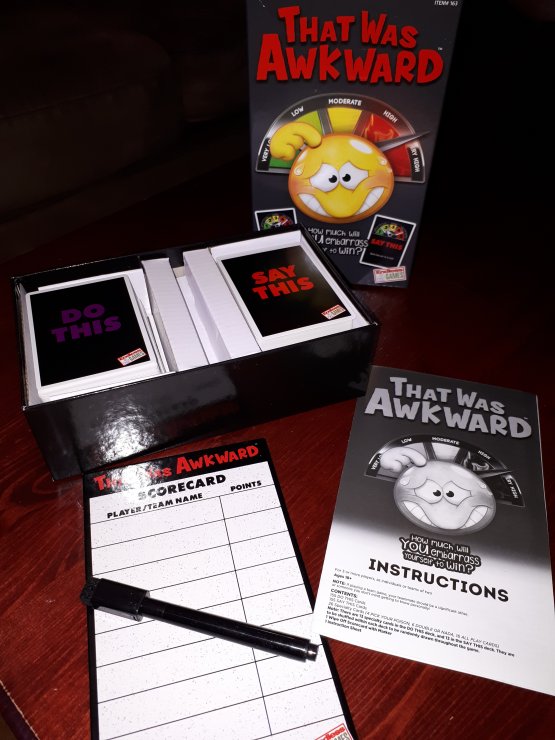 If you prefer a more lively get-together, then you're in serious need of some adult party games. Santa's Naughty Elf Auron has been at it again in Santa's Toy Shop. From Endless Games comes a new party game that will have you embarrassing yourself in order to win. Introducing "That Was Awkward Adult Party Game." If you're a fan of Adult-rated games, and have the mentality "the cruder, the better," then That Was Awkward Adult Party Game is for you.
The game features:
155 Do This Cards
155 Say This Cards
26 Specialty Cards
1 Wipe-Off Scorecard
1 Marker
and instructions
How to play That Was Awkward Adult Party Game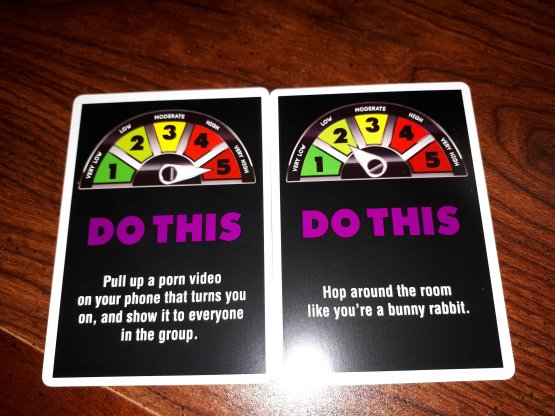 To begin game play shuffle the cards in the DO THIS deck and place face down within reach of all players. Then do the same with the SAY THIS deck. There should be two decks in front of all players. Have players sit in a circle- boy, girl, boy girl. If playing in teams,you should be sitting directly across from your teammate. When choosing your team mate it should be your significant other or someone you don't mind getting very personal with as many of the cards are very sexual in nature.
Cards have a specific task and an "Awkward-Meter" point value between 1 and 5. The more risky the task, the more points it's worth! After each turn, place your cards in a discard pile so they cannot be reused again during that game.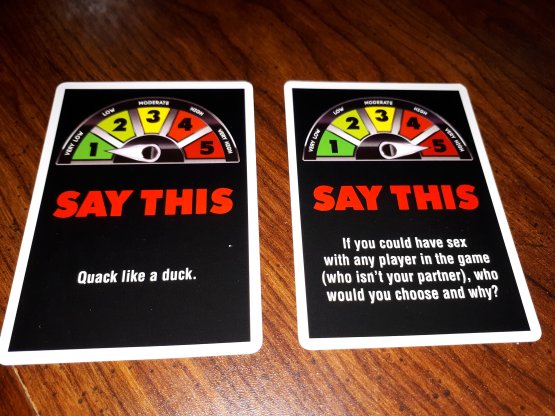 Choose a player to go first. All players take turns, going clockwise around the circle. During your turn, you draw one DO THIS card and one SAY THIS card. You must then perform your "Awkward Moment." To earn all points, you must do what's on the DO THIS card while saying what's on the SAY THIS card!
For example: If your do this card is pretend to go to the bathroom, using the person to your left as a toilet (worth five points) and your say it card is to sing the alphabet song (one point) then you earn four points. If you're too embarrassed to perform any task(s), you may decline to do either or both of them. However, you'll forfeit your chance to earn the points on
those card(s).
After each "Awkward Moment," everyone (who isn't on your team) must vote on whether you successfully completed your task(s). If the majority gives you a "thumbs up," you'll earn points for each successfully completed task. Should the remaining players (JUDGING PANEL) agree that the content on the card was successfully represented by the player or team, fill in the scoreboard for the point value on the card(s).
The game has 3 types of specialty cards, which are exceptions to the rules.
PICK YOUR POISON
Draw two more cards from the same deck. You'll have the option to perform either task as part of your turn potentially earning the point value of your chosen card.
DOUBLE OR NADA
Draw another card. The value of that card only is doubled, but the opposing players must all agree that you completed the task to earn that card's points. You'll get zero points for that task should one player disagree. If you happen to select a DOUBLE OR NADA card from both decks, the value of BOTH cards is doubled. Should you select another DOUBLE OR NADA card during your re-draw, you must discard it and select another card
ALL PLAY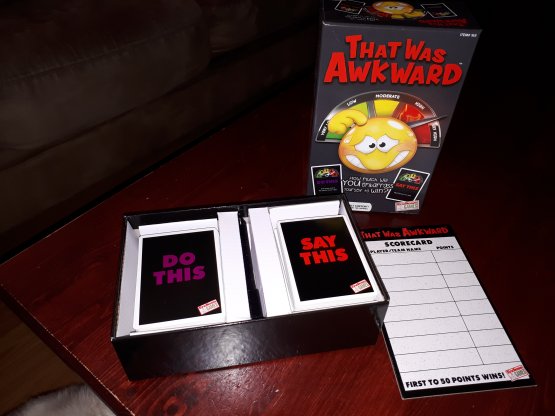 If an ALL PLAY Card is drawn from EITHER deck, that player must draw another card from the same deck to determine what task will be performed. Then all players gets a chance to perform the DO THIS and SAY THIS tasks. (For team play, each team must nominate one member to perform both tasks.)
Players take turns performing their version of that "Awkward Moment" for the group, as convincingly as they possibly can. Afterwards, all players must vote on who did the best job. (You may NOT vote for yourself or anyone on your own team!)
The winner earns the points for themselves or their team. Once the ALL PLAY is complete, whoever drew the ALL PLAY card draws again, so they get their own turn.
The first player or team to 50 points wins!
If you've got a group of friends that's perfectly okay with being overly sexual this game will definitely go over well. However, I wouldn't suggest playing it with family members ( example your son and daughter n law.)
That said, it is obvious that "That Was Awkward Adult Party Game" may not be the best choice of adult game for every adult. My husband and I personally were not fans of the games, therefore we re-gifted it to friends of ours. Nonetheless, that's not saying you won't be. If you like crude humor, then I highly recommend the "That Was Awkward Adult Party Game" from Endless games. Purchase it for yourself or a friend for Christmas.
Website: https://endlessgames.com/