If you have a child you are shopping for this holiday season that enjoys helping out in the kitchen, instead of investing in an Easy bake oven why not purchase them a kids cookbook.  Designed for ages 6 years and older, Kids Cooking by the editors or Klutz includes 30 fun recipes. Kids can whip up Cheesy Cats-adilla,  Oodles of Noodles, Rainbow Pizza,  Frozen Bananoids, Holy Guacamole and 25 other fun foolproof kids recipes with the Kids Cooking recipe book from Klutz. The kids recipe cookbook also includes a rainbow colored whisk  to get kids mixing.
The full-color photographs that accompany the step-by-step instructions make it easy for kids to learn. The book also includes handy cooking tips with illustrations, for example how to measure.
Depending on your child's age,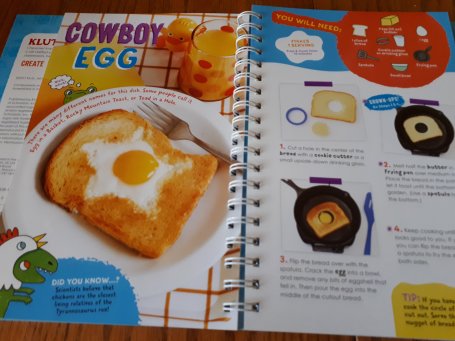 they may need supervision for the recipes found in Klutz Kids Cooking recipe book, which isn't a bad thing as cooking can be a fun time to bond with your kids.
While the book is designed for cooking with kids age 6 and up, kids as young as two could help with some of the recipes. While you wouldn't give a knife to a young child, there are definitely recipes in the book younger kids can help with like fruit rainbow kebabs and Frozen Bananoids or helping to whisk cocoa and sugar together for the best ever brownies,.
My daughter who is almost five loves to help out in the kitchen, be it setting the table, or be it beside her father or I at the kitchen counter, measuring, and pouring. We have tried some of the recipes in the book. We recently made Cowboy Egg for breakfast. Other known as Egg in a basket, Rockey Mountain toast or as my daughter-n-law calls it Toad in a Hole.
How to make Cowboy Egg
Cut a hole in the center of the bread with a cookie cutter. We used a Santa Claus cookie cutter. Melt butter in a small frying pan. Place bread in pan and allow to toast until bottom is golden. Flip the bread over with a spatula. Crack an egg into a bowl. Pour egg into middle of cutout bread. Remove the egg shelves that fell into the egg yolk first. Cook the egg until egg and toast looks done. If you want you can flip the bread over with a spatula to fry egg on both sides.
We also made Scrambled Egg Buddies.  The books contains so many fun recipes. In the back of the book is also a handy metric conversion chart.
Overall, "Kids Cooking by Klutz" includes some great recipes to get your children cooking.
According to a new study, children who help cook are more likely to try new foods. Also, cooking is an excellent way for kids to learn responsibility, teamwork, and culinary skills. Be sure to teach them proper sanitary along with the basics.
Shop: klutz.com
Teaching your child to cook by age
Preschoolers (Ages 2 to 5)
Stir batter in a bowl. A large bowl with a nonskid base will be sturdier for beginners, and a spoon with a thick handle will be easier for small hands to grip.
Rinse and strain fresh fruits and vegetables.
Mix and knead pizza or other yeast dough. Keep work surfaces and hands well floured to avoid sticking.
Pour liquid ingredients.
Spread peanut butter and jelly on bread.
Mash potatoes and other cooked vegetables.
Rolling bread or pie dough.
Use cookie and biscuit cutters.
Whisk pancake batter.
Cut soft fruits and vegetables with a dull butter knife or plastic knife.
Measure liquid and dry ingredients.
Young Cooks (Ages 6 to 8)
Whisking eggs.
Frosting cupcakes and icing cookies.
Mixing cookie dough and brownie batter.
Using specialized hand tools, such as a can opener, juicer and garlic press.
Grating cheese with a box or hand grater.
Peeling fruits and vegetables.
Mixing and rolling pie and tart dough.
Making fresh pasta dough and using a hand-cranked pasta machine.
Melting chocolate in a microwave.
Whipping cream with a hand mixer.
Making ice cream with a countertop ice cream maker.
Using paring or other small knives. Remember that dull knives can slip and be more dangerous than sharp knives.
Boiling eggs and pasta.
Frying eggs and grilled cheese sandwiches.
Preteens (Ages 9 to 12)
Trimming and slicing vegetables.
Putting foods in the oven and removing them.
Working with timers and thermometers.
Baking quick breads and muffins.
Kneading dough and letting it rise.
Cooking soup.
Using specialty appliances such as a panini press and waffle maker.
Steaming rice.
Roasting vegetables.
Cooking pancakes on a griddle.
Using a food processor, blender and stand mixer.
Frying hamburgers.
Using a chef's knife and other larger knives.
Teenagers (Ages 13 to 16)
Using all kitchen appliances, including safely handling and cleaning the sharp blades of food processors and blenders.
Developing knife skills to efficiently chop, dice and mince.
Baking more complicated yeast doughs and pastries.
Making risotto.
Marinating foods.
Panfrying and grilling steaks, chicken breasts and other meats.
Using slicers and mandolines.
Using and cleaning outdoor gas and charcoal grills.
Deep-frying French fries and chicken.
Source: William Sonoma
Cooking Gifts Kids will Love
Here are some more fun cooking gift ideas to get your children cooking in the kitchen.