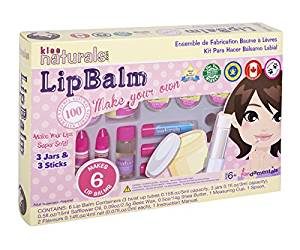 Keep her lips smooth and soft with this all-natural Kiss Naturals: DIY Lip Balm Making Kit- winner of Dr. Toys Best Green Toy Award. Learn about what goes into lip balms when you mix the beeswax, shea butter and safflower oil to get the perfect formulation. Whether you choose to put it in a jar, or a twist-up tube, the all-natural lip balm from Kiss Natural will seal in moisture to protect the thin skin of her lips whether its cold, hot, rain or shine! Makes 6 lip balms (3 jars, 3 twist up tubes).
Here is your chance to win a Kiss Naturals DIY Lip Balm Kit. Giveaway is open to residents of Canada 18 years and over!
Check out all of Kiss Naturals sets at Amazon.ca.