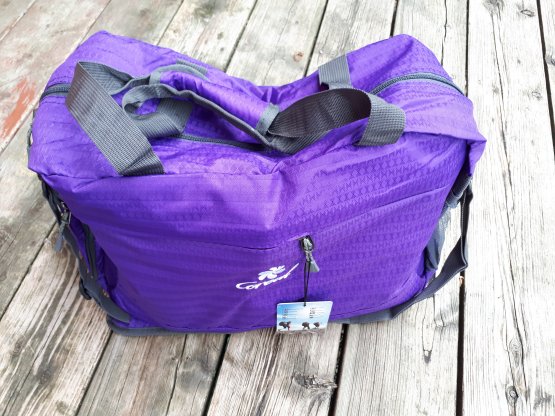 It is hard to believe in little over a months time summer will be over and students will be headed back to school. High school and college age students will be getting ready for another semester of classes, and assignments. If you are wondering what to get your college bound child why not take it upon yourself to upgrade their gym bag with a stylish duffle gym bag from Coreal.
A sturdy duffle bag will last through college and well into adult life.
I ordered this duffel bag from Coreal for my adult daughter who attends weekly physiotherapy.
We found the duffle gym bag to be super lightweight and easy for her to carry due to the adjustable shoulder strap.
The bag has a roomy design , is water resistant and is made from a wear-resistant nylon. It easily fits everything she needs to hit the gym .
Its coolest feature is the unique side pocket for shoes, which allows her to store her shoes away from everything else that she needs to keep inside. The shoe department is quite roomy. She can easily fit both her running shoes and a pair of sandals in the shoe pocket.
The duffel gym bag features two side pockets to hold her water bottle. There is an interior pocket to hold her mp3 player and house keys and two outer zipper pockets to hold things like her day planner. The bag also features a double zipper on the main department for extra durability.
We find the bag  to be easy to clean, as you just wipe it down with a damp cloth and hang to dry. Overall, it's a very functional bag that not only serves as her gym bag, but her overnight bag as well. One of my favorite details is the fact that it comes in several colors.
Overall, the duffle gym bag appears to be well made and durable.
When it comes to the perfect bag for back to school there are so many choices available. To shop Coreal full line of bags for back to school you can visit them on Amazon.ca. To purchase the particular bag found here, just follow our link: Gym travel bag.
.