Subscription boxes are a great holiday gift option. Your recipient will be thankful every month when they get a new box. From monthly candy boxes to monthly coffee boxes you can pretty much receive anything at your door on a monthly basis The choices are really endless thanks to the World Wide Web. Of the many options of mail order activity boxes for kids available, I recently tried a 'Mysteries in Time' bumper box from Mysteries in Time. This particular 'box' is quite a fun educational surprise.
Educational Subscription Boxes For Kids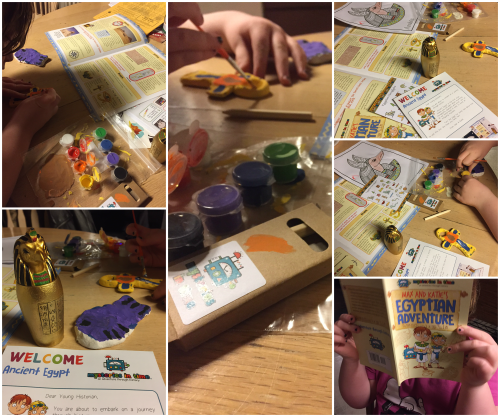 Simply go to www.mysteriesintime.co.uk and select the box you would like. Price does vary, and subscription length.  There are two simple options for box size, the 'classic pack' which is pretty much the basics and most affordable option at $13.05 per month plus postage, and the 'bumper box' which is the premium option at $21.26 per month plus postage.
As for superscription length, you have the option of  month to month, three months or six months.  You can cancel your subscription at anytime without penalty.  Many  'box' subscriptions require a lengthy commitment and penalize you if you choose to cancel before that commitment is met.  You never know if your financial situation may change and need to cancel or perhaps your child has lost interest after the first couple of shipments. With 'mysteries in time' you don't need to worry about being locked into an agreement.
Let's take a look at the actual contents of the box.  The Ancient Egypt 'bumper box' comes with an entire barrage of fun, educational stuff.  You get a brightly colored educational booklet teaching all about ancient Egypt, including facts, quizzes, puzzles and many fun games.  Also in the box is a beautiful world map that is entirely kid friendly and easy to read.  Next, there is a short easy to read novel about a fictional Egyptian adventure, complete with a matching bookmark.
There is a package of air drying clay to make your own Egyptian amulet.  Complete the amulet with paint and stickers, which all  come in this premium box.  And still the activities continue! You get  a package of pencil crayons and three colouring sheets.  And last but not least, you will receive a golden canoptic jar to keep your precious treasures in, complete with hieroglyphics on the side.  Canopic Jars were the jars used to keep a deceased persons internal organs in when they were embalmed.
The classic pack contains nearly as many of the items , but you get a bit less in the craft department.  All of the educational information is included and the colouring sheets.
Overall, as a mom I am pleased with the quality and amount of items in the bumper box and would recommend this box to anyone.  My daughter had so much fun molding and painting the amulets, and colouring the beautiful colouring sheets.  These boxes contain high quality products complete with accurate up to date educational information.
A gift box from Mysteries in Time in a gift that keeps on giving!