Here's a fun new on-the-go breakfast that's perfect for summer. It is also a great way to get more fruit in your diet and to get your kids to eat more fruit. I want to point out before I continue that this is not a sponsored post and in no way am I associated with any of the brands mentioned. The brands I mention are companies that I buy from regularly and what I had in my kitchen at the time of making Breakfast Banana Pops.
Breakfast Banana Pops
(2 bananas makes 4 pops)
Yogurt of choice (We used Astro yogurt)
Granola of choice, or cereal.  ( We used Kellogg's Rice krispies, General Mills

Oatmeal Crisp Triple Berry Cereal and granola.

Add-on ideas: mini chocolate chips, candy sprinkles, apple sauce, coconut, cinnamon sugar, peanut butter, raisins, etc.
Popsicle sticks (Amazon.ca) to insert in the bananas. If you don't have Popsicle sticks handy then you can use spoons.
Procedure: Pour granola into a very shallow bowl or plate. Peel bananas, cut in half, and insert popsicle sticks. Dip into yogurt , then roll into granola. (This is a messy job and all those fancy recipe sites always show the finished product only.) Top with your add on item. Place on a  wax-lined  plate and freeze for 2 to 4 hours. Keep uneaten pops in the freezer in a plastic container with led.
Instead of rolling in cereal, you can also drizzle the yogurt bananas with peanut butter or  mix Motts applesauce into a bowl, add a heaping tablespoon of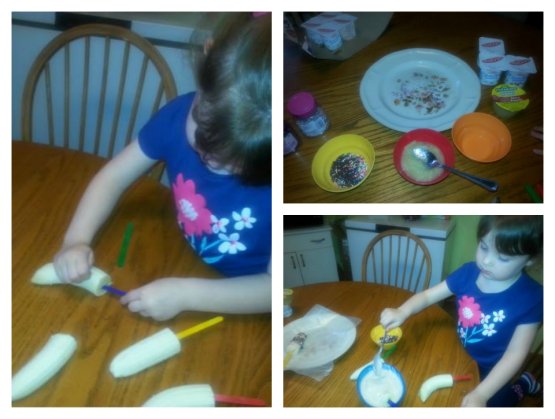 yogurt and mix. Dip your bananas into the coating, using a spoon to get them fully coated. Add sprinkles on all sides.
This is a fun activity that the kids can help with. Overall, these banana pops are great for snack or as part of breakfast. The best part? They are healthy and you can make them with ingredient already on hand.
What is your favorite summer treat?