Kid's of the 70's might recall the ever so popular catchphrase used in advertising "Weebles wobble, but they don't fall down."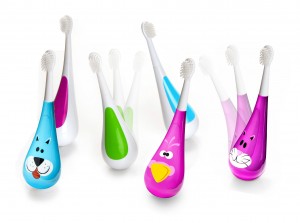 Rockee, wobbles, but they don't fall down.
They are not weebles, but they are a fun new toothbrush that puts fun into brushing teeth, while making sink messes a thing of the past. And since they always stand upright, Rockee tooth brushes dry easily and don't need a cup or toothbrush holder for storage.
I love the concept. What a fantastic idea it was for Violife to create a mess free toothbrush. Each brush includes two brush-heads and brushes are available in six fun colors.
The slim handle makes "Rockee" easy to use for someone with small hands like my daughter and she absolutely loved her tooth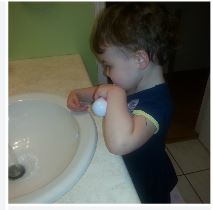 brush. The bristles are soft, but functional. However, my disappointment comes in the fact that the brush heads don't fit on properly and fall off while brushing after just a few uses. This was frustraing for both mom and child.
Every parent knows how important is to choose a good toothbrush to keep your child interested in tooth-brushing and enjoying the process. While the VIolight Rockee Toothbrush (violife.com) started out to be my daughter's tooth-brush of choice, it wasn't long lived.
What  children's toothbrush do you recommend?