With this watch tool repair kit you don't have to go to the watch shop to have your watch repaired. You can do it yourself! Baban brings you everything you need to repair your watch at home with their watch repair kit.
Baban 147pcs Watch Repair Tool Kit
The Baban Watch Repair Tool Kit has all the tools you need to perform simple tasks of all kinds, from simply changing a band to more complex tasks. The 147 piece watch repair kit includes anti magnetic screwdriver for removing battery covers, tweezers to handle batteries and pick up parts, spring bar remover for strap adjustment/replacement, adjustable Case Opener – excellent for opening waterproof cases up to 34mm, a head hammer for  hammering in pins and much more. All the watch tools come in a carrying case, which is a nice way to keep tools organized, and prevents them from getting lost.
Package included:
Adjustable Case Opener;
18 x Adjustable Case Opener Pins;
Watch Case Opener Knife;
Stainless Steel Tweezer;
Spring Bar Tool;
2 x Spring Bar Tool Spare Tips;
108 x Watch Strap Spring pins;
Hammer;
Link Remover;
3 x Link Remover Spare Pins;
2 x Link Remover Spare Pins (special) ;
Watch Case Holder (for watch case 10-45mm diameter )
3 x Pin Punches (0.8mm, 0.9mm, 1.0mm) ;
Watch back pry opener (with yellow ergo handle)
3 x Precision Anti-magnetic Screwdrivers (1.2mm, 1.4mm, 1.6mm) ;
Carrying Case
Our Thoughts
I  like the fact it comes with 3 different screw drivers for opening the back of the watch; as I am guilty of using a kitchen knife to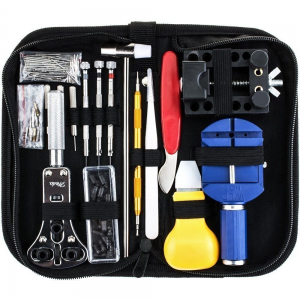 pry the watch backing off to replace the battery. The magnetic screw drivers are meant for this type of repair. The kit also includes a prying knife back for watches that have a beveled cap. Nothing works better to pop the back off a watch then a watch case opener. If your watch back doesn't snap off, it'll probably rotate off with the included wrench screw remover. This tool unscrews the case backing. To replace the backing, you just screw it back in also with this tool.
The kit is easier to use than you think! With the golden spring bar pen I had my broken band off my watch and a new one put on in less than five min. The handle is knurled for a non slip grip. I also used the prying knife to pop off the back and replace my dead battery with a new one. Again, very easy.
My wife ordered a watch bracelet early this year from Amazon, but has been unable to wear it as it is too large for her wrist.  With the watchband link pin remover I was able to adjust her watch band for her. The watchband link pin remover is what Jewelers use. If you want to remove links yourself at home, you'll need one.
With the tools in the Baban Watch Repair Tool Kit fixing your own watch will save you both time and money. Orders yours today via Amazon.ca.