We're 17 days from celebrating Easter. For many, Easter arrives with Easter egg hunts for children, and the ability for us adults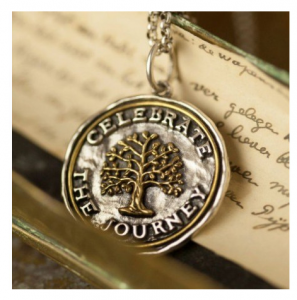 to overindulge in an excessive amount of chocolate. However, Easter is about much more than the Easter bunny and chocolate. Easter is about Jesus' journey to the cross. It is about a celebration of new life! This Easter I invite you to reflect on your own personal journey to faith and celebrate your own rich journey of life. Cherish the many tiny moments along your life's journey with a pendant or necklace from Waxing Poetic Jewelry.
Their jewelry designs are a phenomenal way to discover new ways to share your own personal journey through modern-traditional designs. Waxing Poetic Jewelry designs are crafted with sterling silver and mixed metals, which are available in a variety of antique inspired fabrications.
The 'tree of life' – an enduring symbol
One piece of jewelry for me that is most fitting with Easter is the Tree of Life- which is a symbol of rebirth. Around my neck a mixed-metal twisted-link chain suspends a sterling silver pendant that features an intricately-detailed brass tree of life that symbolizes family, love and faith. The tree represents the interconnection of all life on Earth.  Handmade in Indonesia, the pendant is crafted in part with recycled sterling silver and mixed metals. The chain measures 30′ inches long and features a Lobster-clasp closure. Chains do come in a variety of lengths, so that you can customize your necklace.
I absolutely love my Waxing Poetic necklace and can't wait to add  more charms to it.
This upcoming Easter, why not give the necklace as a gift to remind the wearer that they are part of something much larger. Though this is the perfect gift for Easter the "Wing & a Prayer Tree of Life" charm makes a great gift for family members or loved ones for any gift-giving occasion.
Website: https://www.waxingpoetic.com/