I love to give the gift of fragrance at Christmas. Candles, and fragrance diffusers make such wonderful gifts. Since Christmas is just around the corner, I thought I'd share with you one of my favorite brands of candles. Sandwick Bay Candles are a handcrafted soy candle company based out of Stornoway, a town on the Isle of Lewis, in the Outer Hebrides of Scotland.
Each candle is made with 100% natural soy wax, premium fragrances and essential oils and feature cotton wicks. Soy wax is the better choice for candles, because it is all natural and biodegradable, unlike paraffin alternatives. The soy candles from Sandwick Bay Candles come in a wide variety of fragrances and in different sizes, including travel tins, refillable glass jars and reed diffusers. The candles lower burning temperature means that they will last 30-50% longer making them much better value for the dollar.
Scented candles inspired by books
I own the Outlander candle gift set, which is inspired by the book and TV series Outlander and the surrounding scents of Scotland. If you have an Outlander fan on your Christmas list, then they are sure to love these candles. The set includes three candles- Heather, Whisky, and Honey & Oat. The small tin candles have a 20 hour burn time.
Honey and Oat Candle
My favourite flavour so far is Honey and Oat. The candle gives off a nice fragrance that begins with the fresh aroma of Oatmeal, followed by a sweet scent of honey. It is the perfect example of warmth and comfort.  I find it to be very relaxing.  The aroma gently takes over your living room and floats through the house. I love that my guests can small it the moment they walk through the door.  And the sweet smell lingers around long after you've blown out the candle.
Heather Candle
This Heather candle is a beautiful fragrance that embraces the heather of the Highlands. It has subtle floral and earthy woodly notes. I find it too to be very relaxing and fragrant.
Whiskey Candle
The whisky is my lease favorite fragrance of the Outlander candles. The Whiskey scent is as close you can get to the real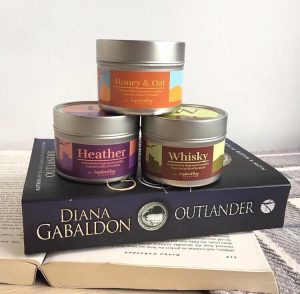 thing. It certainty carries a manly scent. The essential aroma of whiskey is evident in this candle and it brings to my mind an old country tavern. It would make the perfect gift for any man who enjoys candles. I know that my uncle would love the whisky candle.
Sandwick Bay Candles have a huge selection of fragrances, all made using premium fragrance oils. Teachers can be hard to shop for. If you have multiple kids in school, you probably can't afford to spend a lot on a teacher's gift. Why not pick up a Christmas candle gift set. The set comes with 3 candles – by the fire, white Christmas, cinnamon & orange. You can divide the set up and gift a candle to each of your child's teachers.
If you are interested in purchasing the candles featured here or learning more about Megan and Sandwick Bay Candles please visit: http://www.sandwickbaycandles.com.
Sandwick Bay Candles Giveaway
Now that I have told you all about the Sandwick Bay Candles, how would you like to win a set of candles for yourself or to give as a gift? We have teamed up  with Megan and are giving away a set of her Outlander Candles. This giveaway is open to residents 18 and over- worldwide. This promotion is in no way sponsored, endorsed or administered by, or associated with, Instagram or Facebook.