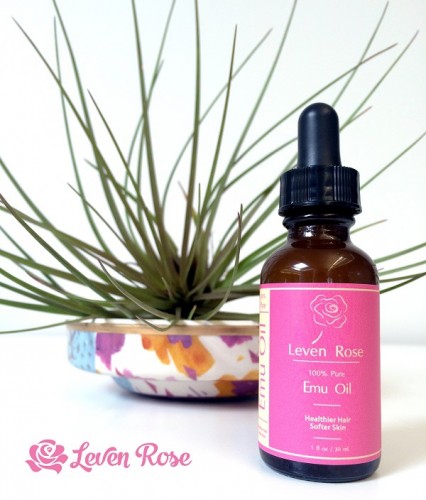 Pure Emu Oil has been gaining more awareness as an alternative and natural treatment for painful and unsightly skin ailments such as hair loss, eczema, rosacea, keratosis pilaris, psoriasis, acne, burns, scars, redness, rash itch, stretch marks and other wound-healing marks.
Emu Oil is the best cosmetic ingredient in the world. Its molecules are much smaller than the molecules in human skin. Because of this, Emu Oil can penetrate deeply through seven layers of skin to give added healing  benefits where other solutions have given no relief.
Naturally-occurring omega 3, 6 and 9 acids, linolenic and oleic acids combine to create an anti-inflammatory effect that's been known to ease joint and muscle pain such as arthritis as well.
Leven Rose 100% Pure Natural  Emu Oil contains no parabens, fillers, additives, fragrances or chemicals. Emu Oil by Leven Rose comes in a dark amber glass bottle with a glass dropper to preserve the shelf life and purity of the oil. Pure oils such as Emu Oil require dark glass containment to preserve it from UV ray damage. For safe storage, all pure and natural oils should be kept out of direct sunlight and in a cool, dry place to limit any risk of temperature swings that will limit the life of the oil.
Leven Rose Pure Emu Oil Benefits
Use your Leven Rose Emu Oil for treating:
Dry and cracked skin
Tired and over-treated hair
Dark spots and blemishes
Sunburns
Psoriasis
Eczema
Rosacea
Arthritis
Acne
Scars
Joint pain
Muscle pain
I have Keratosis pilaris, a very common, benign skin disorder that affects adolescents and adults. This condition causes numerous small, rough, tan or red little bumps around hair follicles on my upper arms.  Over the years, I have tried various lotions, and deeply hydrating moisturizers with no relief. Someone recently told me to try Emu Oil. Skeptical, I gave it a try.
Emu Oil- New Best Friend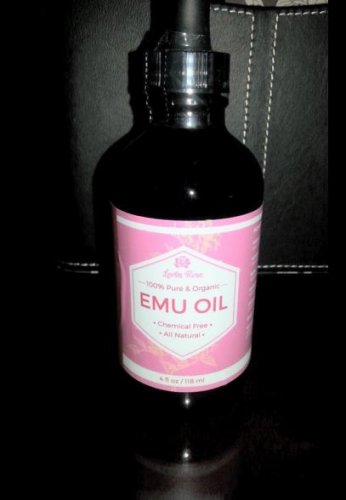 I have been applying the 100% Organic Pure Emu Oil by Leven Rose twice daily for a few days now and have already seen results. My arms look drastically better. Though the bottle is small, a little goes a long way. You only need a couple of drops. It goes on a little oily, but quickly absorbs into your skin leaving your skin smooth and soft to the touch without the greasiness. Even if you wash your hands, you will notice they remain silky smooth with no greasy residue. Leven Rose 100% Organic Pure Emu Oil is hypoallergenic, so it is suitable for all skin types.
Any one considering purchasing the organic emu oil should definitely give it a try, as it has worked wonders in just three days. The 100% Pure Emu Oil exceeds all my expectations. I believe, I may have found relief to my keratosis pilaris and will continue to monitor the results.
For more information, please visit http://www.levenrose.com
Leven Rose 100% Organic Pure Emu Oilcan be purchased via Amazon.ca & Amazon.com.
About Leven Rose
Leven Rose is a premium beauty product company based in Colorado Springs, CO producing the best organic and 100% pure natural products, such as Vegan Friendly Beard Oil, Beard Balm, Jojoba Oil, Argan Oil, Rosehip Seed Oil, Pomegranate Seed Oil, Emu Oil, Watercress Seed Oil and more. Founded with a belief that bodies aren't meant to interact with chemicals and synthetics daily, each product is developed with a commitment to quality to verify its purity and full potency without the worry of over-processed fillers, additives, and other equally terrible stuff. Backed with a 100% satisfaction guarantee for the lifetime of the product, folding pure and natural beauty products into a daily routine becomes risk-free and accessible to everyone. T