There is less than two weeks to Canada's Thanksgiving.  In our kitchen, Autumn's best recipes will be made with our new Cuisinart Precision Master 5.5 Quart Stand Mixer.
The Cuisinart Stand Mixer is a 5.5 quart, 500-watt machine with 12 speed setting. It comes in 3 colors: brushed chrome, red and white. We own the chrome model.  The mixer fits easily onto our counter and doesn't take up loads of space when not in use.
The mixer itself is on a cast steel stand and base. The mixers head tilts up and down, locking into in place in either direction.
As previously mentioned, it features 12 variable speeds for precision mixing and blending. The mixer has an easy twist and lock attachment head that osculates around the (included) 5.5 quart bowl to ensure even mixing.
The Cuisinart Precision Master 5.5 Quart Stand Mixer has a slow start function that prevents spillage and mess when used. Another superb characteristic is the 15-minute countdown timer that has an auto shut off function.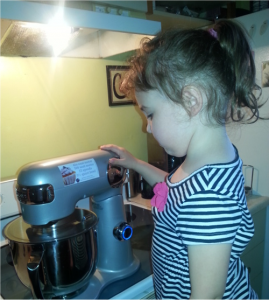 The mixer includes a splash guard lid, which I love, 3 different mixing tools – a chef's whisk for lighter things like meringue, a dough hook for pizza doughs and home made bread, and a flat mixing paddle for cakes and cookies. The mixer also comes with instructions and a recipe book.
While in use, the splash guard prevents spills and it has a pour spout. Thanks to the splash guard lid, our four year old daughter can use the mixer (with our supervision of course) to make cakes, cookies and banana bread.
Additional attachments sold separate for the Cuisinart Precision Master 5.5 Quart Stand Mixer include a pasta extruder attachment, meat grinder attachment with sausage stuffer kit, fresh fruit & ice cream maker attachment,
Turn your mixer into a frozen dessert maker. With the fresh fruit & ice cream maker attachment you can make frozen yogurt or your own homemade ice-cream.
Homemade pasta will become an everyday affair!The pasta sheet roller lets you make fresh lasagna or hand-cut pasta of differing thicknesses, while the other two cutters make fettuccine or spaghetti.
The front head of the mixer has a removable name plate that reveals the attachment port to hook up the extra attachments that I mentioned above. You can easily attach the noodle cutter, by placing it over the port nozzle and use the swivel head to attach it securely. This way you can enjoy homemade pasta right at home with just one appliance.
The machine is easy to clean. Just use some warm soapy water and detach the 5.5 quart stainless steel bowl and mixing attachments and wash in the kitchen sink. It's also dishwasher safe. To clean the cast steel mixer and stand you simply wipe it off with a warm soapy cloth or sponge and towel dry.
The quality of the Cuisinart Precision Master 5.5 Quart Stand Mixer is definitely commercial grade and yet very affordable for the home user. I can see us getting plenty of use out it for years to come.
Well done, Cuisinart. Well done!
Website: Cuisinart.ca.