Both Valentine's Day and Galentine's Day are just around the corner and Hallmark delivers some great gift ideas for both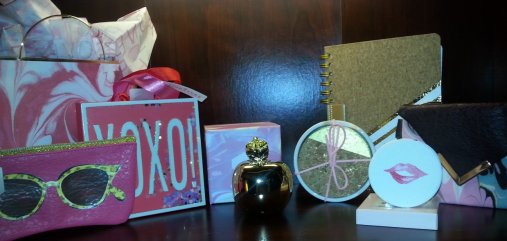 holidays. If you are unsure what Galentine's Day is allow us to educate you. Inspired by the NBC hit series Parks & Recreation, Galentine's Day occurs every year on Feb. 13, the day before Valentine's Day. Basically, it's like Valentine's Day, only instead of celebrating the love you have for your significant other, you celebrate the love you have for the women in your life- be it your sister, mom, daughter or gal pals. This year, why not exchange a few Galentine's Day gifts before you exchange those Valentine's Day gifts?
Galentine's Day gifts
Hallmark introduces a new line of Hallmark Signature Gifts perfect for the Galentines in your life. This line of premium gifts features unique home décor and fashion items with a stylish flair.
Lips Compact Mirror- Now she can Kiss imperfections goodbye and refresh her pucker-up look everywhere she goes with a playful compact mirror. Inside features both a regular and magnifying mirror. It comes elegantly gift-boxed, making an easy gift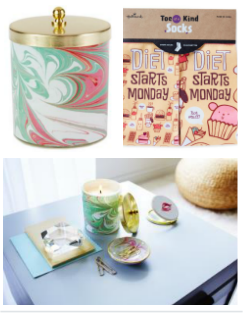 for a friend of your daughter.
Marble Wristlet Purse- What is a mirror without a purse for it to go in? Accessorize her outfit with this trendy clutch that she can slip on her wrist. A swirl of pink, mint green and white intermingle in an eye-catching design. You can pair it with Hallmark's coordinating marbled compact mirror or gift it with the Lips compact mirror as I tend to. The purse is perfect for the upcoming spring wedding season.
Marble Votive Candle- I don't about you, but I just love candles. She'll love this breath of fresh air. Sweet pea and jasmine fragrance pairs with a swirling pink and green votive holder and a brilliant gold lid.
Marble Twinkled Dish- Nestle her treasures among a swirling sea of pink and mint green with this marbled trinket tray. Shiny gold trim complements any small jewelry or little delights. Coordinates with Hallmark's marbled votive candle holder.
Apple Paperweight- Decorate her office with a metallic gold apple paperweight. Comes box and ready to hold down her important paper tasks. It would be a nice end of the year teacher gift too.
Toe of a Kind Socks- Bring a little cheer into her day with a gift of a fun pair of socks. These socks will keep her feet warm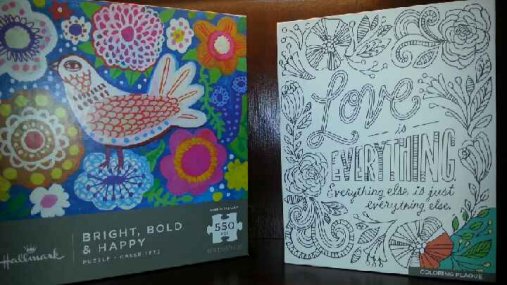 and fashionable when she slips them on-and they make the perfect  Galentine's Day gift. There are several different designs to choose from. It is a practical, budget friendly gift she'll thank you for.
Adult Coloring and puzzles- Love is a powerful thing. Now your Galentine can display this colorable plaque on a wall or shelf to spread love to all who pass by. Color it for them in advance or gift it as a gift not yet colored.  Jigsaw puzzles are a wonderful past time. Give your gal pal a bright bold puzzle, with a $5 tim cards, telling her to relax and take some me time.
Valentine's Day Gift's for Her
Customized Sunglasses and Stylish Sunglass Case
Celebrate the shades of your love with a gift they won't expect. For under $25 you can purchase her a pair of personalized designer sunglasses from misslucysmonograms.com. This soft faux leather case from Hallmark ensures her glasses stay clean and safe—while she stays fashionably accessorized. The leather case is also perfect for Galentine's Day.
Writing Journal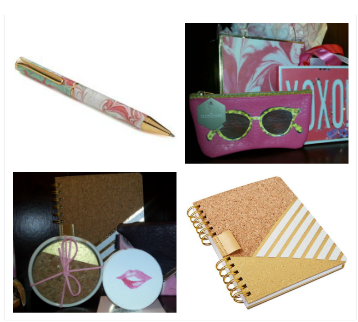 Does your partner have a way with words? Then what better way to chronicle a start of a serious relationship than with a trendy cork journal features a neutral design with pops of color and gold foil accents. Don't forget to include a marbled executive pen.
For the Love of Coffee
Here are a few loving suggestions for the coffee person in your life. Nestled in a beautiful white ceramic holder, these cork coasters features metallic gold accents with a colorful splash, keeping  furniture sparkling clean. Pair the coasters with a cute coffee mug, some gourmet coffee from drivencoffee.com and a French press. What says "I Love You" better than a rare coffee from Papua New Guinea? The PNG coffee is wild grown in the Garana village of South Eastern Papua New Guinea. The coffee delivers a fruitiness and nuttiness taste, that you won't be able to get enough of. The french press is perfect for any couple living together, because it's secretly a gift for both of you.
Tea Gift Ideas
Wait a minute!  They're not a fan of coffee? We have you covered.  Give the coasters paired with a new mug, and some tea from Teagallerie.com. Surprise your valentine with the delicious and healthy gift of the leaf. Bring the colour of love to your Valentine's day with tropical flavors of pineapple, mango and papaya, which offer a sweet and refreshing sensation.
Wine Glass and Stopper Gift Set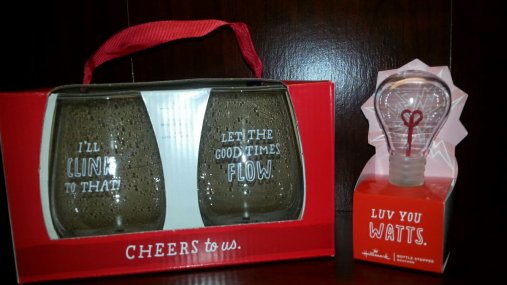 Pair these "Cheers to Us" stemless wine glasses with this light bulb-inspired wine bottle stopper, which showcases a filament in the shape of a heart, a box of chocolates, her favorite bottle of wine and maybe a little red dress—for a gift she'll remember.
For something extra special order a heart shaped pizza from Boston Pizza. Heart-shaped pizzas are available in small and medium sizes, excluding thin crust. $1 from every pizza sold supports Boston Pizza Foundation Future Prospects.
This year, Hallmark offers more than 1,400 different Valentine's Day card designs – with a broad selection of cards for
romantic, family and friend relationships.
Hallmark Signature Collection: Fresh, modern designs are paired with fun, easy-to-send messages perfect for sharing love this Valentine's Day. Unique materials like sprinkles, sequins and wood offer one-of-a-kind cards for one-of-a-kind relationships.
Studio Ink Simple, lighthearted and often funny, these cards created by and for a younger generation authentically share who they are with the people who matter to them. Cards are available for both romantic and not-so-romantic relationships.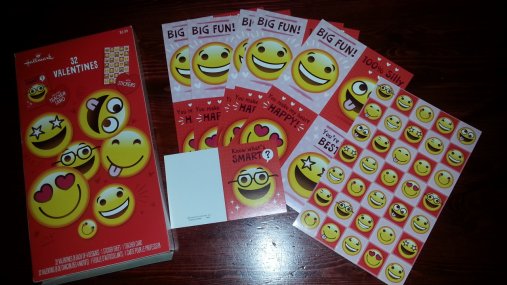 Now your kids can share the love this Valentine's Day with these super cute emoticon cards. Each box contains 32 cards, 35 stickers and 1 teacher card.
All things Galentine's Day and Valentine's Day can be found at Hallmark Gold Crown® stores and other participating Hallmark retailers nationwide.
Website: hallmark.ca