Do you have a writer or book reader on your holiday shopping list? While you can't go wrong with a notebook or journal, if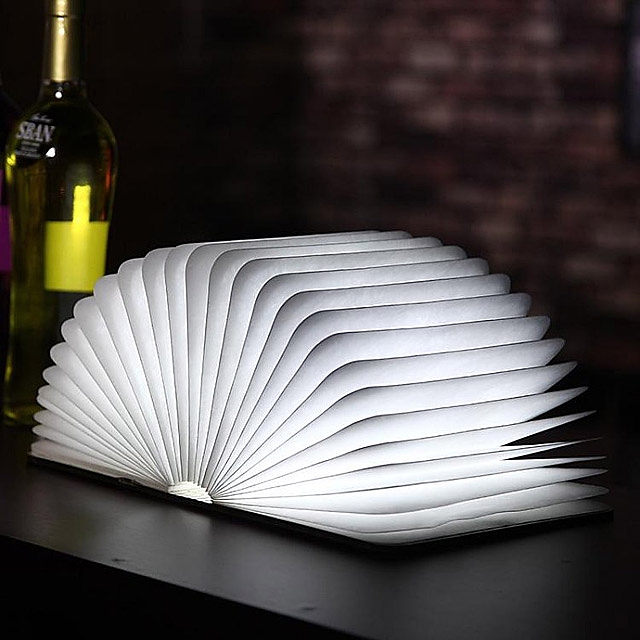 you're looking for something unique to top the journal you bought them last year might we suggest the book-lamp from brando.com?
This book shaped lamp is so very versatile. You can carry and use it just about anywhere. The book-lamp is made of a hard-wood cover and of several pages made from paper that doesn't tear.
When you open the book, it turns on; when you close the book, it turns off. The soft LED light can make your living room, or dining room feel welcoming and cozy. It is a great gift for the post grad or undergrad student. A flexible and durable spine design allows you to control brightness by adjusting the angle without a switch or button.
Comprised of LED lights, when the book is open it shines as strong as any traditional lamp. Like a laptop computer, you can plug in the book and use it as a permanent fixture. The lamps lithium-ion battery lasts up to eight hours before you need to recharge it.The built-in battery can be re-charged through a power connector located discreetly on the spine of the book. To re-charge simply plug the micro-USB cord into the lamp and recharge it from a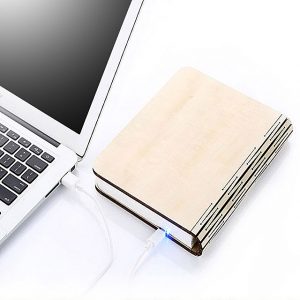 wall outlet using an USB plug-in or your PC.
It's also very easy to store. Simply close the LED book and you can store it on your coffee table, on the bookcase with other books or in your office.
Overall, the book shaped lamp is an elegant solution that provides you with beautiful and powerful lighting whenever you need it.  It would make a great gift.
If you are looking for other gift idea, Out of Print tees, hoodies and totes, which feature the covers of iconic and often (you guessed it) out of print books, are actually fashionable. Plus these gifts give back; for every item they sell, Out of Print donates a book to Books for Africa to help a community that doesn't have easy access to books.
Are there any writing-related gifts you're hoping to receive this holiday season?
Website: https://usb.brando.com/