Friday, September 22 marked the first day of fall though it didn't feel like it here in Ontario. The temperature doesn't have me putting away my tanks and shorts just yet, but it does have me dreaming of colorful leaves, crisp walks and my personal favorite — autumn tea flavors. When temperature drops and the cozy sweaters come out, nothing is more soothing than a cup of hot tea. I was recently introduced to a new company Adagio Teas, which just happens to deliver some of the best quality gourmet tea from around the world, straight to my cup.
When I think of "fall flavors" of tea the first two that to come to mind are "pumpkin" and "apple."
Candy Apple Tea
Candy Apple tea from Adagio Teas is a Sri Lankan black tea infused with the rich taste of sweet apples and dark caramel. The
tea is quite robust with the delicious scent of sweet caramel. As for taste, the candy apple tea wasn't quite what I was expecting, but it isn't that bad. The tea isn't at all sweet like I thought it would be. For me, that is actually a bonus. If you want the tea to be sweet, I would recommend adding a shot of honey, or caramel syrup.
Despite the suggested brew time of only 3 minutes, this tea has a tendency to brew very dark. If you don't like very strong teas, use a timer and steep for less than 3 minutes. I've brewed this tea with some thin slices of apple thrown in, steeped along with the tea and added some caramel just to give it a sweeter taste.
This tea would be wonder served with a slice of freshly baked apple pie at Thanksgiving. Inevitably, my cousin saw my post Facebook post about the tea, and is now interested in trying some for herself.
Fairy Tales Tea Collection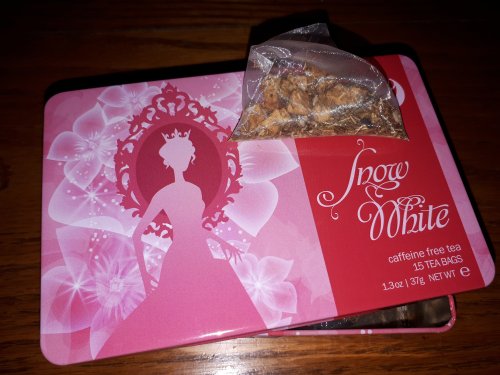 If Candy Apple isn't your cup of tea, Adagio has several other apple flavored teas to choose from. For a caffeine-free alternative why not try Snow White tea from the fairy tales tea collection.
Though marketed for children this apple tea is delightful for the little girl in us that always dreamed of being a princess. . This lovely green rooibos tea is loaded with apples, hibiscus, cocoa nibs, cherries, coconut and flavors of cherry and apple. It has a very fruity delightful smell.
As for taste, I find it to be light and smooth, great as a relaxing after dinner tea. The soft taste is what makes this a favorite for me and even my 4 year old daughter is a huge fan.
The tea takes about 5 mins to steep, though I do suggesting steeping a bit longer for a stronger cup. When brewed the tea is a honey yellow in color. There are 2 other teas in the Fairy Tales tea collection. You can purchase each of the 3 flavors separate or as a set. The tins of each tea can are adorable and when you are done with the tea can your child can use the can to store other trinkets in.
It's The Great Pumpkin Tea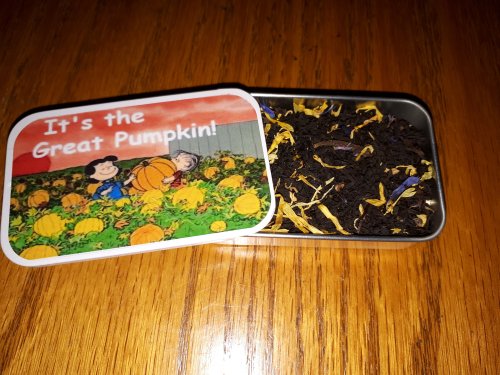 In addition to pumpkin and apple, there are plenty of other seasonal flavors available from Adagio to help transition from summer to fall. From the memorable Halloween Peanuts special, It's The Great Pumpkin, Charlie Brown, comes a blend of Earl Grey Moonlight, Pumpkin Spice and Cream.
The tea has a refreshing vanilla scent with under notes of cinnamon. The tea is blended black tea, cinnamon bark, natural pumpkin spice flavor, cloves, ginger root, natural creme flavor, orange peels, blue cornflowers, natural vanilla flavor, marigold flowers, cardamom, and natural bergamot flavor.
As for taste, you get a really hearty black creamy earl grey tea flavor, which is infused with just a hint of pumpkin spice. I think blending it with extra Pumkpin Spice tea would give it more of a pumpkin flavor as opposed to the creamy vanilla flavor. Nonetheless, this is a really enjoyable morning or afternoon tea. The sample tins, which make about five cups are a wonderful way for you to sample different teas from Adagio and would make great stocking stuffers for Christmas.
Peppermint Tea
Although not necessarily a fall flavor, peppermint tea is pleasant to drink during the fall. After-all, there is nothing like a soothing cup of mint tea to help the stomach sooth after too much Thanksgiving turkey. Peppermint tea is my go to after dinner tea on most nights of the week. I really enjoy the peppermint tea I ordered from Adagio. The peppermint smell was evident the moment I opened the package. As for taste, the tea has a nice light peppermint flavor. I find by adding steamed milk, the tea has a creamed mint taste. I brew it a little longer than the 5 mins recommended to give it a stronger mint taste. The tea is very relaxing by itself, but also perfectly compliments the chamomile tea that I have been enjoying from Adagio.
Chamomile Tea
Chamomile tea from Adagio is made of the finest chamomile flowers from the Nile River Valley in Egypt. The tea is made with whole flower pieces.
When steeped, the tea smells like fresh picked apples and is a delightful gold color when steeped. Steeping takes about fie mins.
I sometimes blend the peppermint and chamomile tea together, but on its own chamomile tea from Adagio is a nice relaxing bedtime tea. I find it to be very soothing and perhaps the best chamomile tea I have tasted.
The tea has a slight hint of sweetness, which I don't find in other blends of chamomile. There really is no need to add sweetener, although I don't normally add sweetener to my chamomile tea. The gourmet pyramid tea bags make it easy to enjoy both quality and convenience. The pyramid shaped bags allow tea leaves to infuse more effectively.
Earl Grey Moonlight Tea
Earl Grey moonlight is a remarkable tea with fresh citrus notes. As a regular Earl Grey tea drinker this is one of the nicest Earl Grey teas that I have tasted. On my first sample, I was unexpectedly surprised by the rich, creamy taste experience. The tea is blended with black tea, orange peels, blue cornflowers, natural vanilla flavor, natural bergamot flavor and natural creme flavor. If you are a fan of Earl Grey tea like I am and have yet to try Earl Grey Moonlight I highly suggest you do.
Zodiac Tea
What is your zodiac sign? I just happen to be a Gemini and wouldn't you know it. There is a tea for me. Gemini tea is a light blend of white tea, rose hips and peach flavor. The tea is part of the Zodiac (Air & Earth) sampler, which includes six zodiac teas packaged in spiffy metal tins. It would make a great astrology gift idea. However, you can order the tea separate in 2 oz tins, 16 oz refill bag and 15 full leaf pyramids. I received a free sample of this when I ordered some other blends and found the tea to be a very light blend no matter how long I brewed it.
Adagio Teas offer a wide range of gourmet teas and tea products. Avid tea connoisseurs like myself can search the database of teas at Adagio Teas for a perfect blend. You can also create a profile to keep track of teas you enjoy and add teas you want to try to your wish list.
Blend you own teas at Adagio Teas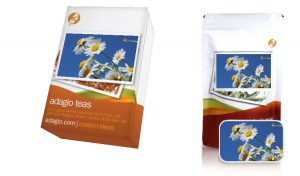 The Create a Blend widget is really easy to use. Simply name your blend, choose the types of teas and the percentages of each that you wish to add. You are then given an opportunity to create a custom label that can be just simple text based or you can upload a photo from your computer or load one via your Facebook. You can then choose to sell the blends you create for other tea lovers to brew at home. Customers can choose to use a portion of the sale of their created tea to purchase more teas for themselves or they can donate 5 % of the sale of their created tea to a charitable organization.
I chose to create Upsy Daisy, which is blended with peppermint, chamomile, lemon grass and accented with lavender. This is a pick me up tea, which is why I named it Upsy Daisy. 5 % of my sales will be going to Pathways to Independence. The organization supports adults with a developmental disability, an acquired brain injury, or those who may be dully diagnosed. in south eastern and eastern Ontario.
About Adagio Teas
Adagio Teas was founded in 1999 with the aim of providing consumers with unmatched quality and variety of teas. They have become the most popular destination for tea online, and among the highest rated companies on BizRate and Epinions. Adagio was also singled out by Consumer Union as having the "most trustworthy" consumer practices. Their products are now available in many gourmet and health food stores. You can also purchase Adagio Teas online at http://www.adagio.com.
What are your favorite fall flavors? Do you like to blend two teas together? With so many varieties of teas out there, is it possible to pick a favorite? If you have, which is your favorite? Do you see any teas at Adagio Teas that you would like to try? If so, email me using my contact form and I will give you a five dollar coupon to use towards your purchase.